A month ago I posted my first impressions on the Adam, Altra's soon-to-be-released multi-purpose outdoor minimalist shoe. My first impressions were good, but as I have learned, sometimes first impressions can fade after spending quality time with a product. Now after having spent another month putting the Adam through it's paces, is the lustre still there?
Let me put it this way: I have a pair of aging Vibram FiveFinger KSOs that will not be replaced now that I have the Adam. The Adam has become my favorite minimalist shoe for almost any physical activity.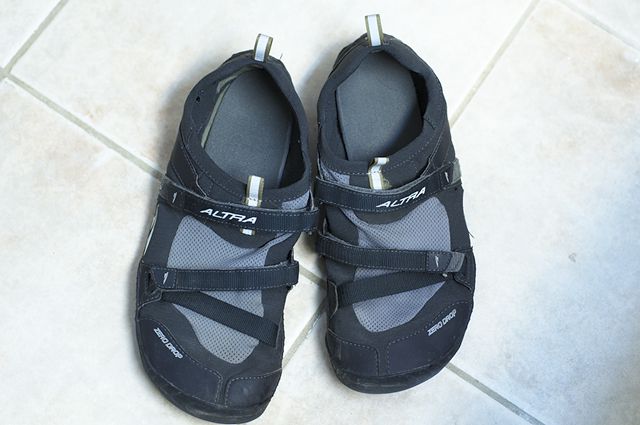 Specifications
Sole Thickness: 3.4 mm
Insole Thickness: 3 mm
Heel rise/differential: 0 mm
Midsole: 0 mm
Weight: 6.75 oz (Mens US 9.5)
Flexibility: Very Flexible
Toebox: Wide!
Fit
The fit of the Adam is one of it's greatest strengths. The toebox is wide, giving the toes ample room to move and spread - the big toe is free to do what it wants without restriction. The upper is soft, stretchy, and snug fitting around the mid foot through to the heel giving a nice secure fit. The shoe locks the heel into place, letting you know that despite the nice big toebox, your foot isn't going anywhere it shouldn't. The fit of the upper can be further adjusted using the two velcro straps. I have rarely had to adjust the strap closest to the toes as the stretch upper seems to provide all of the security I need.
The volume and feel of the shoes can be tweaked via the included removable insoles. The shoe comes with two: a flat grey A-bound strengthen insole, and a yellow molded support insole. The A-bound insole is said to be highly-resilient and provide some dampening and energy return. The support insole is designed for people who are transitioning from more traditional shoes. As I am very accustomed to wearing minimalist shoes, my preference has been for the A-bound insole. I don't care for the way the yellow one feels, but perhaps someone coming from more supportive shoes would appreciate using it for the transition. If you don't want an insole at all (or socks for that matter), the shoe features a stitch-free footbed to prevent chafing. I am a huge fan of the removable footbeds, as it allows me to make changes to the volume of the shoe depending on what I am doing with socks.
I have wide feet, my left foot in particular is the one that always lets me know immediately if a shoe is to narrow. I am also very particular about the toebox, I like to have lots of width. The stretchy upper and wide toebox of the Adam has proven to be a very happy combination for my feet.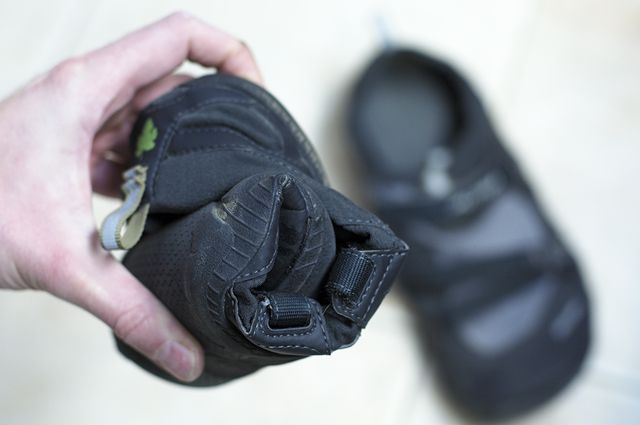 Performance
The typical activities where I wear minimalist shoes include around the office, walking, running, hiking, and backpacking. Here is how I have found the shoes perform in those conditions:
Around the office: I am on my feet all day (by choice!), I use a standing desk. It is winter time, so it is seldom warm enough for me to walk to work in these, but I bring them with me in my backpack (they are light and easily packable). I put them on at the beginning of the day and take them off at the end. The rest of the time in-between I don't even notice they are on my feet. As far a comfort is concerned, they are terrific. For situations where looks matter in the workplace, they don't look quite as freaky as a toe shoe, but being that they don't have laces, they still stand out a little more than a traditional running shoe. Verdict: for a casual work environment, these work great.
Walking: I walk outdoors on average one hour a day both for fitness and as my primary mode of transportation getting to work. I find the shoes great for spring/summer/fall conditions where the ground isn't too cold or too icy. The ground feel is very good, they are nice and flexible, and if they get a little wet they dry quick. I like to walk with a forefoot/midfoot strike, and these shoes allow me to do that with relative ease. Verdict: the Adam performs excellent for casual or fitness walking in three seasons on virtually any terrain.
Running: I run because I love it and I do it for fitness, I am not competitive nor do I train for races. I incorporate a variety of runs in my regular fitness training including road/pavement runs, trail runs, and intervals on an indoor track. In all cases I found the Adam to work very well for me. The ground feel is excellent, the grip is good (similar to what I get from my KSOs), and they provide just enough protection to take the edge off the pointy things. The fit performs very well, my foot doesn't slide around at all which is really nice on the downhills where my toes can take a beating. Verdict: as a generalist, these shoes perform very well over a wide range of running activities. If you are a hard-core specialist who wants a little more tread for the trails or a little more cushioning for the pavement, you may want to check-out one of Altra's more running-specific models. If you are a minimalist purist, then I think you will love these shoes.
Hiking & Backpacking: Due to it being the winter season, I have taken the Adam on some short hikes, but was unable to test the Adams for any backpacking trips. I am very excited to get these out on the trail this spring. One of the biggest issues I have had with minimalist footwear for backpacking in the past has been the difficulty in getting a good fit with varying thicknesses of socks. Having the removable insoles will make it easier to use these shoes in a wider variety of weather conditions than I have been able to in the past. Verdict: If you are looking for rock protection and/or bigger lugs, you may want to give the Lone Peak a try. If, like myself, you are used to hiking/backpacking in a minimalist shoe like FiveFingers then these offer a nice performance/functionality upgrade. If you are looking for a light, packable shoe for creek crossings and wearing around camp, these are an excellent choice.
Durability
The materials, construction, fit, and finish are all top notch. So far, after nearly 3 months of use, the soles are showing very little wear, the uppers look practically brand new, and the A-bound insole is in excellent condition. For their intended purpose these shoes are very durable, I have no reservations about using them for almost any type of activity.
As I mentioned in my first article, one thing to watch out for will be the exposed stitching in a high abrasion environment. I have seen a pair of Inov-8 Flyroc 310 shoes torn-up over the course of a seven-day backpacking trip as the rough rocks wore through the exposed stitching. Newer Inov-8 models feature rands with the stitching not exposed in an effort to combat this problem. If I could make one recommendation for improving the design of this shoe, it would be to try to eliminate this as a potential problem. As it stands, if I were to wear these shoes in a rough/rocky environment, I would seriously consider painting over the seams with Seam Grip in an effort to boost durability.
The Verdict
I am always on the quest for "the one" - a shoe that I can feel comfortable using everywhere. Just like I want less shoe on my feet, I also want less shoes in my closet. The Adam is a step closer towards this end (I am not ready to say it is the one yet!). If you live an active lifestyle and are looking for a high-quality do-it-all shoe, then I highly recommend giving the Altra Adam a serious look.