A month ago we asked Toe Salad readers to nominate their favorite shoes for our 2013 Readers Choice Awards. We had six categories: Road running, Trail running, Outdoors, Men's casual, Women's casual, and Kids. Once all the nominations were in, we asked the readers to vote. The results are finally in, the readers have spoken!
This is the first year we have run the Readers' Choice Awards, and I am very pleased with the turnout. Thanks to all of you who participated. It has been really interesting to see what you guys like most, and how the votes were cast. I have provided full details of all the results in each category below.
Many of the links to the winning products in this post are affiliate links (the ones in bold print). That means that if you purchase a product through that link, Toe Salad will earn a little money from the sale. If you are looking for a pair of shoes, and like what we do here, consider making your purchase through one of our links below to support the efforts.
So, without further ado, here are the results...
Road Running Shoe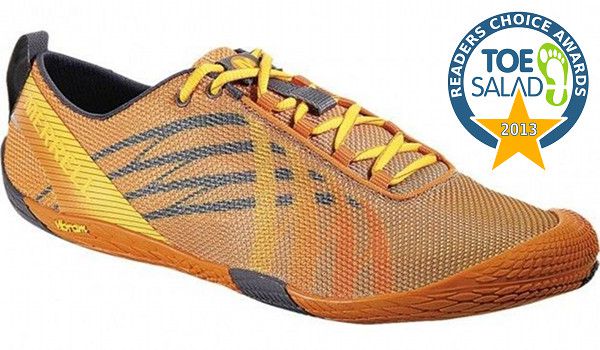 First place in the running category goes to the Merrell Vapor Glove, just barely edging-out the Xero Shoes Connect. What I find particlulary interesting about this result is that a piece of foot-shaped rubber and nylon cord is competing neck-and-neck with a rather highly-engineered piece of footwear. I guess it just goes to show you that when it comes to barefoot shoes, it is the foot, not the footwear that matters most - which is the way it should be.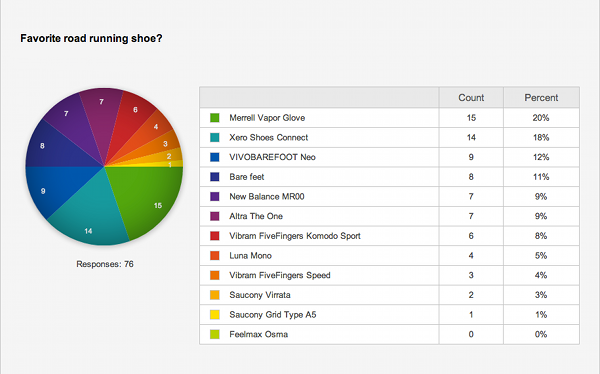 Trail Running Shoe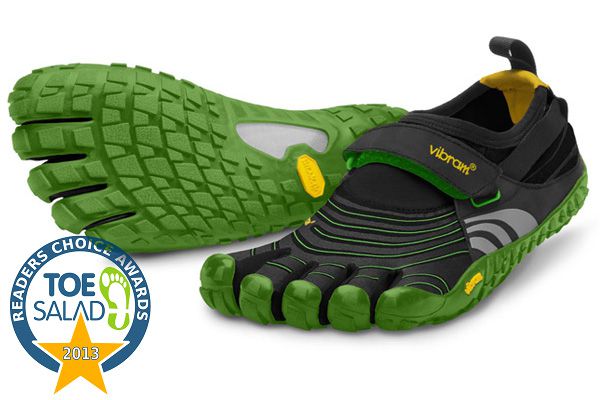 First place in the trail running category goes to the Vibram FiveFingers Spyridon, and second place goes to the VIVOBAREFOOT Breatho Trail. Reading into the results a bit here, it looks like a lot of minimalist runners appreciate good toe splay on the trail. Nothing beats a set of fully functioning toes for grip, balance, and agility - which the Spyridon provides - along with a full set of teeth to add extra bite to the ground.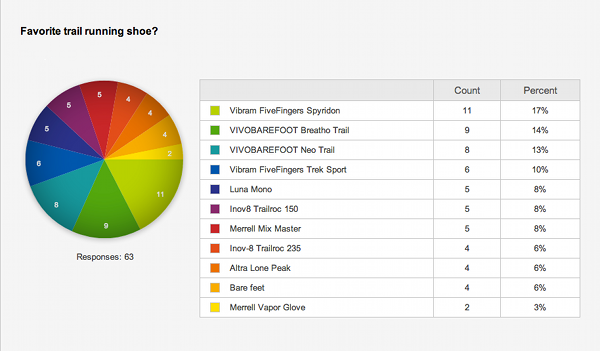 Outdoors Shoe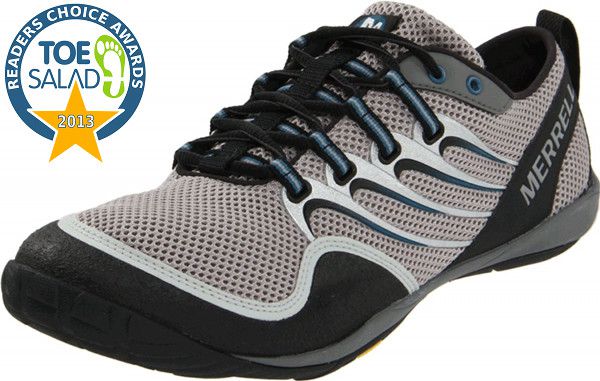 When the Merrell Trail Glove first hit the market in 2011, it really made a splash in the barefoot/minimalist world. It would appear that those ripples are still propagating as it was voted first place as our readers favorite outdoor shoe. One interesting thing to note is that the VIVOBAREFOOT Breatho Trail was voted second place in the category as well, which could be interpreted to mean that the Breatho is a very versatile shoe for both trail running and general outdoors use.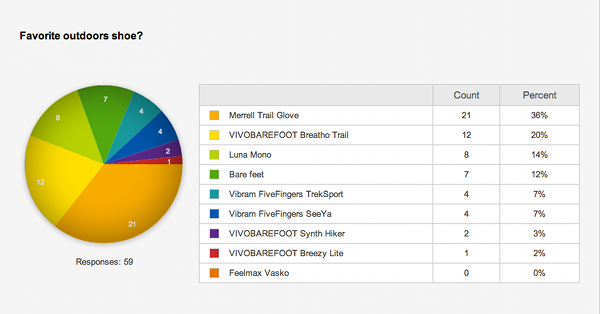 Men's Casual Shoe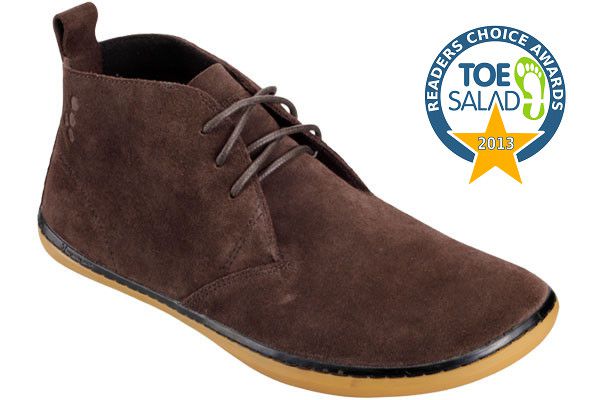 When it comes to the word casual, there is a lot of room for interpretation. For men, it would appear that the ideal casual shoe is embodied most by the VIVOBAREFOOT Gobi. In second place, and in a completely different realm of casual is the Xero Shoes connect - the only shoe that is rated both for it's running capabilities as well as it's casual qualities. Close on the heels of the Xero Shoes Connect (it was almost a 3-way tie for second place) were the VIVOBAREFOOT Ra and the Lems Primal.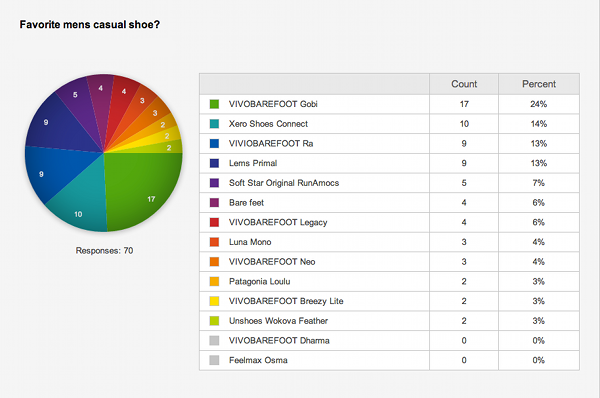 Women's Casual Shoe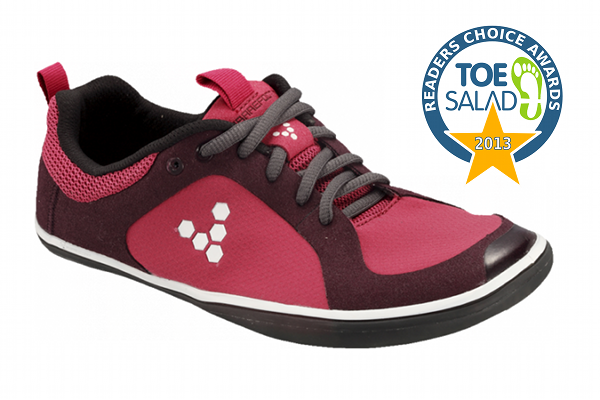 First place in the category of Women's casual goes to the VIVOBAREFOOT Lucy Lite. Surprisingly, it looks like the women voters had a tendency to favor a sportier look than the men for their casual footwear. Second place (and the only shoe to be both favored by both women and men) goes to the Xero Shoes Connect. Bare feet come in third place here - the highest ranking bare feet achieved in the voting. Can we suggest from this that women appreciate bare feet more than men for casual everyday use?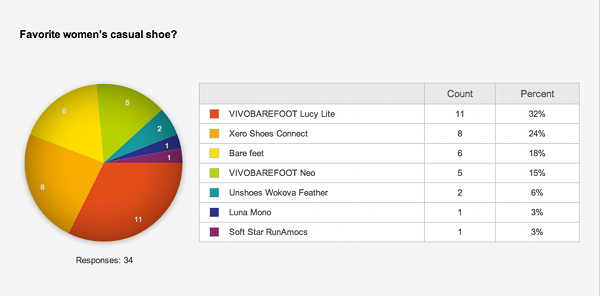 Kids Shoe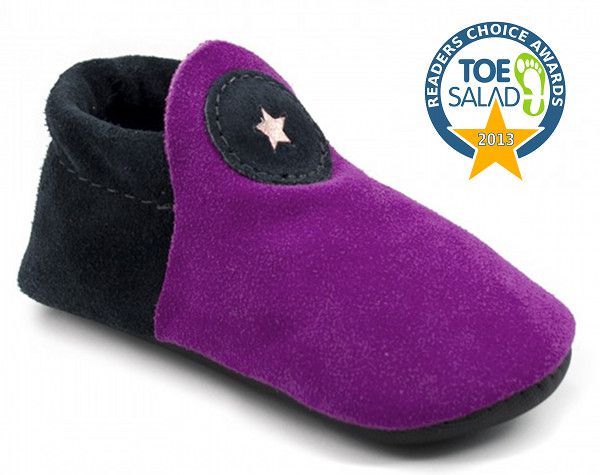 It's highly unlikely that the kids actually voted here, but the parents generally agree that Soft Star Mocs are where it's at when it comes to kids shoes. In second place is the VIVOBAREFOOT Aqua (which appear to have been discontinued!). For whatever reason (an oversight on my part) bare feet was missed as an option in the voting here - I wonder how that would have fared?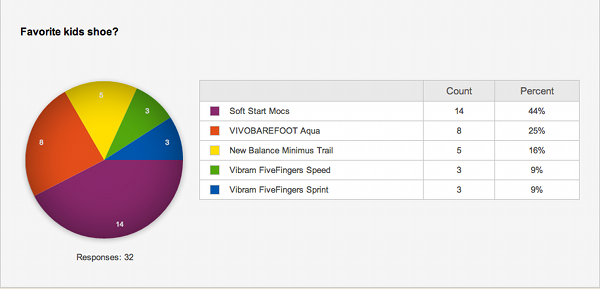 Conclusions?
Can any conclusions be drawn from any of this? It is hard to say... I would be interested in hearing any analysis you guys have in the comments.
One stand-out data point for me is how consistently high the Xero Shoes Connect rated in many of the categories. A simple design and a low price-point are likely significant contributors to it's success. For anyone who is looking for an inexpensive way to get into the world of barefoot/minimalist shoes, based on the votes, this would seem like a good entry point.
Congratulations to all of the winners! We really appreciate all of the effort companies are putting into developing good minimalist options. I look forward to seeing what the future holds, and definitely plan on running this again next year.