I love it when companies respond to their customers and give them what they want.
When Kigo brought their first product to market, the Shel, it wasn't aimed at the minimalist crowd. It was designed to be a simple, ecologically friendly, active lifestyle shoe. It just so happened that it had many of the qualities that barefooters were looking for in a casual shoe. Some people were even running in them. As a result, Kigo found themselves in a market they hadn't anticipated. Their initial design - while quite good - needed some improvement (from our perspective anyway) and we were happy to tell them :-)
Our criticisms? The original Shel had a narrow-ish toebox, a slightly elevated heel, the sizing was off, and it sported a hook on the toe that was used to fold them up - a feature that (for most of us) was largely unnecessary.
Note: I don't want to come across like the product was a failure as it was quite good. We just wanted to see it improved.
Thankfully Kigo didn't see us as a bunch of raving barefooting freaks. They actually embraced the barefoot/minimalist community and listened by hosting conference calls with us to hear what we wanted. The end result was a large number of changes: they fixed the sizing issues, they widened the last, they dropped the heel to zero, they got rid of the toe hook, and for those wanting a more secure fit, they introduced a stretchy lace system. The Kigo Drive was born.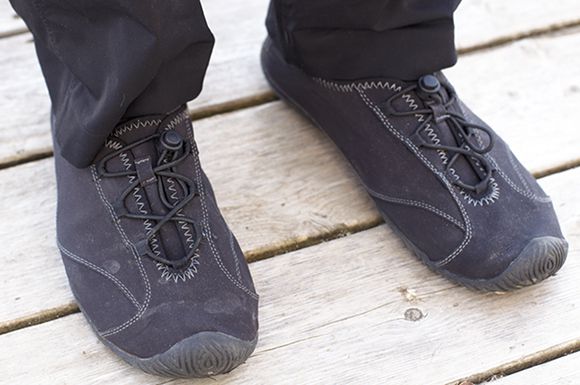 The Kigo Drive is what I would categorize as an 80% shoe. What I mean by that is if you looking for a minimalist shoe that can handle 80% (or more) of your everyday needs in spring/summer/fall, then you should seriously consider what the Drive has to offer.
Construction
Like the Shel, the Drive's upper is constructed out of Cyclepet - a post consumer recycled product made out of plastic bottles. The fabric feels a little bit stiffer than that of the original Shel, but it is still smooth and comfortable against the skin.
The shoes have a foam insole made out of HD Plus, which is also 100% post consumer recycled product. While the insole can be removed, the stitching under the insole is not optimized for bare feet. The outsole is made out of a different HD Plus concoction which basically looks like a durable rubber. The shoes are built using certified non-toxic dyes, glues, and water/stain resistant technologies.
Fit and Comfort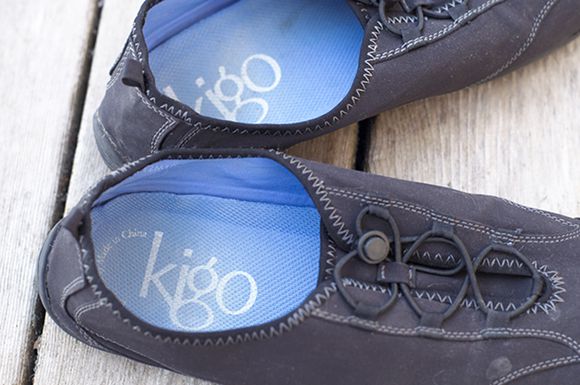 Although the shoes are now true to size and feature a wider last, I found I got the most comfortable fit on my wide feet by going up one full size. This gives the most room in the toebox, especially if you are a regular barefooter with a wide spread of toes. If you have a regular width foot, you will probably find your normal size fits you just fine.
While sizing-up gave me a very comfortable, casual fit, it isn't the type of fit that I would want for performance. That doesn't mean that they aren't good for activity, but that they are not well suited for intensity where a glove-like fit is critical.
Great care has been taken to eliminate interior seams. The inside of the shoe is very comfortable for bare feet when used with the insole, however the stitching around the opening is a bit abrasive. For this, I would probably wear them with a thin sock if I were to be using them for a lot of walking/activity.
The fabric uppers are water resistant and breathable, but not highly breathable. This is another reason why I don't consider them a performance shoe. For highly aerobic activity, having high breathability is important.
Uses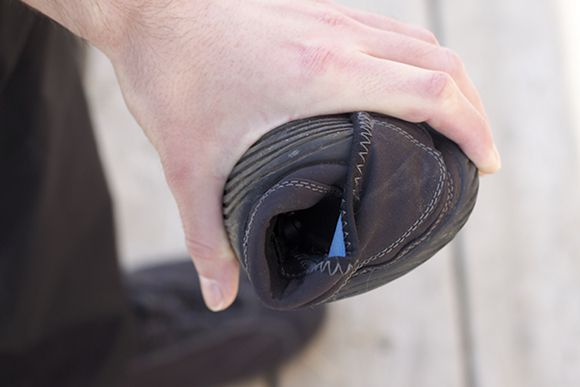 The materials, construction, and fit make this shoe ideally suited as everyday wear for an active lifestyle. Running errands, around the office, at the beach (or park, etc.), as camp shoes, trail hiking, walking, etc. The water/stain resistant, easy to clean, no-nonsense synthetic upper means that they are "fire-and-forget". Just stick them on your feet and go. You don't have to worry about them; they can take a lot of everyday abuse.
Another nice feature is that the heel can fold down, essentially turning them into a slip-on. I don't know if this was a design criteria when the shoe was on the drawing board, but it sure is nice to have for those occasions where you need something quick.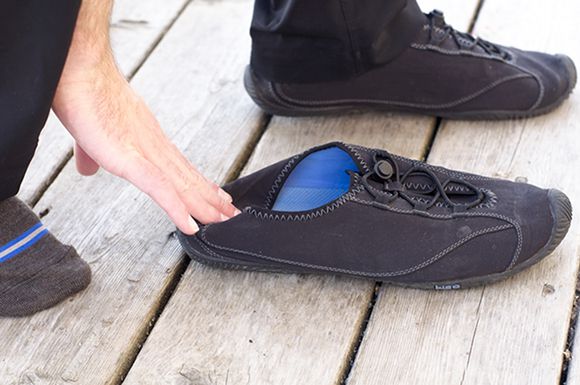 If you are trying to decide how this shoe might fit into your lifestyle, here are a few points worth noting:
While water and splash resistant, if they get soaked, your feet won't dry quickly because the fabric isn't all that airy.
While breathable, they will get hot when exerting yourself due to the double-layer of tightly knit fabric.
While more secure than a slip-on, the fit and quick-lacing system is more casual than a performance shoe. They are fine for road running, but not well suited for rugged trails or stop-and-go sports.
I don't consider those points to be problems, but more like boundary conditions to help inform prospective buyers what they are getting.
Suggestions
I would like to see a bit more room for the big toe so that I could size down to my regular size to get the width I love in the toebox.
While the sole is thin and flat, it is a little stiff. Increasing the flexibility of the sole would be a nice improvement.
The stitching around the shoe opening can be abrasive against bare feet. It would be nice to see a different finish around the opening that is more comfortable against the skin.
Conclusion
If you have an active lifestyle and are looking for a great all-round, everyday minimalist shoe the Kigo drive is an excellent option.
I love the eco-friendliness of this shoe (and Kigo in general). From the ground-up, it is designed to be as clean and non-impacting as possible. Being an outdoors fanatic, companies that make it a core value to minimize the impact of manufacturing are high on my list.