Compression wear caught my attention when Paula Radcliffe, woman world marathon record-holder, showed up on the racing circuit wearing compression knee-high socks. As a marathoner myself (though my running achievements weren't ever going to make front page news), I wondered if wearing these could help improve circulation, reduce stiffness, relieve pain, etc. like the claims made by companies promoting such products.
I've now down-sized to shorter distances and my running attitude is geared more towards fitness than being fast. But quick recovery time and few injuries are still important - so this summer I took the opportunity to test two products from Tommie Copper.
I decided to do the test before checking out the company's FAQs and testimonials. (For the record, there wasn't anything in it for me beyond acquiring the sleeves.) I did some thinking as to determine what could be the benefits of compression wear. The word itself speaks of something holding tight, which should help reduce swelling. Swelling, inflammation, pain and reduced mobility go hand in hand - all hot items to flee from on this runner's list.
The first product I tried was the knee compression sleeve.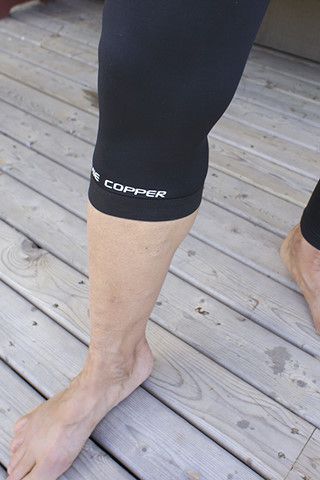 The sleeve had a nice snug fit; it stayed in place but wasn't so tight that it cut into my leg above and below the knee. Thankfully, I don't suffer from chronic knee joint ailments, but due to a past running injury I occasionally experience pain while running downhill. Though this pain isn't a consistent aggravation I wanted to see if the compression sleeve would have any positive effect. (I had plenty of opportunities to test this: every time I go for a run I have a long gradual down hill to get from our house to the road.) Overall, I do think the sleeve helped to support my knee to make this pain less of an issue. I felt I could confidently plant my feet without the impact causing a pain to my knee.
The other product I tried were calf sleeves.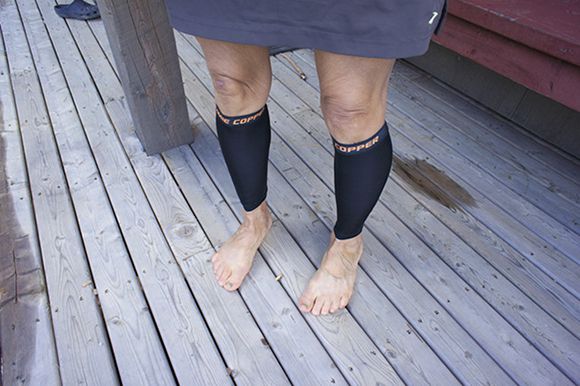 My legs are short so these stretched right from the ankle to just below the knee. On my short runs I wasn't able to perceive significant benefits, but on runs of an hour or more, the compression of the sleeves added support to help delay fatigue and soreness. I have recently started running in minimalist shoes (Merrell Pace Glove) - a change that is gradually strengthening my calf muscles but along with that I've experienced muscle soreness. Using the compression sleeves contributed to a quick recovery through this period, as well as less calf soreness following hill repeat workouts.
My Opinion
Both of these products were light-weight, easy to wash and quick-dry. I often wore them when I showered after my run, for a simple, quick launder. They could easily be worn under "day" clothes.
Compression was comfortable, not overly tight like the medical compression socks I wore briefly a few years ago.
If in doubt about sizing, I'd recommend going for a smaller size rather than larger - plus different lengths, (e.g. petite, regular, and long) would be worthwhile options.
From the Company Product FAQs
Copper-infused yarn can provide relief from arthritis and other joint pains, promote muscle recovery and reduce inflammation
Light-weight, comfortable - can be worn throughout the day.
Products have multi-directional support for better results.
Get the complete profile on their website.
What Copper Does for the Body
Repairs injured tissue and promotes healing.
Stimulates the immune system to fight infections.
Helps to neutralize "free-radicals" which can cause severe damage to cells.
Bottom Line
I didn't wear these for long periods beyond my actual physical activity, which might have provided a more in depth test result.
I think long-term wear would be necessary to perceive benefits from the copper threads.
During and after workouts, soreness in my knee and calves was minimal, with reasonable recovery periods.
I didn't notice enough of a benefit that I wouldn't go for a run without wearing these sleeves - I would often forget to put them on. But I liked wearing them, my legs and knee felt supported.
That being said: this month I ran a half marathon, the first one after a two-year (unwelcome) break from long-distance running. I felt great, ran a better time than expected - and wore all three sleeves. They may not be an absolute gear go-to, but I will definitely continue to use them.