I began my minimalist running two years ago, by running barefoot. In the course of my running, I was fortunate enough to win a pair of Vibram Five Fingers Komodo Sports LS. I put them into my training routine. I was also again fortunate enough to win a pair of Merrell Barefoot Trail Gloves which I also put into the rotation. I am sorry to say that an injury that I suffered running barefoot in the winter caused me to give up barefoot running, but not my love for minimalist footwear. I again tried a year later running in the Five Fingers, but another injury (too much too soon) got me back in regular sneakers.
I continued to pay attention to the minimalist shoe movement, and wear my Five Fingers and Trail Gloves for regular wear, and found them quite comfortable. My problem was at work I need to wear a black boot that can be polished. Vibram Five Fingers would not suffice, even in black, for my public safety job.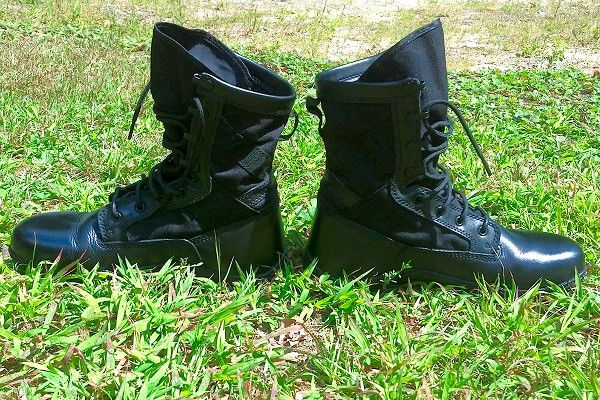 Enter the Mini-Mill Minimalist Training Boot from Belleville. I had my eye on these for a while, and ordered a pair a few weeks ago. Unfortunately the supplier was out. After Three long weeks, they finally arrived I was first impressed with the weight. They appeared to be half the weight of the Rocky Paratrooper boots I was replacing. A quick weigh on a scale revealed the Mini-Mills were 496 grams per boot, while the Rocky's were a whopping 881 grams per boot. Now, since I had the scale out, I began weighing footwear for comparison. A regular running sneaker, made by Asics weighed in at 350 grams. My Vibram Komodo Sports were 180 grams, and the Merrells were 225 grams.
Putting the boots on, I found them to be true to size. No break in was required, and I wore them through their first two shifts with no discomfort. When one of my co-workers first saw them, he replied that it looked like they were slippers! I think he was exaggerating. (although they may be as comfortable as slippers!)
Some may need a boot that can take some polish. I don't think you will be able to get these to an academy level shine, but I did a couple of coats of shoe polish with a brush shine and you can see the results. The other benefit of shoe polish, is that it also helps with water repellency. Last night after work it was raining, and I wore the boots out in the yard. After about 10 minutes, there was no water seeping through. I also checked the traction on wet surfaces. No problem whatsoever.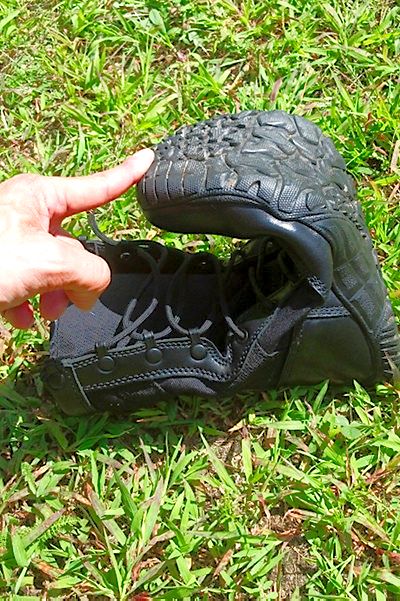 No minimalist footwear review would be complete without the obligatory photo showing how flexible the sole is. I will admit the sole was a concern of mine. The thick Frankenstein sole of the Rocky has protected me during a few door kicks, and the dreaded walk through junk containing who knows what. I was relieved to find the sole of the Mini-Mill to be thick enough for some protection, but not so thick that it can't be considered minimalist. I feel confident that if a door needs to be kicked in again, I will be able to do so wearing these boots.
I purchased my Mini-Mills from extremeoutfitters.com. A 10% off discount code came with my offer which I'm happy to pass on to you: "VIP10" With the 10% discount, my boots were $107.99. You can also purchase them at Amazon here.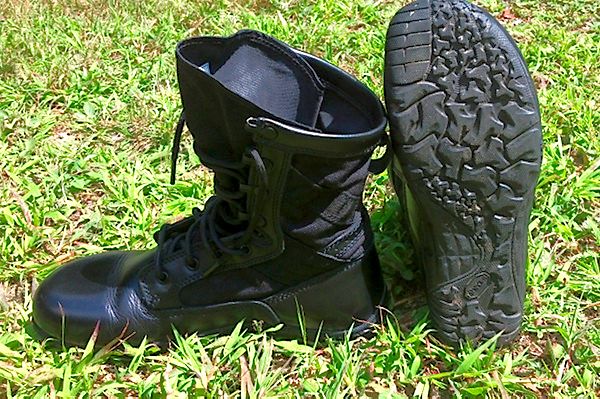 I had hoped to do a more in depth review, but since the boots were late coming, I gave a review on a short time wearing. Maybe I should have waited until I did a double shift to see how comfortable they were after 16 hours, but I think they will be fine. After writing this section and before submission, I did in fact work a 16 hour shift while wearing these boots. I will say they were comfortable all day long.