This past summer I wrote an article extolling the virtues of the theory behind split-toe (i.e. tabi) shoes. The reason I say theory is because up until now, I hadn't actually tried a pair on.
ZEMgear has been making tabi shoes since their inception; in fact I believe their very first product was a pair of tabi shoes for beach volleyball. Over the years they have gradually expanded their line, adding more models to cover more activities. They are one of the only companies I know that sells some of their shoe models in both split and non-split toe versions.
The ZEMgear TerraTECH is the first shoe in ZEMgear's line to really get me excited. Not because I haven't been interested in anything else they make, but because it is targeted squarely at a market that I deeply love: the outdoors. This review therefore marks a first for me on two fronts: my first review of a split-toe shoe, and my first review of a ZEMgear product.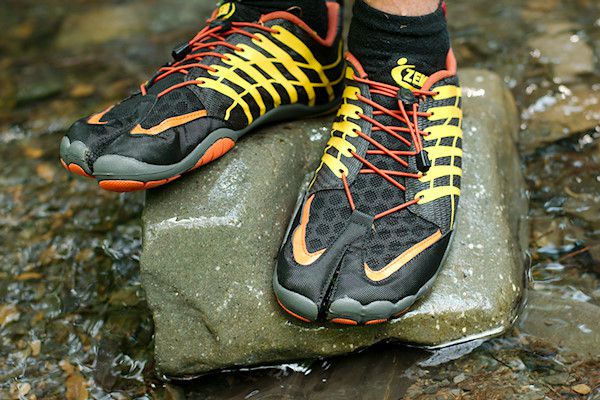 The Genetic Make-up of a TerraTECH
What follows is a brief rundown of what the ZEMgear TerraTECH brings to the table:
It is available in both tabi and round toed versions - pick what works best for you.
The uppers are constructed out of a densely woven breathable mesh on the sides, and a more open mesh over the top of the foot. The mesh on the sides of the shoe are overlaid with TPU (Thermoplastic Polyurethane) at strategic locations to add structure (a practice very common in shoe construction).
The lacing system consists of stretch laces and a pull toggle.
An abrasion-resistant panel is stitched over the toes to add protection, and increase durability.
The sole has a mild tread, suitable for general trail and outdoors use - this isn't an aggressive sole for gnarly off-roading.
There is no midsole, the only cushioning you get is from the Poron insole. The insole is removable, and the shoe is designed to be used with or without it.
It sports all of the usual features we like to see here at Toe Salad: no elevated heel (i.e. zero-drop), flexible sole, and anatomic toebox.
The Tabi Toebox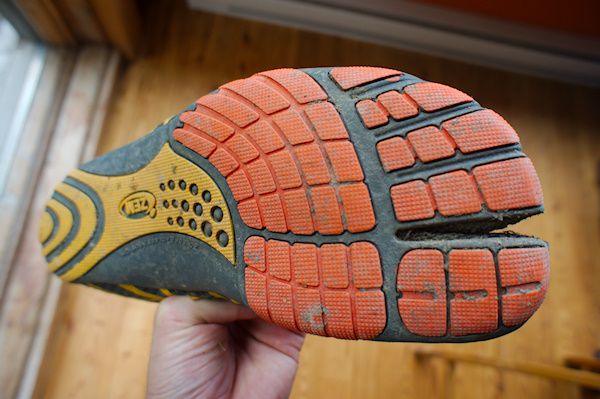 The biggest questions in everybody's mind probably revolve around the split toe design, so I will start there.
When I first put the TerraTECHs on my feet, the left shoe felt good, but the right shoe felt funny. It felt like there was a nasty seam in the toe split area that was going to cause me some serious discomfort. It didn't take me long to start digging around to see what was up. I discovered upon removing the insole that there was a piece of foam (the piece punched-out for the split-toe) that was still attached and flapping around. I pulled this piece off, re-inserted the insole, and it felt just as good as the other foot. Phew, disaster averted! My first impressions quickly ameliorated after this resolution.
Putting the shoes on is considerably easier than a pair of Five Fingers. Your toes only have two targets to hit rather than five. One of the biggest complaints I have heard from people attempting to put toe shoes on for the first time is how long it takes them to get everything aligned for insertion. With these shoes, everything goes on quite easily. The big toe pocket is not overly tight which helps as well.
The fabric between the the toes is thin, soft, and stretchy - overall, very comfortable. Also, for anyone who has worn a sandal or flip-flop, the sensation of having something between your toes shouldn't be all that disconcerting.
Overall, I have found the split toe fit of these shoes to be quite nice. My big toe does not ever feel like it is being restricted or pressed inwards by the toebox. The toebox is also flexible enough that I can wiggle my big toe independent from the rest. The design of the split toe is comfortable and well executed.
My only gripe is that the pocket for the other remaining toes could be larger. My other toes, especially the pinky toe on my left foot (my wider foot) feel a bit cramped. I suppose this might have something to do with the fact that I wear toe socks, perhaps a tabi sock (if I could find a good athletic one) would give me a little more room in there.
One thing I have noticed about these shoes is that they attract a significant amount of toe salad. The split toe, when walking in areas of high vegetation, is very fond of harvesting greenery, sticks, and sometimes small pebbles. For those of you with toe shoes on your resume, you know what I am talking about. For those of you who have never experienced this phenomena before, you may find it mildly annoying at first.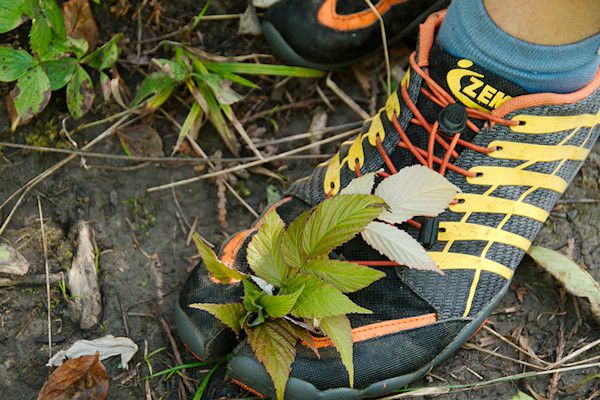 Despite the propensity for toe salad, the upside of the split toe design has been a great fit and a nice toebox. There is no slop. I am not sure if the round toe version of this shoe would be as secure feeling.
The Rest of the Shoe
From a sizing perspective, here is my experience: I typically wear a 9.5, and I ordered these in a 10. With the insoles in place and a pair of toesocks, these shoes feel a bit too small. With the insoles removed, the fit is perfect. Based on this experience, I would say that you should consider ordering half-size or even full-size up from your normal size if you intend to wear these with the insoles in. If you have wide feet, definitely go for the full-size up. If you plan on taking the insoles out, then having a half-size bigger should be fine.
My biggest complaint with the TerraTECH is the dry time. Although they are made out of a breathable synthetic mesh, the density of the weave and the overlays around the toes mean that they don't dry out particularly fast. They don't collect water, and they seem to drain quite well, but they remain damp for quite a long time. Once they get soaked, I usually have to leave them to dry indoors for a couple of days before using them again. That being said, the tight mesh weave on the sides is durable, and I like durability for an outdoors shoe - there are always trade-offs!
The ground feel of these shoes is excellent. As a comparison, I would put them in roughly the same category as the Feelmax Vasko or Osma 3 in terms of ground feel - the soles are similar in thickness and flexibility.
I have used the TerraTECH's around town, on walks, hikes, training runs, and one 10k trail race on rolling terrain. They are a very versatile shoe. Their limits however start to surface when the the terrain moves from hard-packed conditions to steep and loose and/or wet. There have been cases when hiking on steep terrain where I have lost my footing due to the lack of more significant tread. This is not a strike against the shoe, but worth considering when deciding if this is the shoe for you.
Concluding Thoughts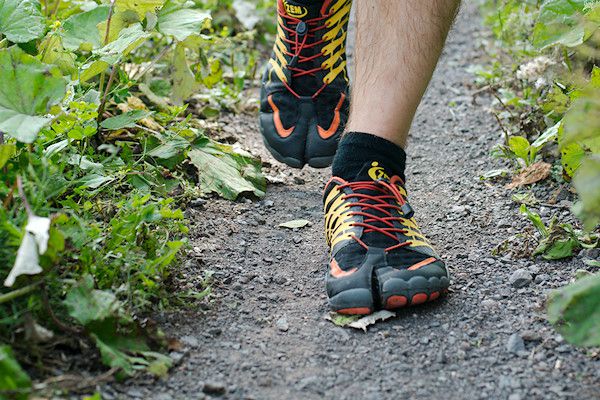 The ZemGEAR TerraTECH is a very versatile shoe. They hit a sweet spot for me: the combination of ground feel, toe freedom, and comfort coupled with a decent outdoors tread makes them a shoe I reach for again-and-again.