While snow may have arrived late in some places, and spring arrived early in others, here in the Gaspe Peninsula winter is still going strong.
I am by no means complaining as the skiing has been really good. If the snow wants to stick around a little while longer, that is OK with me.
Once winter does eventually abate and the trails become passable for anything other than skis, I have a lot of cool products that I will be testing and reviewing here on Toe Salad.
New Balance MT110
The MT110 continues the refinement process of the MT100 series. It started with the MT100, which was subtly improved to become MT101, which now has been significantly revamped to become the MT110. The end result can be described as either a more minimalist MT101 or a beefed-up MT10 (Minimus Trail). It features the same anatomic last and 4mm heel rise of the Minimus Trail, and the stiffer rock plate and more aggressive outsole of the MT101. The upper is more abrasion resistant than both, being constructed out of a perforated plastic/leather-like material. Gone is the insole, toothier is the outsole, and at 224g (7.9 oz) for a mens size 10, weight has improved as well.
Geared for aggressive use on rugged terrain, and touted as a shoe that Anton Krupicka can use without having to lobotomize the heel; it shall be interesting to see how these work from a minimalist perspective.
VIVOBAREFOOT Breatho Trail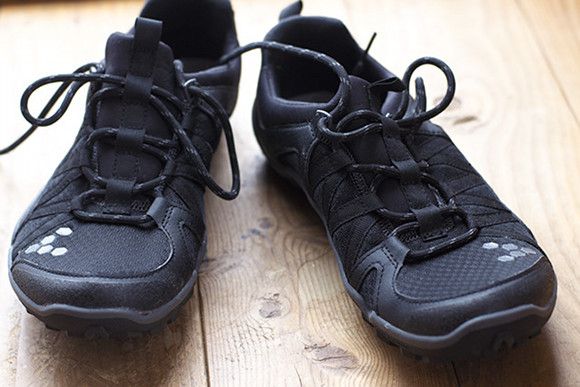 VIVOBAREFOOT rounded out their trail line this spring with the introduction of the Breatho Trail. The pairing of their aggressive off-road outsole with a soft, breathable mesh upper is a combination that many of us off-road adventurers have been pining for. In my review of the Neo Trail in 2011, one criticism of the sole I had was it's durability - small flecks of recycled content in the rubber appeared to flake off and cause premature wear. Thankfully, this issue has been remedied on the Breatho Trail (I don't know about the other models) as it is now homogenous, and therefore likely much more durable. Other features include a stretchy gusset in place of the tongue, and the same stretchy material around the ankle and the heel for added comfort.
The midsole is thin, flexible, and zero-drop as we have always come to expect from VIVOBAREFOOT. The weight is reasonably light at 262g (9.1 oz) for a mens size EU 43. It has the right formula, hopefully it will follow through with our expectations.
Altra Lone Peak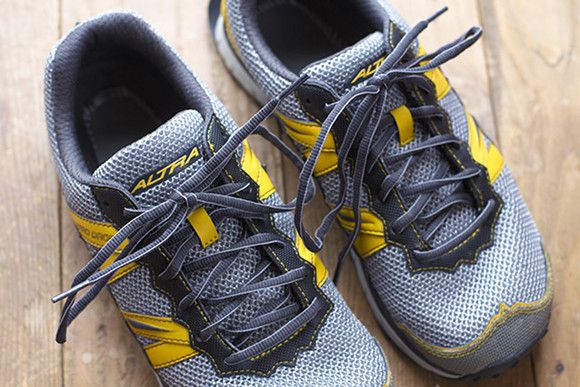 Ever since it was first announced, the Altra Lone Peak has seriously aroused my curiosity. What isn't there to like? It is zero-drop, based-upon the beautifully wide Altra anatomic last, has a quick-drying mesh upper, an aggressively lugged outsole, and some decent rock protection. I guess if there were one thing to be wary of, it would be the thickness of the sole/midsole. At 299g (10.4 oz) for a mens size 9, that thick sole definitely adds some weight, not to mention a loss of ground feel and a reduction in flexibility. Only time and testing will tell on that one...
Oh, and it has a funky "trail rudder" too - a throwback to trail shoes of an era gone-by? Or a little extra grip on the downhill? Only a discerning review will be able to answer that question!
VIVOBAREFOOT Off Road Hi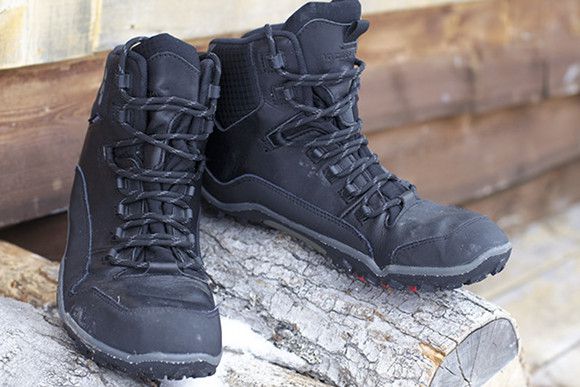 On the opposite end of the spectrum from VIVOBAREFOOT's recently released Breatho Trail, another shoe that I currently have on test is the Off Road Hi. With its over-the-ankle design, beefy leather upper, waterproof/breathable membrane, and the Off Road sole - this is a shoe for truly rugged pursuits in questionable weather conditions. What is questionable is whether or not it is too much shoe for the minimalist crowd. Yes, it is zero-drop and thin soled, but will having a stiff leather upper and restricted ankle mobility cancel out some of the benefits of the barefoot experience? We shall see...
At 423g (14.9 oz) for a mens size EU 43, it is definitely heavier than a trail runner, but lighter than many leather hiking boots thanks to the thin sole.
New Balance Minimus Zero Trail in 4E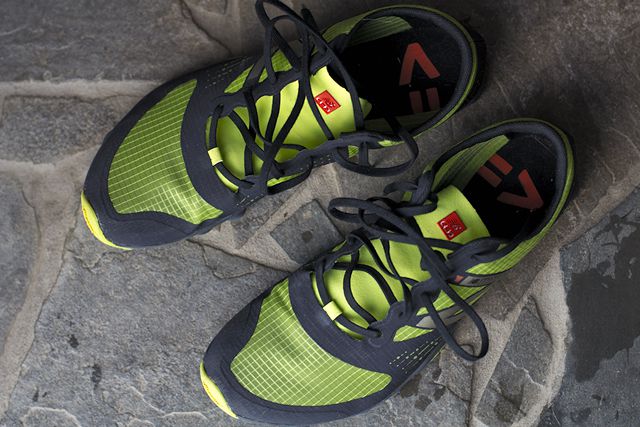 My first impressions of the New Balance Minimus Zero Trail were good... but things just got better. Early this week I received a package containing the exact same shoe, but in a 4E width. While I thought the fit of regular width version was good, the 4E is... sublime (is that too strong a word?) for my wide feet. Even with the extra width, it is still ridiculously light at 141g (4.9 oz) for a mens US 10.
For those of you with flippers, this shoe will be one to look out for. Hopefully all of those lightweight materials can handle the abuse of the trail!
For those of you trail runners, hikers, and backpackers... which one of these looks most appealing to you, and why? Let us know in the comments!