The VIVOBAREFOOT Neo Trail is designed to be used as a trail running shoe and for "Light Mountain walking." The upper is made of a "Hydrophobic Mesh & Microfiber: Non-toxic, breathable, lightweight, water-resistant thin mesh and microfiber quarter panel with nylon webbing." This gives the shoe optimal flexibility, while still keeping the feet dry. The V-Trek sole (with multi-directional "V teeth") adds traction and stability on wet and slippery terrain.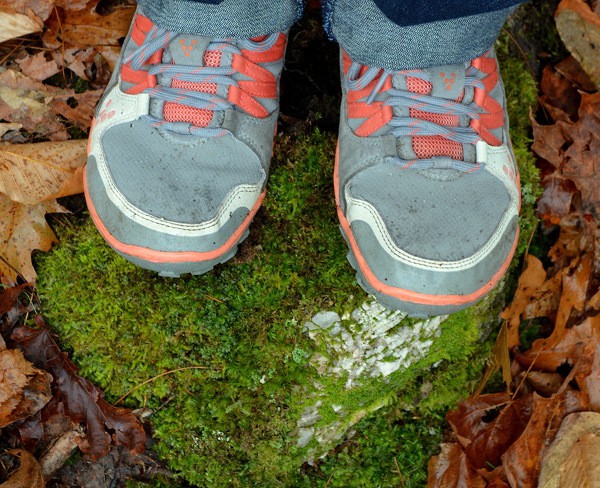 Hiking
I cannot speak much for the hiking side of these shoes. We hike as a family, and our youngest (walking child... we still pack an 18 month old) is three. We go at her pace and ability. Our typical hikes are easier trails, with some more difficult mountain hikes (still three year old friendly) thrown in sporadically. The Neo Trails have performed beautifully on these smaller hikes and have offered quite a bit of stability for the hikes that are a bit more intense. I imagine a family with older children or someone hiking without young children will have very different observations. I found the lugs to be just what I need for these family hikes. I have appreciated the extra traction when my older children ask me to scale a huge boulder with them. The lugs offer the extra stability needed when I am thrown a bit off balance by my 18 month dancing in the backpack.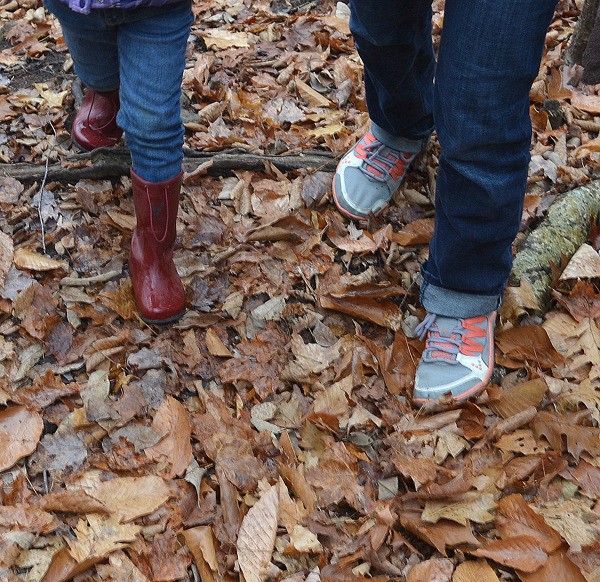 Trail Running
I can, however, share more thoughts about my trail runs. The trails I run are typically varied terrain, wet, covered in leaves, muddy, and often very slippery. I have found my feet slipping out from under me on more than one occasion... until I started running in the Neo Trails. I definitely need the V-teeth (dubbed "shark teeth" in our family) to keep my feet planted on the trail. The traction provided is unmatched and have made trail running more fun as I have been given more freedom to take bigger risks on the trail. The deep 4.5 mm lugs do make these less than desirable road running shoes. I did test them on the road, and I do not recommend running any road races in them. The deep lugs made it almost impossible to connect with the road, and I am certain that any consistent road running would shred the V-teeth. Do not shy away from running a short distance on the road, but these shoes are most definitely best suited for the trail.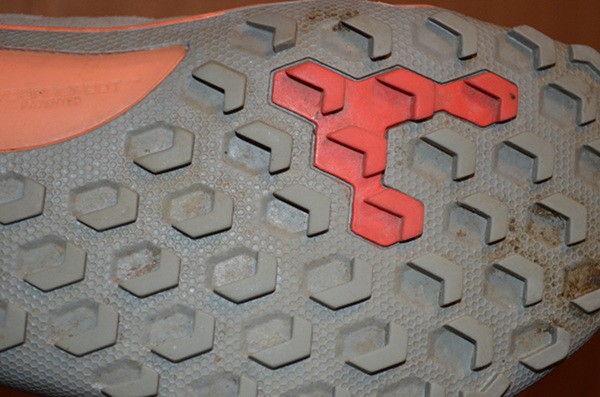 Design
There are a couple of seams on the inside of the shoe. I am always wary as to how these seams will rub on my foot, especially a few miles into my run. It seems that VIVOBAREFOOT designed the Neo Trail with this in mind because each seam is strategically placed. This eliminates any rubbing, which can later cause blistering, and makes the inside of the shoe feel comfortable throughout the entire run.
I am very fond of the water resistant uppers. I have not ever run in a trail shoe that actually kept my feet dry. The Neo Trail was only wet when I splashed through some pretty deep puddles. I am not fond of running with wet feet so I was pleased to be able to run my route without having to avoid the wetter parts of the trail (I am hopeful that they will do well with winter running as well). I am not as happy with the toe box. My unhappiness has nothing to do with function, though. Upon first glance, they looked very narrow. I removed the insole (as I do with all my VIVOBAREFOOT shoes), and the insole is the same as my other VIVOBAREFOOT shoes. The upper part of the toe box is simply shaped differently. I did not feel any rubbing on my feet, and my toes were still able to move freely so this is not a compromise in the barefoot design. I do, however, prefer the more true, round toe box of some of VIVOBAREFOOTs' earlier models.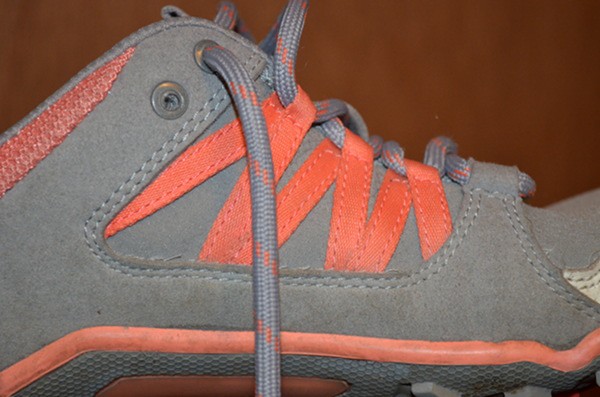 Sizing
Size is always a question with VIVOBAREFOOT shoes. You will want to make sure you order one size up in the Neo Trail even if you plan on removing the insole. I typically wear a women's 7.5 (EUR 38), but I had to order up to an 8.5 (EUR 39) to get the right fit. I did contact VIVOBAREFOOT to ask about the sizing. Here is the response I got:
Sizing is something we are continuously working on to improve and make consistent across the range. Also we're working on a more effective sizing chart – one based on lengths and widths not just numbers. We have found that most people order half or a whole size up (where possible) in the Neo Trail though.
I am very hopeful and excited to see where VIVOBAREFOOT goes with this new sizing chart!
Conclusion
The VIVOBAREFOOT Neo Trail has become my favorite trail shoe. My feet are happy, and I definitely feel more connected and less likely to slip on the trails. I need this security when packing my youngest or helping to carry my three year old across a large tree. I like having the freedom to feel what is under me while knowing that the shoes I am wearing are going to help me hold on.