This past weekend had a lot of firsts for a lot of people.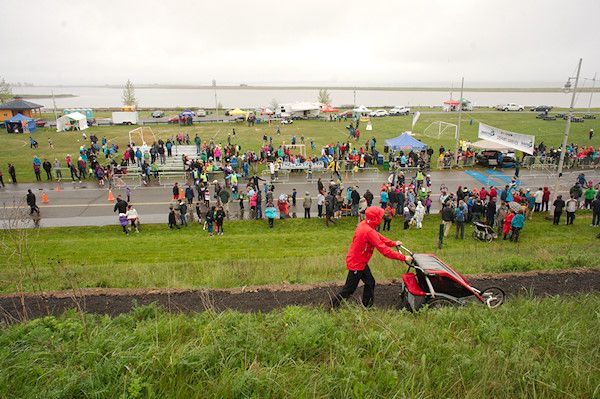 It was the first edition of the Marathon Baie-des-Chaleurs, held in Carleton-sur-Mer, a coastal town on the Gaspe Peninsula a short drive from where we live. In addition to the full marathon, there was a half-marathon, a 10K, a 5K, and a 1K.

I ran my first half-marathon at the race, and survived to tell you about it. I am still feeling my legs, but I guess that is a good indicator that I am alive.

My three kids all ran their first 5K at the race and had a blast. My wife ran the 5K too (not a first for her).

None of us won first place in any of our races (not even my youngest daughter), but somebody did, so I guess there were firsts for them as well.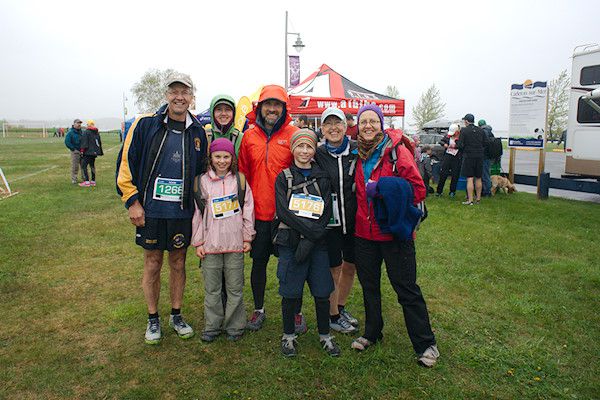 It was another one of those three-generation races for us, as Renee's parents came up from Nova Scotia (after just recovering from the Cabot Trail relay) to run the 10K. The net result is that my kids didn't have any grandparents to cheer them on from the sidelines, as they were too busy running their own races. (That is the way it should be!)
The weather was cold and rainy, but the race was incredibly well organized and had a great turn-out making the day an absolute pleasure. For a first event, the marathon organizers really nailed it. Good job!
Footwear
Out of the seven in our family group, 6 of us were in minimalist shoes (who would have gussed!). The seventh (the patriarch among us) isn't fully convinced yet. That's OK, we still love him.
Three of us (myself, and two of my kids) wore the Feelmax Osma 3 - the latest road running shoe from Feelmax. We all were very happy with the performance of the shoe, nobody had any foot issues to speak of. In fact, I never really paid any attention to my footwear, which is always a good sign - a good minimalist shoe should dissappear and become one with the foot.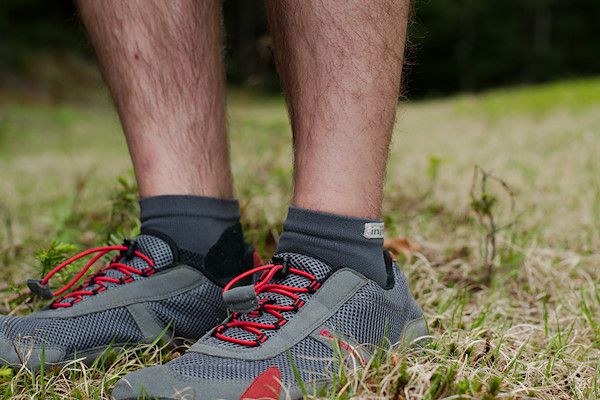 The Osma 3, is the gradual evolution of an already well designed shoe. What v3 brings to the table is the brand new NatuRun sole (the same sole found on the Vasko) and some subtle styling changes. Here is a brief rundown of my thoughts on the shoe:
The sole is thin and durable. And uncushioned, the way I like it. The druability is a great improvement over the original Osma. (Since I haven't had the Osma 2 for very long I can't really compare it to that).

The uppers are soft. The light mesh uppers are flexible and allow the shoe to conform to my feet, rather than the other way around.

No tie laces. I like the slip-on, slip-off nature of the lacing system. My kids (who have an aversion to tying shoes) like it too. These are not sprinting shoes, you can't get a super secure fit with the lacing system, but they are great for endurance running. On race day I saw a couple of people stopping to tie their shoes, I didn't have that problem.

Super light. At 6.5oz per foot (mens size 43), they feel barely there.

The tongue is a pain. The sides of the tongue are thin, floppy, and always folding over in some way when I put the shoe on. Once I get it all straightened-out it stays put, but it is a minor annoyance.
Would I use them again? Absolutely. In fact, I find myself wearing these shoes a lot these days for all kinds of activities.
The Race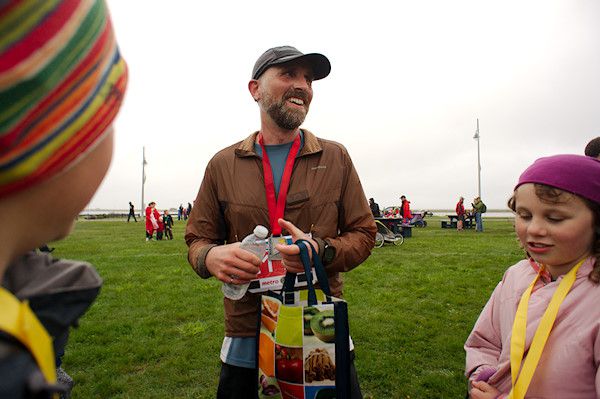 Having never run a race like this before, the biggest question for me going into it was what kind of pace I should aim for. After doing a little online research and looking through my journal at past 10K race times, I decided I would aim for 1 hour and 55 minutes. Not super speedy, but something within the realm of possibility.
Being the geek that I am, to pace myself I used my Polar RCX5 heart rate monitor with the G5 GPS module. It has a function called "race pace" where you enter in the distance you are running and the time you want to run it in, and it sets a pace for you to meet that goal. While I normally train by heart rate, I totally ignored my heart rate numbers for the race. I figured they would be pretty much off-the-chart anyways.
The first 12 km of the race felt good, then things started to gradually go downhill (although the course was pancake flat). Shortly after km 12 I started to get a stitch in my side. Nothing major, I managed to run through it.
Then, some race organizer with a sense of humor thought it would be a good idea to run the course by the finish line. As if to taunt you while you still have a third of your race to go. It wasn't exactly a motivating moment.
The last 4 km were the worst. My thighs gradually started to cramp up causing me to stop and walk every so often. This was a new thing for me, I have never had issues with my thighs in training. If anything ever bothers me in training, it is my calves. I am not sure what is up with the thighs, if anyone has any thoughts I would love to hear them in the comments.
My final time, despite the bouts of walking, ended-up being 1:55:59.8, which is pretty darn close to my goal, so I am happy with the end result.
I had a pretty good laugh when I looked at my heart rate numbers after the race. Polar has this pretty little graph that shows cumulated training load and recovery. Each vertical slice on the graph represents one day. The grey line is your planned training load, the red line is your actual. This is my graph looked like after the race...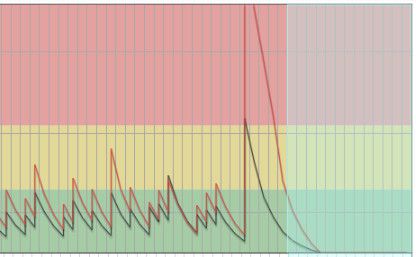 The Future
We had a lot of fun. We don't have a lot of racing plans for the rest of the summer, but we have our sights set this fall on the same cross-country racing series we did last year. The family is eager. My wife and kids have all decided they want to graduate to the 10K, so it looks like we have some more firsts in our future.