A year-and-a-half ago our family made a life-changing move: we moved back to our home country of Canada. It wasn't just a move that involved changing locations, we took our entire lifestyle and re-worked it into something new. The beginning of a new adventure. If you are interested in reading that story, it is written about in much more detail on our other website Outsideways.
Our move landed us in the Gaspe Peninsula of Quebec; a beautiful finger of land that pokes out into the Gulf of the St. Lawrence with the Appalachian mountains running through the middle. A place where we didn't know a soul, nor spoke the language. Ok, perhaps that is a bit of an exaggeration... I did know some French (although my family didn't), and they do speak some English here.
As a family, one of the practices we have developed over the years has been to spend at least one entire day a week together in the outdoors. Usually this means we go hiking, backpacking, or backcountry skiing. It is an opportunity for us to unplug from the system, connect with each other, and get a good dosage of fresh air and exercise.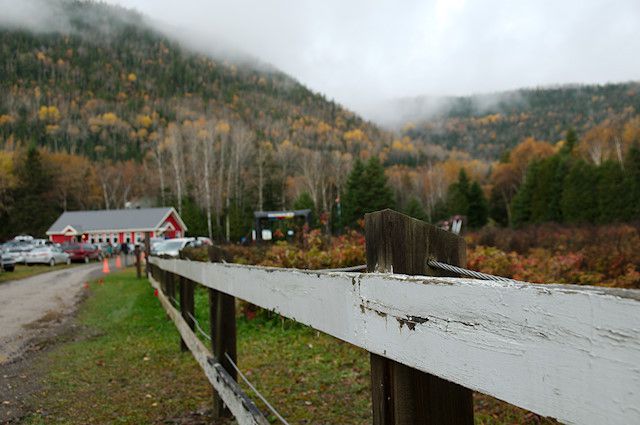 This fall we decided to try something a little different: cross-country racing. The Circuit des courses et de Cross-country des Galopeux is a series of cross-country races held in different towns throughout the Baie-des-Chaleurs (the region of the peninsula where we live). Founded by an informal running club called les Galopeux, last year was the first year with three races in three towns. This year was even bigger with six races in six towns spread over a three-month period (approximately one race every two weeks). Thanks to sponsorship by BDCAS (Baie-des-Chaleurs Active et en Sante) and Rheal Pitre Sports, all races have no entry fees making it super family-friendly. Each race had a variety of course lengths to suit all ages, typically 500 m, 1.2 km, 2.5 km, 5 km, and 10 km.
Being new to the area, not knowing anybody, and valuing spending time exercising in the outdoors as a family, we decided to participate with the hopes that we would be able to meet some people and get to know the communities of our region a little better.
It had been ages since Renee and I had run a race, and none of us had ever run a cross-country race, so we really had no idea what to expect. The kids were full of questions: "How fast will I need to run?", "How close to the finish line do I need to be before I sprint?". Brienne (our youngest) is the most competitive. If she isn't there to win, then what is the point in being there exactly? She was the child most nervous about the whole prospect of racing, exhibiting the most pre-race anxiety, most often in the form of a tummy ache on the morning of an event. In spite of our constant reminders that we were doing this just to have fun!
The first race was held at Saint-Simeon. It was a beautiful fall day with plenty of sunshine and blue skys. To help kick-off the series, Renee's parents (experienced runners and racers) were visting from Nova Scotia, making it three generations from our family who would be participating that day. Brienne would run the 1.2 km race with her mom (I am not sure who was offering who the moral support), Celine and Laurent would run the 2.4 km race, and the grandparents and I would run the 11 km.
The race at Saint-Simeon went very well and helped everyone to get their bearings on the whole race scene. Celine managed to clinch a bronze medal (it helps when there are only two other girls in your age category), and the other two kids - despite knowing Celine would win the medal no matter what - left the race feeling a bit disappointed that their older sister had come away a winner. Now that they knew what to expect, they also knew what they would have to do if they too wanted to stand on the podium.
The parents on the other hand had no delusions of being on the podium. At races like this there is no shortage of well seasoned runners in their 30s and 40s. We were just happy to be outside exercising with a bunch of other like-minded folks.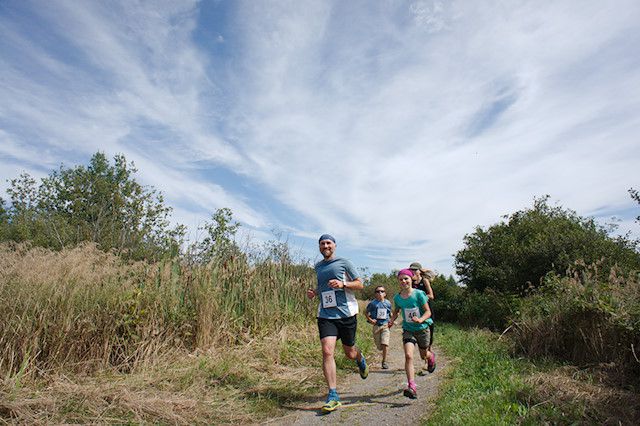 Out of the six races, we were able to run five of them. Some of the more notable outcomes by the end of the series were:
Brienne finished the series with three golds and a silver medal. Yep, she is a natural runner. By the end of the series, she wasn't just contenting herself with beating all the girls in her age group, but all the boys too. She even tried passing the pacer once. You can read her testimonial on the VIVOBAREFOOT website.

Laurent (our middle child) finished the series with one gold medal. He found the competition at these races to be pretty stiff for boys in the 11-year-old range. All the hiking we do on the mountains must have paid-off though, as he managed to get his medal at the last race which also happened to be the toughest course which involved a big climb over a ski hill.

Celine (our oldest) finished the series with one silver and two bronze medals. Additionally, she realized that she is capable of running much longer distances than she thought possible - the longest she ran was 3.2 km. She was very proud of herself whenever she was able to finish a race without having to walk - which only occurred on the first race due to a stitch.

Renee graduated from running as moral support for the kids to running her own races starting with the 4k. She surprised herself by actually enjoying the races, and surprised herself even more by finishing relatively close to the podium.

And me, well, I had fun. I am encouraged to continue my training, and am already looking forward to doing this again next year to see how I improve. And when les Galopeux hold their marathon this spring, I just might be tempted to try running the half...
Want to read more?
We have chronicled the race series with photos and writing through a collection of blog posts: