Inov-8 is a company out of the UK best known for making awesome shoes for the gnarly, sloppy, off-trail conditions encountered by European fell runners. In case you aren't familiar - and don't worry I wasn't at first either - fell running is a sport similar to trail running except competitors tend to run courses that are steeper and less maintained than the trail races that we are used to in the U.S. Basically, fell runners run up the face of hills around Europe - often without course markers - and attempt to make it to the top (and usually back down). The sloppy conditions often encountered on these courses led to the development of lugged shoes that give wearers traction in mud or loose gravel. Inov-8 perfected this type of shoe and has spent several years as one of the top off-road running shoe makers in the world.
I first became aware of the Inov-8 brand when an ultra-light backpacker friend of mine recommended them to me for running/hiking. At the time I was doing very little off-road adventuring, so considering my friend's background and passion for ultra-light hiking I trusted him and bought a pair. I was quite happy with the purchase and the shoes treated me well on several trips, but over time my taste in shoes changed and I began to look for even lighter, flatter, more minimalist shoes to wear for all running or hiking conditions. The Inov-8 brand was still one I eyed at my favorite running store, but I had not purchased another pair since my original FlyRoc 310's. Then Inov-8 decided to add a whole new line of products to their brand and I was instantly drawn back to see what they were up to.
At the end of 2011 Inov-8 added the Bare-X to their lineup. The Bare-X line was Inov-8's first official entry into the minimalist running shoe market. Inov-8 took what they had learned over years of making great trail shoes and developed something that was, light, flat, and provided an anatomical fit. The Bare-X was embraced by both the minimalist running community and the Cross-fit world alike. When I was offered the opportunity to test the Bare-X 200, I jumped at the chance. From what I had read about the shoe, it sounded like a shoe I would like... the only question that remained was how would it test?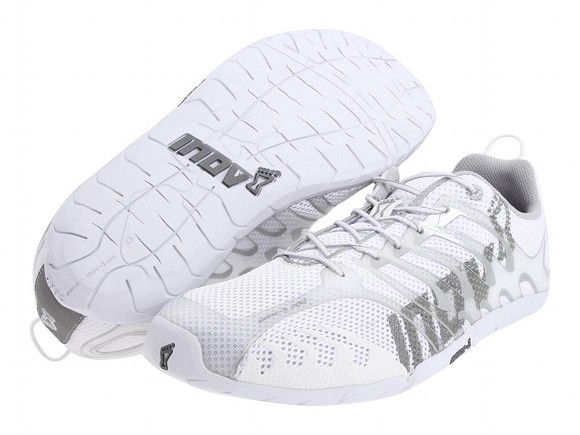 Key Stats
Weight: 200g (7.1 oz) These shoes are not my lightest, but at 7.1 oz are definitely light enough that their weight was acceptable and had minimal effect on my running.
Heel-to-Toe Drop: 0mm. A key feature of the Bare-X 200 is that the shoe is built upon a flat base. The shoe sits on only 3 millimeters of Inov-8 Sticky rubber and has no midsole. Upon wearing the shoe, it's instantly apparent that the shoe is low to the ground and flat.
Last: Wide, anatomical. Like the entire Bare-X line, the 200 is built on a last that allows natural running. My foot had no problem spreading out in the shoe, and with or without socks never felt cramped. An added highlight is the inclusion of a skeletal pattern on the sole, designed to look like the bones of our feet. While not functional, the bone pattern was kind of cool.
Styling/Materials: The Bare-X 200 is basically white mesh on white rubber. Personally, I like the all white look with running gear and with jeans or shorts. The shoe is accented with plastic overlays that add structure to the shoe as well a gray Inov-8 logo.
First Impressions
When the shoes arrived at my office I was excited as usual and immediately took off whatever I was wearing and put on the Bare-X 200's. The shoes appeared to have all the qualities I crave; they were light, flat, and roomy. The early impressions left me looking forward to my lunch time run.
First Run
Ground feel, ground feel, ground feel. Upon hitting the road, my first thought was "wow, I can feel everything through this sole". The sole - while slightly stiff when compared to shoes with a softer outsole material, or with deeper grooves cut into their base - was flexible and definitely thin. My normal route includes a good mix of terrain (grass, tree roots, concrete, asphalt, and gravel trail) and the shoe felt great on all of them. The rubber outsole provided a good grip on all the surfaces. On the gravel I was convinced I could count individual rocks through the sole, in a good way. I did notice a bit of slapping as the shoe made contact with the ground, but I attribute that to the stiffer rubber used on the outsole. Without the layer of foam used in most shoes mid/outsoles any cushioning has to come from the wearer's body which requires a bit more attention to form and a gentle landing.
Sockless Test
As I have previously mentioned I am not a sockless runner. I like having a sock to protect my blister-prone feet, but to provide a thorough review I did take off my socks midway through a few runs to assess the Bare-X 200's sockless performance. During my sockless runs I noticed some positive and negative aspects of the shoe. The positives are: the mesh felt soft and comfortable against my skin, and the anatomical last was even more noticeable when my toes were completely free to splay out. The negatives are likely more personal due to my particular foot and shoe preferences. Without even the typically thin and minimally cushioned socks I wear, I could feel even more of the landing impact (I personally prefer a bit more cushioning). Secondly, the plastic overlay near my big toe on my right foot buckled in a weird way (see photo below) and caused the inside of the shoe to rub on the top of my foot. While I did not get a blister, I was worried that it could be a problem if I were to log a lot of sockless miles.
Long Term Impressions
During my testing I split time between the Bare-X 200 and a few other shoes. I often looked forward to running in the Bare-X 200's. The shoe has proven to be as advertised: thin, low, flat, amd responsive. The only downside would be a sole that's slightly stiffer than I'd like; however, I'm comparing it to a lot of really flexible shoes. Compared to most running shoes, the sole of the Bare-X 200 is significantly more flexible. Given the minimal amount of cushioning provided by the shoe I saw my runs in the Bare-X 200 as a chance to really focus on form, trying to teach my body to cushion my landing versus relying on a marshmallow mid/outsole to do all the work. I also found the shoes to be great for wearing around town, or wearing as a very stable platform for exercises in the gym.
Final Thoughts
I would suggest the Inov-8 Bare-X 200 for any runner who really enjoys a thin sole, a la huaraches, or people looking for a gym/cross-fit shoe that is also a great running shoe, or someone looking for shoe to wear day-to-day that feels great on your feet and is ready for an impromptu run. If you are looking for a shoe with some cushioning this shoe isn't for you; however, I definitely suggest you look at and try on some Inov-8 shoes at your local store. Several of the other shoes in the Bare-X line offer the benefits of the Bare-X 200 (low heel to toe drop, wide anatomical last, thin outsoles, and low weight) but offer increased cushioning to protect your feet and legs while you work on developing a gentle running technique. The upcoming year is shaping up to be another great year for Inov-8. If you have not already checked out our preview of the upcoming Inov-8 shoes as shown at Outdoor Retailer 2012, I recommend you do as you will see that Inov-8 will be releasing shoes for all types of runners (see part 1 and part 2).
In closing, I enjoyed testing the Inov-8 Bare-X 200's and have continued to include them in both my running and casual shoe rotation. If you have never heard of Inov-8 and their Bare-X line I highly recommend you take a look as I bet you would find a shoe that works well for you.