Around this time last year I, like many running shoe geeks, was anxiously awaiting Damien's coverage of Outdoor Retailer (OR) Summer Market 2012. When Damien posted the first of his two-part round-up article I was quick to pull it up, read through it and try to catch glimpses of what the next few seasons of running shoes and related gear had in-store. I enjoyed the articles quite a bit and immediately began wondering if I'd get the chance to attend OR.
I've been to a couple tradeshows and have to work quite a few for my day job in Diabetes Care, but I was still unsure what OR was like. I pictured a fairly large space with row after row of cool gear and people excited to talk about their products. In a very general sense I was right, OR is a celebration of everything that is fun to do outside. As expected, most attendees are excited to see the new goods and most representatives are happy to share what they are working on. What I didn't quite grasp until I arrived at the Salt Palace Convention Center in Salt Lake City was just how massive the show really is, and how integral it is to the entire outdoor industry.
This year OR happened to fall on a week where I was already planning to fly East for fun in Chicago then for work in Philadelphia, so when I saw the chance to catch a 5am flight into Salt Lake City, hit the OR floor for a day and half then fly straight to Chicago to continue my journey I decided it was worth a few (thousand) frequent flyer miles.
Day One
OR is largely a show based around meetings between manufacturers of products and distributors/vendors of products. As such, a typical day is full of scheduled booth visits where a given company shows you products that might not be on shelves for months or even longer. As a rookie visitor to OR I had none of those meetings setup for Day One and only about 6 for Day Two. So when I arrived at OR my plan was to wander around the floor popping into any booth I wasn't scheduled to see the following day. As I arrived at the Salt Palace the first thing I saw was a large pool setup with people testing out stand-up paddle boards, next to pool was an inflatable bouldering "rock" and then around the corner was a food truck area complete with beer garden; I knew right away this was going to be fun. I quickly checked-in, picked up my media badge, and decided to head straight to Main Floor. After navigating through, tents, kayaks and other large outdoor equipment I finally spotted the hanging signs for shoe companies.
I quickly popped into Salomon, but they must have seen the look of rookie on me and generally paid me no attention. Trying to strike up a conversation I learned that Salomon was updating their well known S-Lab Sense Ultra to a v3 and adding a new shoe the S-Lab Sense 3 Ultra SG (soft ground). The shoes looked pretty nice, and apparently work great for Kilian but aren't quite minimalist, nor are they natural in their shape, so I moved on.
VIVOBAREFOOT
After striking out, or at best fouling out at Salomon I continued around and found VIVOBAREFOOT (VB) in a corner of the floor. Considering that I was wearing one of my favorite pair of everyday shoes the VB Aqua Lite's I figured I'd have more luck in their booth. I was right, as soon as I entered I was greeted by two representative who were happy to show me their line. I'm currently testing the VB Evo Lite and VB The One (200g), and mentioned that I really liked the shoes and felt like I was finally ready to run in such minimalist shoes (no arch or other support, wide toe box, super flexible, super low to the ground). The reps mentioned that both the Evo Lite and The One would be getting a color update for Spring '14, offering even more options on already great looking shoes. I then spotted the VB Stealth (200g), a shoe I've been waiting to test and run in. The Stealth reminds me a lot of The One but has even less structure to the upper. Both the Evo Lite and The One will be recommended by me for those runners who love a ride that allows them to feel the road as much as possible, and the Stealth takes this even further by further removing support from the upper material.
Evo Pure
Next came the first surprise of the show, the Evo Pure. It seems VB wanted to continue to push the Evo line towards an even more minimal a shoe: first came the Evo (I, II, III); then Evo Lite and now the Evo Pure.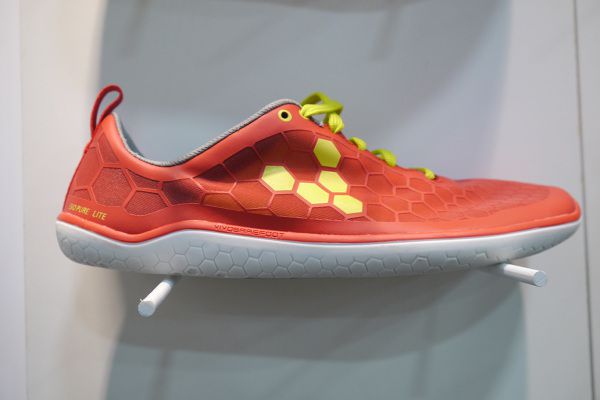 I'm testing the Evo Lite and consider it to be a great shoe for running on roads, trails without too many pointy rocks, and around urban areas where you want feel the road, but not a piece of glass in your foot. The Evo Pure on the other hand, looks to be a pure road or treadmill shoe. It carries the same Evo styling (which I personally love) but is even lighter and more flexible. I believe VB switched the sole from their V-grip rubber (3mm base plus 2mm lugs) used on the Evo Lite to a 3mm thick V-sense TPU which is thinner, softer and more flexible than the V-grip rubber. The Evo Pure looked awesome on the wall, and was just begging to come down for a road run.
Trail Freak
The pleasant surprises in the VIVOBAREFOOT booth didn't stop with the Evo Pure, they next showed me Trail Freak (260g) they didn't specifically state it, but I got the impression that this was their new flagship trail shoe.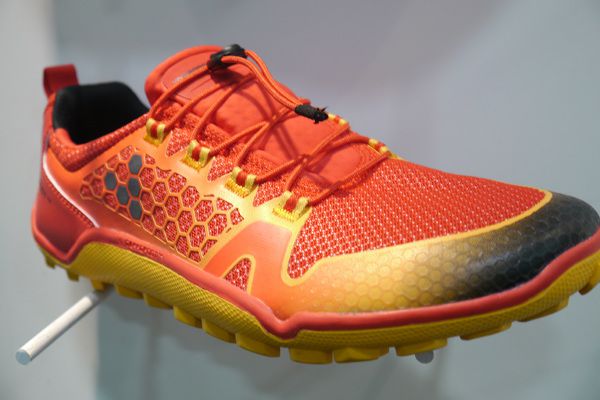 In a bright eye catching orange/red color way with an aggressively lugged outsole, 2.5mm base with 4.5mm lugs the shoe looked ready to hit the trail.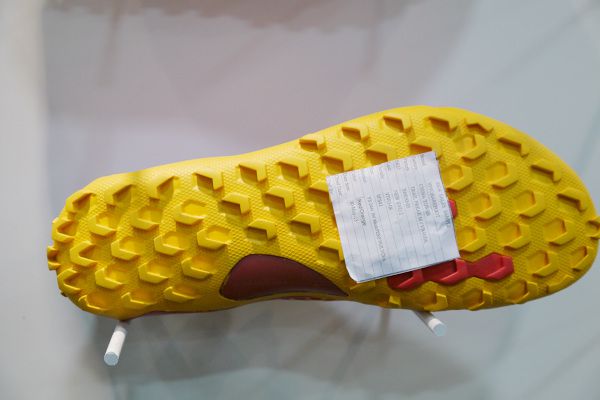 I also noticed that the Trail Freak had one of those lock lacing systems where the laces aren't tied but instead are pulled through a locking mechanism to cinch the shoe around the foot. I've never run in a system like that but it looked interesting and is potentially a great way to adjust the laces quickly for either uphill or downhill running. I am not certain I'd personally be able to race in the Trail Freak due to my tendency to pound the downhills a bit and require more cushioning, but I am sure that many out there will end up liking this shoe. Then came the last surprise...
Ulysses
After entering the sandal category with Achilles, VB has decided to enter the huarache market with the Ulysses (190g).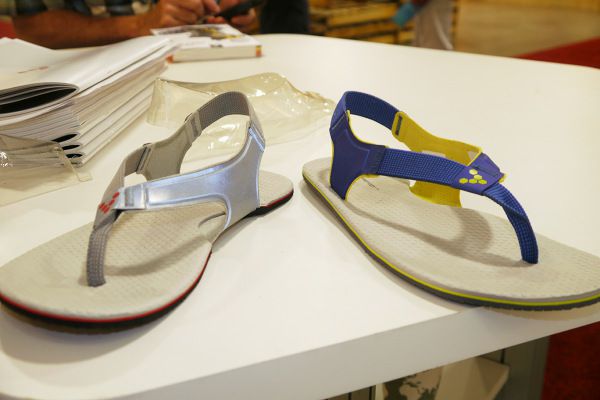 The Ulysses features an elastic rear strap that when combined with an adjustable/sliding strap over foot should secure the foot well and allow for a wide range of foot volumes. Though not as adjustable as traditional huaraches, the sliding system seemed simpler for those who do not like tying huarache knots. I also did not notice a knot bump on the bottom of the Ulysses which makes sense since it the strap appears to sit flat and be captured between layers of material. The sole is V-grip rubber with a synthetic material over-top for foot contact. I think the Ulysses is intended to be used for casual activities, but like all VIVOBAREFOOT shoes they seemed like they could be used to breakout in a run at any moment.
Luna Sandals
After my visit with VIVOBAREFOOT I continued around the floor and ended up inside the monkey-house, the Luna Sandals booth. Thanks to the success of Born to Run, I like many others have been familiar with Luna Sandals since they launched. Curious to see what the Lunar Monkeys had been working on in the Pacific Northwest I stopped by for a chat. My visit started with a quick refresher on the Luna product line: the Venado, their lightest, thinnest sandal great for casual day-to-day use or running on roads; the Mono a thicker sandal intended to provide protection for any outdoor activity, including trail running; and the Leadville, a trail sandal that has protection for long runs, hikes or races, but still molds to a wearers feet.
The Monkeys then informed me that they were launching a new trail sandal at OR, the Oso. The Oso is the toughest Luna Sandal yet and is intended for technical trail running, running in conditions with poor footing, or even running over obstacles (mudruns, adventure runs etc.). The Oso uses a modified version of the All Terrain Strapping (ATS) laces used on the other Luna Sandals I mentioned but is modified to remove a bit of stretch from the laces and replace the stretch with padding. The Oso also comes with an optional velcro Tech Strap to really lock the sandal onto a foot. Damien is testing a pair of Oso Sandals and may have more on them later, but from what I saw they looked like a great way to take a pair of sandals out on rocky terrain and still have sufficient protection.
Editors Note: The Oso has since been released and is now available for purchase.
Before I left the Luna booth the Monkeys casually mentioned that they have begun prototyping both women and children specific sandals and hope to release them next year. Nothing is certain yet on those new models, but it was nice to hear that the workshop is exploring new possibilities.
Altra
As Day One at OR continued I decided on one last stop to talk shoes before switching over to other running related gear. My last shoe stop of the day was with a company whose shoes I had heard a lot about but had not yet run in, Altra. From their start Altra has been dedicated to making zero-drop shoes built on a foot shaped last to encourage a healthy natural running gait. Given my personal preference for a lightweight shoe I immediately asked the Altra representative to show me their lightest trail and road shoes. We started with the Superior 1.5.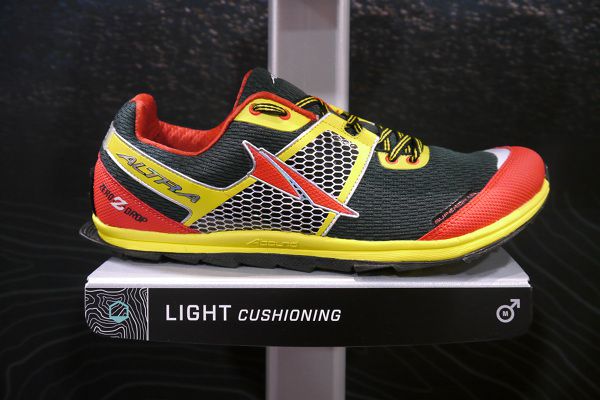 For the Superior 1.5 Altra kept the same midsole and outsole used on the Superior 1 (including a removable StoneGuard rock plate) and updated the upper to add more secure medial and lateral mid-foot wraps and a more durable upper mesh material. As a nice bonus, Altra also added an integrated GaiterTrap to allow users to secure gaiters onto the shoe without having to bust out glue or velcro.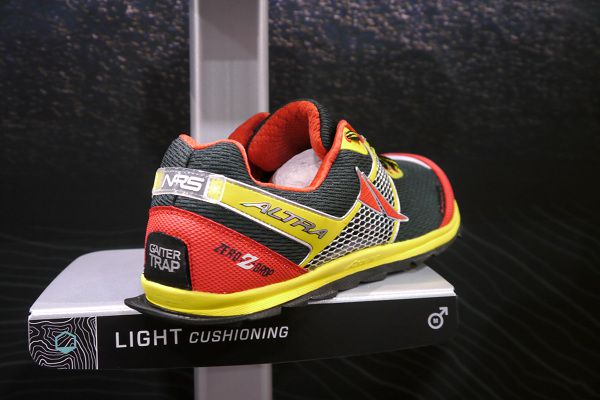 For road running the Altra representative showed me The One. A carry-over model from 2013, The One is a road shoe built on the same zero-drop, foot-shaped platform and sits on a relatively cushioned midsole/outsole combination. The One weighs in at 7.3 ounces so even though it is fairly cushioned it's weight is still low enough that it would seem a viable option for long-distance road running. As we have a chance to run in the Superior 1.5 and The One we will be sure to follow-up with some thoughts on how the Altra products perform on the roads and trails.
After a long and slightly overwhelming first morning at OR, I was off to find a decent lunch and then return for more fun. Stay tuned for the next installment of my OR Summer 2013 adventure.