I have been wearing minimalist shoes for almost two years. Mostly with pleasure, sometimes with great pain (caused by a stress fracture on my right foot's second metatarsal). The pain however didn't prevent me from staying minimalist both on and off roads. The shoes I use most are the Saucony Hattori and the New Balance Minimus MT10.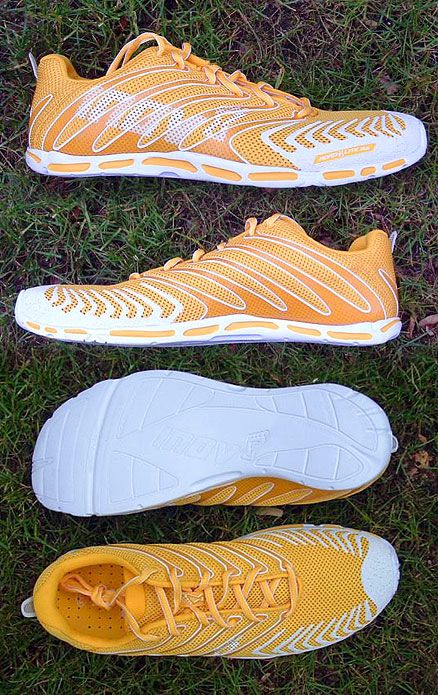 Odd things sometimes happen when reviewing shoes, this includes what I encountered with my pairs of Inov-8 Road Xlite 155. Yes, I wrote pairs with an s, which is not a mistake caused by my uncertain knowledge of English. Two pairs in fact. As it took a few weeks for the Toe Salad review pair to be delivered from Inov-8 (let's call it the American pair), Inov-8's French distributor lent me another one (let's call it the French pair) to start the review and, of course, write something in French on my website. These pairs were supposed to be identical. This is where the odd things happened. I started to run barefoot in the French pair but had to come back home after only 10 minutes suffering from bleeding blisters on top of my toes caused by the base of the tongue. This part is stiched on the shoe with far too many fabrics and sewing threads, making some sort of a roll that quickly irritates the top of the foot. To keep on using them, I had to put socks on and throw away the inside sole. I was really disappointed.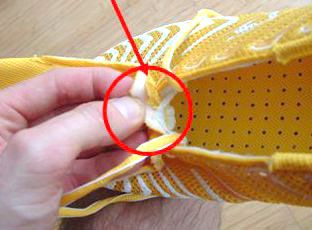 Then came the American pair. I immediatly had a look at the base of the tongue: same assembly but forming a smaller roll, which allowed me to wear them without being blister-plagued. Really strange. However, I would like to say that, despite the good points that I will talk about, the way the tongue is fastened to the shoe is really an issue. The Road Xlite 155 is supposed to be a minimalist shoe, thus being possibly used barefoot by many runners, so why all these fabrics and seams?
This negative point is a real pity. Except for it, the Xlite 155 would be a good minimalist shoe, which respects most of the usual criteria: 3 mm drop, close to the ground, no structure, flexible, lightweight (155 g), no toe spring. On the other hand, the toebox isn't large enough, more or less the same as in any regular shoe. The inside 2mm sole is removable. The mesh is a bit stretchable and rough, which makes it not that comfortable when wearing it barefoot. That's indeed why I chose to wear socks during my runs. The sole is totally flat without any grip and has a pronouced flexion line under the metatarsal (common feature of many Inov-8's shoes with the MetaFlex system). The Xlite 155 is made for roads only.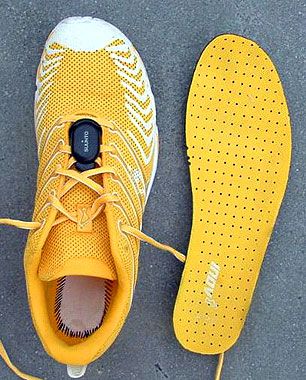 The Xlite 155 stands low on the ground and is worn very close to the foot. It acts like some sort of a (thick) second skin. This is quite surprising at first. The feet are really boxed in. Size does really matter: I chose to have them at 11.5 (my usual running shoes size) but I think a 11 might have been more appropriate.
I ran 150 km with the Xlite 155 and tried to have every type of training session possible: endurance runs, tempo runs, speed work, long distance runs. This summer being particularly curious in France, I also encountered many conditions: hot temperatures, low temperatures, heavy rains…
I feared I would be annoyed by the not-so-roomy toebox. It wasn't the case, thanks probably to the bit of stretcheability of the mesh. I also feared I would be annoyed when temperatures would be high. This wasn't the case either. Nor had I been annoyed under rains by the lack of apparent grip of the sole. No sliding.
The sole won't give you the same feelings of the ground as running barefoot. It's quite stiff and protective so for some of you it may lack sensitivity. However, it bends where it's supposed to, helped by that flexion line under the metatarsal, which means that it allows a perfect ball of the foot strike. No cushioning on the front part, a very very little bit under the heel. This means that minimalist beginners could use the Xlite 155 as a tool to developp their abilities.
Despite its bit of stiffness, the sole doesn't hinder the flexibility of your foot, which I checked during my speed work trainings. On a 6x250m / 6x200m / 6x150m practice, my racing times were the same as when I wear my Hattori. In fact, I may even say that after a few minutes, you totally forget about the sole.
The Xlite 155, for most runners, would be more tailored to short runs than long ones. It can even be considered by some not as a minimalist shoe but as a racing flat, such like a Mizuno Wave Universe or an Asics Piranha, to be used on 5K / 10 K races and speed training. Wearing them for long runs assumes mastery of the ideal minimalist stride.
Concluding is not easy… Would I throw out my Hattori to run with the Xlite 155? Definitely not. So, does that mean that it's not a good shoe? No. It has many good qualities: its drop, its sole, its mesh, its weight and the fact that it can suit the needs of many minimalist as well as not minimalist runners looking for an efficient racing shoe. Too bad Inov-8's designers didn't find another way to fasten the tongue.