Two Rivers Treads was the nations first walking and running specialty outlet to offer products and education to assist the transition toward, or maintenance of, natural and efficient running and walking form. If you happen to be in the neighborhood of Shepherdstown, West Virginia make sure you go and check them out. (They also have an online store as well).
Dr. Mark Cucuzzella (founder and owner of Two Rivers Treads) sent me a pair of the Saucony Hattoris to try out from the store. The short version of the review: I love the sole but I'm not so fond of the upper. The colors are fantastic - I am not really a big pink fan but aqua blue, yeah, I dig that! Giving the shoes some laces (much like the New Balance Zero) would make them real close to perfect. I will say that again, really close to perfect!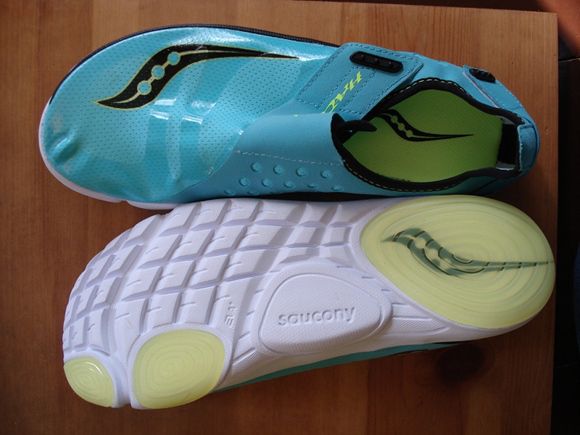 For a shoe to be a stellar minimal shoe, I look for and consider the weight, flexibility, tightening system, drop (height differential from heel to toe), material, ground feel, and general fit. The Hattoris have a clever design where the areas of the sole where you are supposed to land are of a denser material than the squishier EVA foam that makes up most of the sole. My pair of Hattoris - granted I have big feet - were just shy of 4 and a half ounces according to my kitchen scale. It is a very light weight shoe with a great sole.
The Hattoris are zero drop and have a low stack height. They would be great for speed if they had a lacing system (or if you have wider feet). The ground feel is pretty good... oh, and did I mention they are a road shoe? On trails or paths that are not super technical they would be fine as well. They would offer just enough protection to cut down the discomfort of say, gravel, but still let you feel your way around.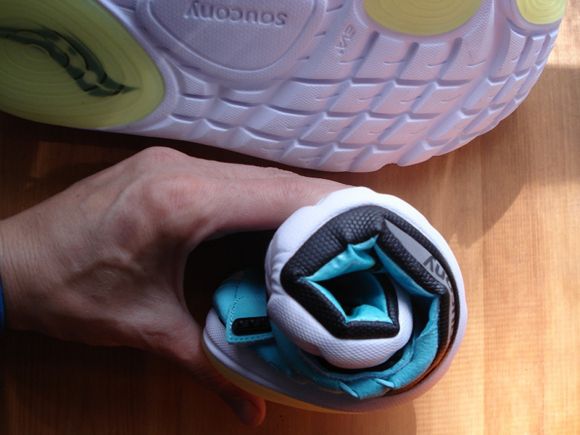 The Hattori designers nailed the toebox. It's wide, comfortable, and allows for natural splay of the foot. I passed my pair on to a friend and fellow runner (we have the same foot length, but his are wider); he said that the Hattoris accommodated his foot well and they stayed in place. If the shoe fabric were any stiffer they may not have worked for him, but the stretchy upper was unrestricting. The fit can be described like that of a water sock (or Sockwas) with a great sole.
The tightening system leaves much to be desired. They slip-on easy enough, and the area around the ankle is comfortable and doesn't rub. There just isn't a way to cinch them up; they slide around more than I like. I want to be able to accommodate swelling or fine tune control if I know I will be running hills and need the shoe to stay in place. They do have velcro straps across the heel and top of the foot, but after testing, the straps seem to be more for show than functional.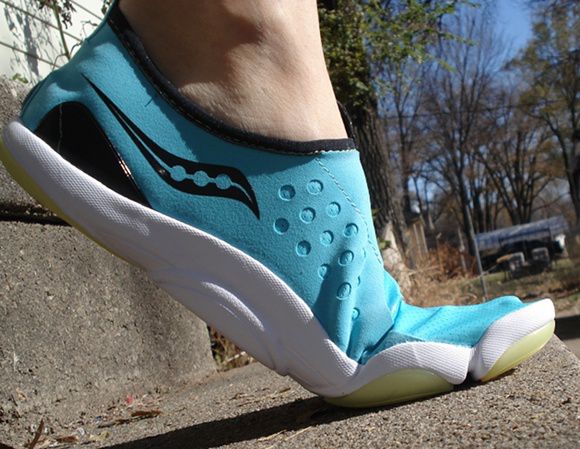 The uppers breath well and the inside is fabulous. There is one seam at the top of the shoe which reinforces the velcro strap. Other than that, I had to go looking for seams just so I could write about them. The only other one I could find was the seam that holds the upper to the sole. These shoes feel really nice without socks.
The Hattoris are foot shaped and I have no problems with width. The heel holds my foot securely and no part of the shoe tries to force my foot to do anything other than what it is supposed to: move freely (this was confirmed by my friend as well). There are no seams that rub my feet when I wear them without socks. However, if I don't wear socks, the shoe is a little roomy and has no way to cinch it down.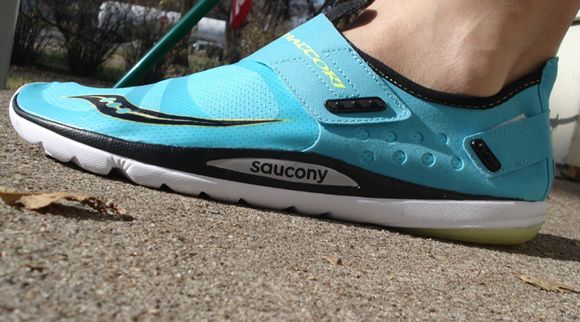 Conclusion
For a girl with long skinny feet, the Hattori fits a little big without socks. With socks they are better, but still left wanting. If the shoe had a tightening system I think they would be fabulous. For a person with a wider foot, I think it would be a much different; I imagine quite a lovely shoe to add to your shoe toolbox. I would wear them for general training and I would also give them a go for speed work or fartleks.