I have been waiting and watching all of this year to see what the minimal shoe scene would be like in 2011. Of course there have been the bigger companies putting out a plethora of designs and yet there were also some smaller companies with innovation that would give the big companies a run for their money....yes, pun intended.
If you have read any of my other reviews you will know that I take notice of the company as a whole and not just their products. A company is more than just their product. It's also about how the company produces the product they have to offer. I try out the shoes and am not compensated for writing a review however once I write the review it generates publicity and I want to feel good about supporting the company. So, one of the things I really like about Stem is their less is more philosophy that reaches both the design of the shoe and also how they strive to cut their carbon footprint with their eco rule of 50%. Stems are also vegan. Its just the icing on the cake that the shoes are so stellar. They make it pretty easy to write a review!
The brains behind Stem is a clever fellow named Andrew Rachmacher. He is an experienced runner who suffered from various injuries and decided that there had to be a better way. I like that he is a runner and is aware of how his feet and body should move and designed shoes to accommodate his barefoot form. Check out the bio page for Stem here. I , as well as countless others, came to barefoot running through injury and share the same similar desire to run pain free and a belief that there had to be a better way. My sanity depended on it!!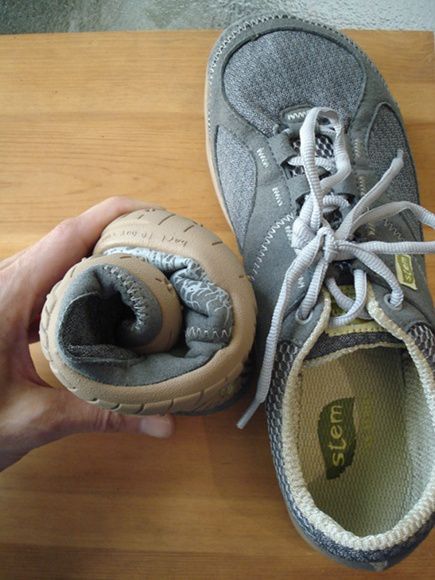 So now that you have a bit of an idea that this company is brand new this year and started out on the right foot... yes, there are so many opportunities for puns in the foot world... I will move on to the actual shoes.
When I first took them out of the box and was met with the lovely new shoe smell I noticed first off how light they are. Then of course it was time to roll them in a ball and fold them in half and then try them on and then wear them pretty much everywhere for a couple of weeks. The Stems come in at just shy of 6 and a half ounces according to my kitchen scale for the weight. You would think I would stay completely open minded when I test out shoes but every time I am surprised by something about a shoe I am testing. Usually its how lite and less substantial than what I imagined they would be.
I tried a men's size 42 in the Primal Origins. They come in different color options. Both the men's and women's are made from the same last so its just a matter of choosing the right size in length. Because they share the same last they share the same lovely width. There is plenty of room for natural foot movement and splay as your foot does its job propelling us around the world. Be aware though to look closely at the sizing when you order. They run ½ size small. Go with your US size and then add a half size.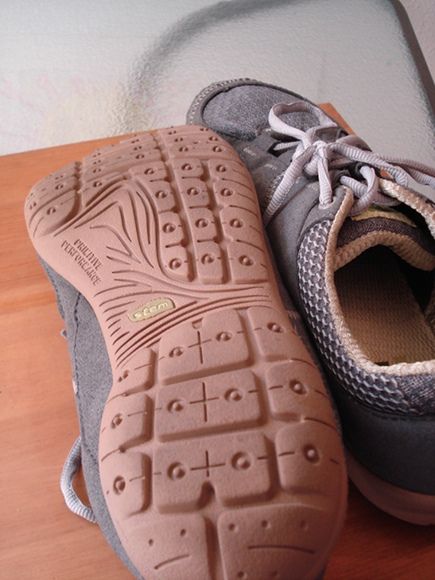 The Ground feel in these is fantastic which is not what I expected from a seemingly squishy sole. How they manage such fantastic ground feel is beyond me. They say its in the 6mm of air infused rubber that makes the outsole. My first thought was that its pretty thick for an ideal minimal shoe outsole however the rubber compresses to give that great connection with the surface you are on that one looks for in a minimal shoe. It compresses but is not what I would describe as "squishy" in that it doesn't give back added bounce. The lack of bounce is a plus in a minimal shoe. You want your own feet to provide the elastic recoil in your steps and the Stems allow you to do so.
They are meant to be worn without socks to again add to the propioceptive or biofeedback. The inside of the shoe is soft and comfortable with no seam rubbing to be had. They are just as comfortable with socks on as well. I find it interesting that Vibrams Five Fingers were not originally promoted as a running shoe per-say but they suited running so well. Stems are the same in that regard. Great for running but also for just living in. I have yet to find out how many miles they will take before wearing out. I would not wear these for trail running and would instead go for an actual trail shoe but for road running they were stellar.
I did notice some stitching flaws in the top of the shoe and asked about them. That has been addressed and will not be a problem for later rounds of the shoe. It is not a problem for structural integrity of the shoe but an aesthetic flaw. So if you noticed in the photo that issue has been addressed.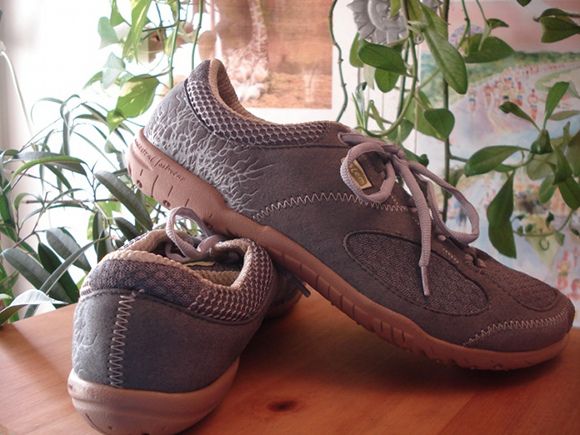 Minimal shoes raise questions about how we are meant to move. Stem has a Fascinating educational page about the foot. That is worth taking a look. Also keep in mind that minimal shoes take time to get used to in the same ways that barefoot running do. They require your own body to work in ways that you may not have in a more traditional padded cushioned trainer. So take it slow as you build up the time you spend in them.
In the future I would like to see a version with a leather upper for added warmth. Otherwise I was really happy with these and struggled to find points to put on the con side of my list! I love that Stems are machine washable and they dry quickly in front of a fan. The go for $89 which is a competitive price for such a great shoe!