One shoe brand that holds a special place in my heart is Feelmax. Back in the early days when I first started blogging about all of this minimalist footwear mumbo-jumbo, Feelmax was one of the first companies to send me a pair of shoes for review: the Niesa.
The Niesa was a great shoe - one of my all time favorites (although it did have it's shortcomings). Unfortunately Feelmax had a company hiccup (including a buyout) and stopped production for most of 2011 (although I hear production is starting up again soon).
Apparently I wasn't the only one who liked the Niesa and was disappointed to see it go: Sole Runner came to the rescue.
Sole Runner started out as a minimalist footwear retailer in Germany in 2005. When Feelmax started to drop off the market, Sole Runner decided to fill the gap by designing and producing a line of their own products. Fueled by the desire to improve upon the Feelmax Niesa/Panka concept, Sole Runner brought two products to market: The T1 Allrounder and the FX Trainer.
Do you have wide feet? Your prayers may have just been answered...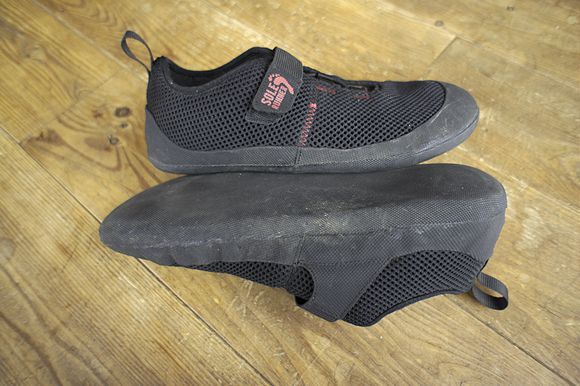 Besides Huaraches, never have I worn a shoe that has given my feet this much freedom. While many minimalist shoe companies are starting to get the toebox right, some of them are a little narrow through the mid foot. For most people this is probably fine. However, if you are like me and have a wide mid foot it can be problematic. The Sole Runner last not only provides a wide toebox, but ample room in the mid foot as well. If you have a narrow or regular width foot, you may find them too wide... for myself, the fit is perfect.
Sole Runner's sizes run large. I normally wear a size 43 in other brands, but a size 42 was found to be the best fit for me.
The FX Trainer is a low-top mesh trainer with an very thin, flexible sole. The sole is made out of a highly abrasion resistant rubber sheet no more than 1 mm thick. The rubber sheet is glued on to the bottom and wraps approximately 1 cm up the side around the perimeter of the shoe. After over 2 months of regular use (including running on pavement), I have yet to see much in the way of wear on the soles. Considering how thin the soles are, the durability is exceptional.
The sole has a light diamond-shaped texture on the bottom which gives good grip on pavement, concrete and dry trail conditions. Because the shoes do not have any form of lug, they aren't well suited for off-road use especially when the ground conditions are muddy or soft. The soles work very well for almost everything else I do and I find myself reaching for the FX Trainer first whenever I head out the door. With winter just around they will be spending more time on the shelf however, as thin soles like this don't provide any protection from the cold.
The uppers are made out of a thick, flexible mesh. They have a tough abrasion resistant rubberized fabric to protect the toes, heel, and lower sides of the shoe. What I really like about the construction used here is that there is very little exposed stitching. The top edge of the rubberized fabric is stitched to the mesh, then folded over to hide the stitches. This is a very durable design that prevents abrasion from cutting through the stitches and wearing out the uppers prematurely. As an added bonus, the combination of the abrasion resistant fabric and the glued sole wrapping up the sides of the shoe means that feet stay relatively dry when the ground is damp.
A word of warning: These shoes provide exceptional barefoot feel, probably one of the more (most?) sensitive shoes on the market. They provide enough protection to take the edge off of pokey things but you very much feel every pebble. If you are looking for a zero-drop shoe that dulls your senses, then don't look here. If you are looking for maximum barefoot feel without actually being batefoot, then you need to seriously consider these shoes. In the past this kind of sensitivity was usually provided at the expense of durability, but that isn't the case with Sole Runner - you get both sensitivity and durability.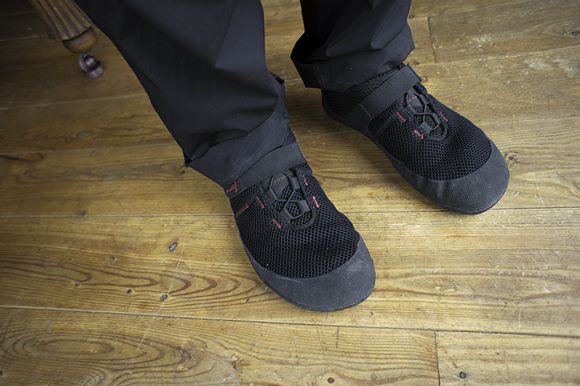 The Bottom Line...
Sole Runner has created an excellent, durable shoe with a barefoot feel that is second to none (er, maybe bare feet!). I also found their shoes to be very width friendly for my flipper feet. For road running, fitness, and general everyday use in warm weather they get my enthusiastic stamp of approval! For off-road, wet, or cold conditions you will likely want to consider other options.
Sole Runner shoes are currently only available in Europe, but soon will be make there debut in North America.