I bought the VIVOBAREFOOT Aqueous last year and I think it's a wonderful shoe for daily use and hiking.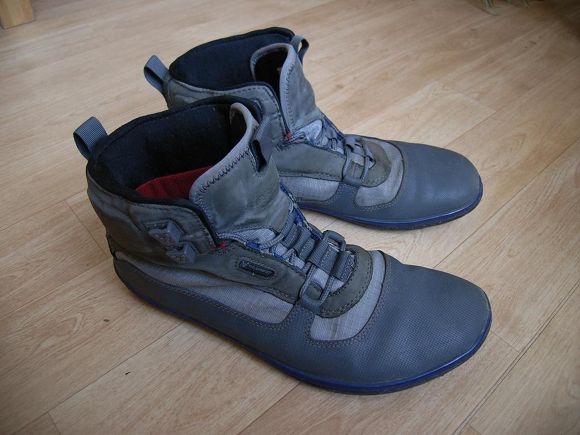 The Aqueous is an ankle high waterproof boot, currently only available as a men's model. I purchased it for hiking but VIVOBAREFOOT describes it as a street boot.
When I put them on for the first time it felt like I was leaning backwards. I was not used to a zero drop boot, I was used to standing on a heel. It felt very pleasant for my back and I could lift my feet less with every step.
My Aqueous are made out of a combination of grey suede leather and synthetic fabric, discolored from dirt (the leather and synthetics do not have any protection against dirt or moisture). I don't think that most people will like this colour. For 2011, the aqueous is made of black leather with white soles; I think this is more fashionable.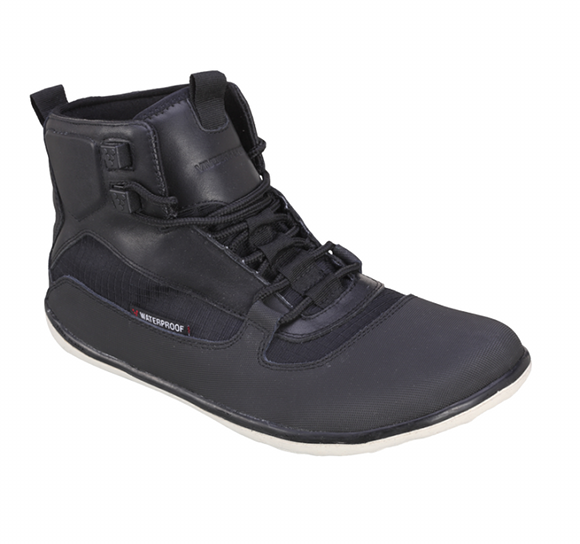 The design looks very sturdy. The uppers are partially constructed with a synthetic plastic-like material that covers most of the toes and the sides of the shoe. It's not the most beautiful material to use for a shoe but it is very strong. Because of the plastic uppers, the toebox is not ventilated very well.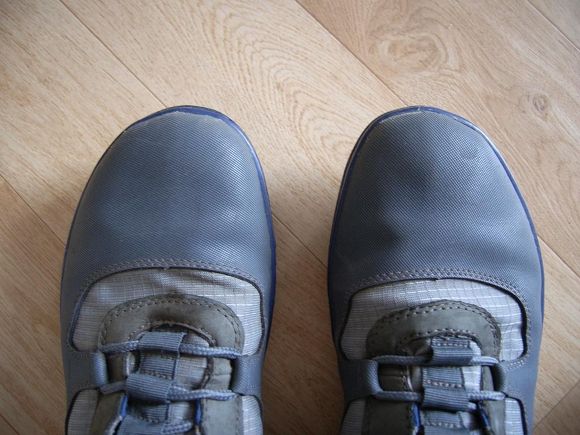 Around the ankle there is a lot of padding of which I think it is a little too thick.
I find it somewhat difficult to get the Aqueous on my feet, they do not easily slip on. There is a pull tab at the back that helps getting them on. Once they are on my feet they fit very well.
The lace hooks at the top of the boot are worth mentioning. The laces do not slide easily in them. This makes it possible to slip the ends of the laces back to the lace hooks so they are out of the way. I would like to have them on all of my shoes!
The toeboxes of my Aqueous are different; my left shoe has a very wide toebox and my right shoe has a more pointy toebox. I hope this was a one time failure during manufacturing.
The 4.5mm outsole has a pattern of indented hexagons. I would have preferred the hexagons to be sticking out for more grip.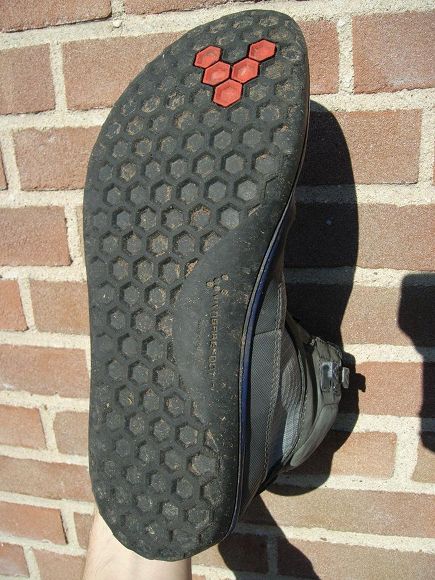 There is a 5mm/0.2in insole that can be removed. I think my Aqueous have one of the best soles to walk on, compared to all my other minimalist shoes, they are very comfortable and still have a lot of ground feel - with the insole removed there is even more ground feel. When the weather is wet and the ground is not cold, removing the insole is a good option but has a problem: Under the footbed there is a line of stitching that runs down the middle from heel to toe. This stitching is not flat. This is especially noticeable on my right shoe as I can feel it very prominently through my socks.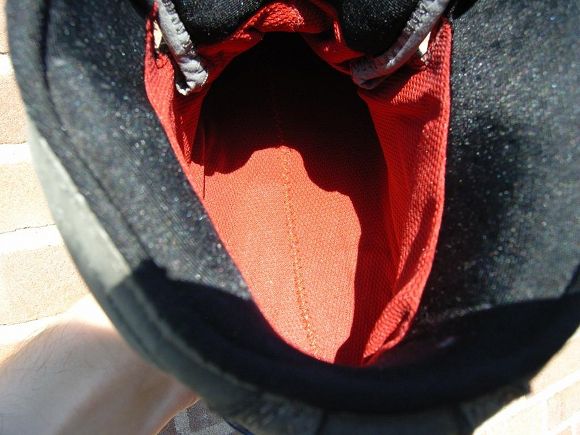 I have some doubts about the durability of the outsole. The sole seams to wear out too quickly. Because the shoes are so expensive (EU 139.00/USD 195.00) durability is important to me.
Minimal shoes are always lower to the ground than traditional shoes so they are more susceptible to wetness from grass, puddles etc. The Aqueous features a waterproof lining which - unfortunately - does not go up the tongue. Watch out how deep you step into a puddle! The waterproof breathable lining is constructed out of SympaTex, a membrane made out of eco-friendly materials. Some outdoor apparel companies that value sustainability use SympaTex in some of their clothing, like Golite and Vaude. VIVOBAREFOOT is a company that strives to use eco-friendly materials and production methods wherever possible for all of their shoes.
The big discussion with hiking shoes is always: waterproof/breathable or open mesh? Your feet stay dry in waterproof shoes as long as you don't step into a deep pool, but the breathability is always limited. Mesh shoes get wet easier and are colder at night, but they also dry out quicker when wet.
Recently I did a weekend hike in a bog (wetlands) area. The weather was warm (15°C/60°F) and sunny by day, and near freezing at night. During the evenings the shoes protected me from the cold, but during the day they were too warm. I also had to walk through wet grass and step into puddles, some too deep for the waterproofing. I ended up with wet feet anyway.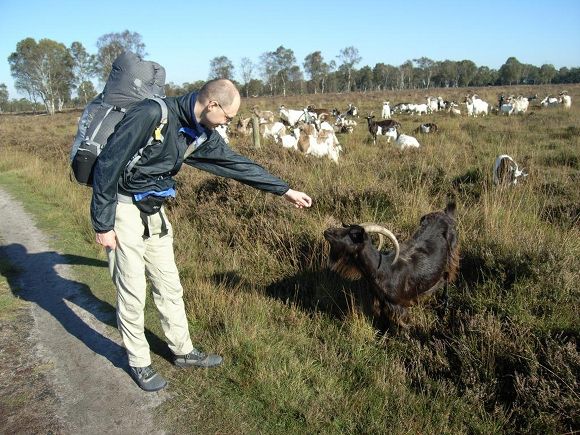 I have found the shoes to be too warm when I am hiking. When I wear them around town this is not problem.
I will be using my Aqueous mostly around town and for the occasional hike. I will use other minimal shoes for hiking too because the Aqueous don't have enough grip, are too hot on sunny days, and too cold when the temperature is below freezing.
All my VIVOBAREFOOT shoes are in the same size. But I found out that the Aqueous fit smaller. I own an older model. So I don't know what the size of the current model is like. But next time I would buy a pair in a larger size.
An alternative to the Aqueous is the VIVOBAREFOOT Off Road Hi which has 2-4mm lugs on the outsole to provide more grip. This is a real (off)trail shoe. The Off Road Hi also has a SympaTex waterproof lining.
For Women, VIVOBAREFOOT has a few boots as well: The Off Road Hi, Becks, Brooklyn and the Boxing Boot. The Becks and Brooklyn have a Thinsulate lining for warmth and a water repellent lining. (The Becks may not be available in the US)
For kids there are also a few boots available: the Off Road Hi, Becks, Eskimo Boot and Chelsea Boot. Of particular interest is the Kids Off Road Hi. It is waterproof but does not have the deep lugs that the adults Off Road Hi have. This looks to be a good play outside boot for fall/winter season. (Again, the kids Becks might not be available in the US)