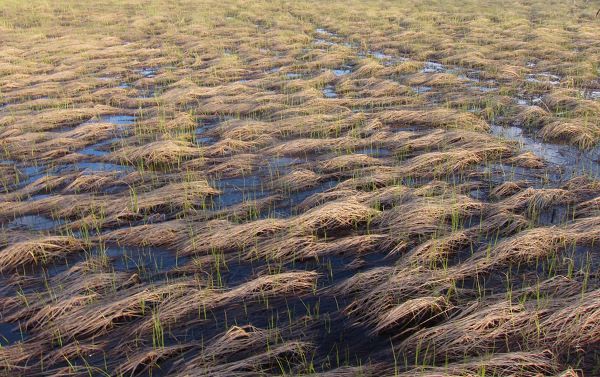 In Minimalist Footwear for Backpackers Part 1 and Part 2, Damien has outlined why hikers, backpackers, and other backcountry travelers might want to consider minimalist footwear. Not only are flexible, low or no drop shoes adequate and safe for backcountry travel, in the long term the strength they inculcate sole-to-core makes for safer, faster, and more enjoyable hiking. My own transition to using what Damien calls cushioned minimalist off road shoes for everything, including rugged alpine scrambling, has given me less foot and leg fatigue at the end of big days.
One potential shortcoming of minimal shoes is in the shoulder seasons of spring and autumn. Given that these seasons look rather different in different places, it is simplest and will serve my purposes best to define shoulder season as those times when daytime temperatures are most often above freezing, there is rarely enough snow to merit skis or snowshoes, but the conditions too cold for simple wool and/or synthetic socks to be especially pleasant. Good minimal shoes are most often not waterproof, which means your feet will get wet. As will be discussed below this is not necessarily problematic, but it is something which needs to be planned for.
Waterproof shoes do not work. They fail for two reasons: the waterproof membrane wears out and leaks due to flex and dirt, and water comes in via the big hole which must exist for your foot. Coupled with the fact that relatively few good minimalist trail shoes are available with waterproof membranes, it is clear that other ways must be found to keep feet warm in the shoulder seasons. These strategies will also work for other wet and cool hiking environments, such as the canyons of the American southwest, or summers in sub-Arctic tundra.
Waterproof Socks
Two good options exist. The first is waterproof socks, usually worn over a fairly thin wool/synthetic insulating sock. Such socks keep the insulating sock, and your feet, dry, while giving you a full choice of shoes (except toe shoes like Five Fingers).
Waterproof membranes seem to function a bit better as sock rather than built-in to shoes. When built-in to shoes, they're permanently sandwiched between thick protective fabrics. As socks they can be easily laundered and (when they fail) replaced.
Numerous waterproof sock options exist on the market, though they tend to be rather expensive (40 dollars and up). Sizing is crucial, as these socks have little give and flex. Too tight and they'll restrict bloodflow and thus make your feet colder. Too loose and you'll risk folds inside your shoes which may cause blisters. When shopping, try them on with the inner sock you'll wear on the trail, and ideally at the end of the day when your feet are a bit swollen from standing and walking. Keep in mind that after a hard day of hiking, your feet will be yet more swollen, especially with respect to volume.
Waterproof socks suffer the same limitations as waterproof shoes, just to a lesser extent. Abrasion and flexion will wear the membrane out, with leaks typically developing around the heel and toes. Waterproof socks are also only waterproof in puddles and stream crossings that are lower than the socks are high. Most waterproof socks are only 11 to 13 inches tall, and during shoulder seasons it's pretty easy to find streams which are much deeper.
Neoprene Socks
The second option for minimal shoulder season footwear - and the one I prefer - is to use a light neoprene sock for insulation. I find a thin synthetic/wool liner sock worn inside the neo sock to be most comfortable. The advantage of neoprene is that it insulates well when soaked, so waist-deep stream crossings do not require any change in gear. Neoprene socks also provide a bit of durable cushion within your shoes, and protect your feet from gravel and sand which makes it past shoe mesh and trail gaiters. Neoprene socks are also very durable. Put on your liner socks, neo socks, shoes, and trail gaiters at the beginning of the day, walk right through all the puddles, streams, snow, and flooded trails you may encounter, and remove your footwear in camp. My favorite thing about this system is the simplicity and utter lack of fiddling it involves.
The thickness of the neoprene needs to be tuned to the coldness likely to be encountered, and the mental and physiological needs of the hiker. Neo socks are available is a variety of thicknesses, from 1/2 mm socks up to 5 mm diving booties. 5 mm booties are very warm, but too inflexible and thick to be practical for hiking. 3 mm is about as thick as even the most cold-footed will likely want to go. Neo socks thicker than 1 mm will likely require a larger shoe. Pay particular attention to width and volume of these thicker socks, and of the shoes you hope to put them in. Neoprene stretches a bit, but the thicker socks stretch less. Fit is not something to compromise.
Limitations of Neoprene
Warmth is, inconveniently, something which can only be assessed well by experience, and neoprene socks do have limitations as hiking footwear, and lack of attention paid here will result in sub-par performance. You will have to buy, try, and perhaps buy again. And while neo socks are warmer when wet than thicker wool socks, they do not work miracles. Cold water is cold water, and you will feel it. Neoprene just blunts the edge and holds some water which body heat can then warm up.
This is the other limitation of neoprene socks; they do not work well for slower or sedentary pursuits, and for those with especially cold feet or circulation problems. When hiking in 40 degree weather, and frequently wading knee deep 40 degree streams, do not expect your feet to be warm and happy while wearing neoprene socks. Expect them to be tolerably and functionally warm, and for the ice cream headache factor of particularly long and deep fords to lack its edge. If your feet are cold, walk faster for 10 minutes. If such a strategy is viscerally repulsive, then shoulder season hiking - and the occasionally nasty weather it usually entails - may not be for you.
Wet Feet
I've never found consistently wet feet to be more than a psychological hurdle, even when walking 15 hours a day over rough terrain for days on end. The crucial thing while backpacking is to get your feet into dry and warm socks as soon as possible in camp. Set camp, make dinner (if you're in bear country and cannot do so from bed), and go to bed. Pull off your wet footwear, dry your feet with a bandana, do any foot care which is needed, and get into your bag. In the depths of your bag, stowed and used solely for this purpose, should be a pair of thick and fluffy wool or fleece sleeping socks. These will augment your bags warmth, and help move residual moisture away from your feet. They can then recover and be ready to do it again the next day.
A quick note for backpackers. It's quite common for nighttime temperatures to drop below freezing on shoulder season trips, and putting on frozen footwear is not only miserable, it can be impossible. Use body heat to keep your gear from freezing. Put your liner and neoprene socks, and trail gaiters, under your sleeping pad. This will keep your sleeping bag dry, and enough body heat will make it through your pad to keep your socks from freezing. They'll be damp and cool in the morning. To keep your shoes from freezing, use them as part of your pillow. Put extra clothes and/or your raingear in a waterproof stuff sack or small dry bag, and prop this on the ends of your shoes. The shoes will keep this pillow from sliding around, the stuff sack will keep your bag hood and head away from wet shoes, and your body heat will keep your shoes unfrozen. Enjoy the aroma of miles hiked as you drift off to sleep.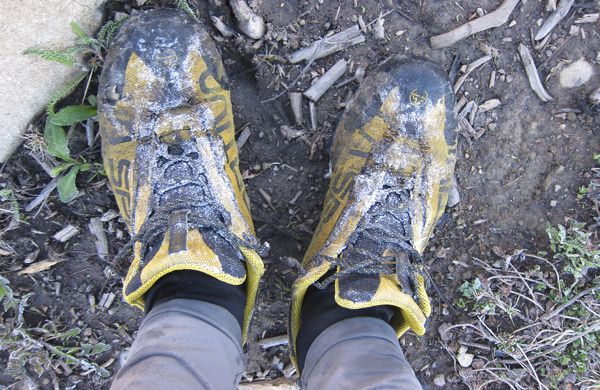 What I Use
Footwear fit is highly personal, and should not be compromised. I would rather - and have on many occasions - hike with less than ideal footwear (in terms of weight, tread, etc.) because the fit is perfect. I'm also gifted with warm feet, and have a high tolerance for occasional misery on the trail, though I hate being cold as much as anyone. That said, the following is the system I've used for April through June and late September through November trips around my home in northwest Montana. It gets the job done for that majority of the year which is neither summer nor ski season.
As mentioned above I like a cushioned minimalist shoe. A tiny bit of heel-toe drop and a bit of cushion takes the edge off rugged terrain. Montana is often muddy, and on dry terrain there is often steep dirt and talus to contend with. I find an aggressive tread and a fairly soft rubber compound to be most efficient here. My favorite shoe for the last few years has been the LaSportiva X Country, reinvented for 2013 as the Anakonda. It grips great, drains fast, and is adequately durable. Keep in mind that while fast drying shoes will shed water weight quicker, slower draining shoes will enhance the wetsuit effect and be a bit warmer.
For socks I use DeFeet Wooleators and NRS Hydroskin socks. Wooleators are both thin and durable, a rare combination. Hydroskins are thin and flexible, and don't require sizing up my shoes. I personally find them to be adequate for some pretty cold conditions, though when I'm pushing the comfort envelope I make sure to keep my core and head warm, and to lace my shoes a bit loose. Promoting circulation is the best thing you can do for cold feet. For really cold hikes, especially ones like technical canyoneering which involves standing around fiddling with ropes, I use 2 mm NRS neoprene socks for additional warmth.
I almost always wear gaiters of some kind. Keeping pebbles and sticks out of your shoes promotes efficiency and comfort, and keeps brush from untying your shoes. A waterproof gaiter with a non waterproof shoe and sock system can work well in cold conditions. The gaiter slows down water flushing during stream fords, and snow melt while postholing. They don't keep your feet dry, but they will keep them warmer. I use Dirty Girl gaiters for warmer conditions, and Black Diamond Frontpoint Goretex gaiters when I'll be in and out of snow.
Conclusion
Minimalist footwear is the most efficient way to hike, and the extra emphasis such footwear places on physical preparation and technique fits well with shoulder season backcountry travel. Less than kind conditions force the hiker or backpacker to pay close attention to the weather and terrain, which tends to foster a heightened awareness of all aspects of the backcountry experience. With a few changes in technique, its possible to bring all these together and enjoy the woods at new times and in new ways. Good luck.