I was never really interested in the Merrell Road Glove until it reached version three. The primary reason for my change of heart is the new sole. When I run, I always try to hit as many off-road trails as possible. The suburban area where I live has a lot of off-road possibilities, but I always have to combine it with running on tarmac and other hard surfaces. While the Road Glove 2 (with its flat sole) is a good shoe for hard and even surfaces, I would not trust them for off-road running. The Merrell Road Glove 3 is a different story. The new sole has much more of an off-road grip and therefore is a good shoe for running on mixed surfaces.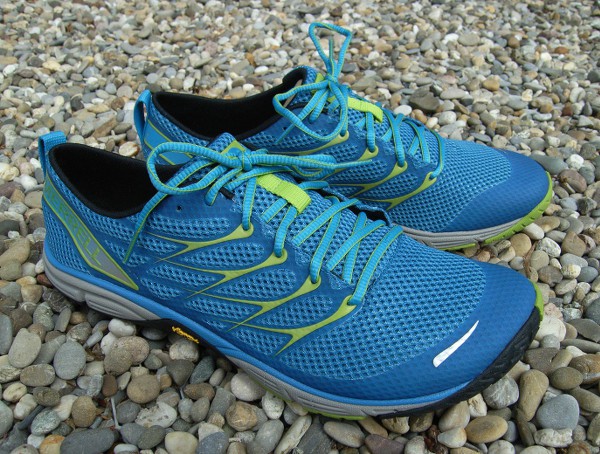 The Road Glove 3 has been completely redesigned, including both the sole and the uppers. The good parts of the Merrell barefoot line did not change: they are zero drop, flexible and have a wide toebox. As an added bonus, Merrell managed to shave almost 20% off of the shoe weight. A Road Glove 2 in size EU 46 weights 234 grams per shoe. The same size Road Glove 3 weighs 192 grams, a weight saving of 18%. The Road Glove 3 does indeed feel very light on my feet.
Though the shoes have 4mm of cushioning they, have enough ground feel for most people. I am used to running on shoes with minimal cushioning, and I can easily feel the 4mm of foam under my feet. For me, the cushioning isn't a problem but barefoot purists might find it to be excessive.
The mesh uppers let sand and dirt pass through and they absorb moisture very easy. The uppers are not designed for off-road running through the bush; stay on the path with them.
Because I think this shoe can also be used for light trail runs, I think a quick comparison with the Merrell Trail Glove is in order. The Road Glove 3 is more flexible in the forefoot than the Trail Glove, it has no rock plate in the sole and therefore offers more ground feel. The Road Glove has a much wider sole - even wider than the foot - so it has more contact with the ground. The Road Glove has a smaller and thinner toe protector than the Trail Glove, but will suffice for roads and light trails. I have found that the sole of the Road Glove performs well on both wet grass and hills.
I think the aesthetics of the Merrell Road Glove 3 are a nice bonus; they have a sneaker-like look that works well for daily use.
I don't like running with bare feet in my shoes, even if they are designed for it. My feet are prone to getting blisters and hot spots. The lining of the Road Glove 3 has such a nice feel against the skin that I had renewed hopes of running in them with bare feet. Unfortunately it is not meant to be, I get hot spots with this shoe too. This experience is very personal though, as many runners will not likely have this problem.
Synthetic shoes are always more susceptible to smell. The Road Glove 3 has been treated with an anti-odor process, my experience with these things is that they don't last for long though (especially after I have worn the shoes wet). I have run and hiked with the Road Glove 3 when wet, and so far they are not smelling too bad. The Road Glove 3 can be washed, as all of Merrell's barefoot shoes. Merrell recommends washing at a low temperature, however odor-causing bacteria are better removed at higher temperatures (60C or 140F).