In claiming that they've built a shoe which works well for both minimalist-style trail running and climbing/scrambling/approach use, Patagonia has set themselves a high bar with the Rover. No other shoe claims the same, likely because there are a number of traits normally considered essential in minimalist running shoes which fundamentally contradict those found in good approach shoes. Patagonia managed to thread the needle and combine those traits, as well as pay attention to fundamentals and make a comfortable and durable shoe which does a lot of things well.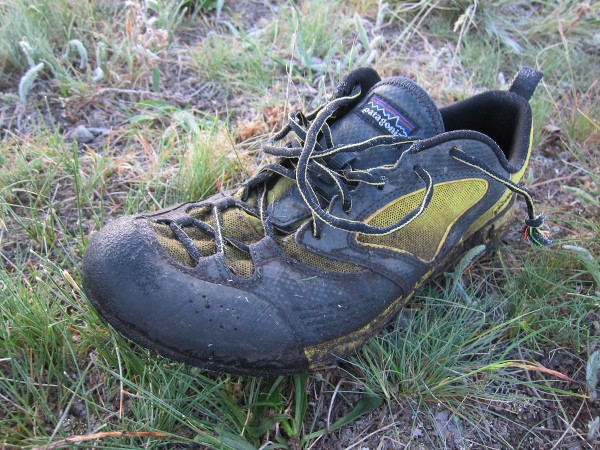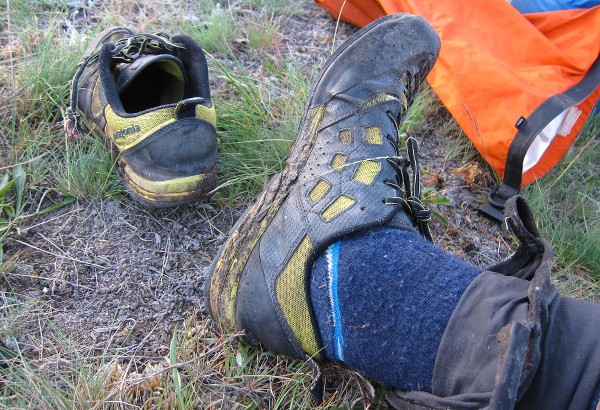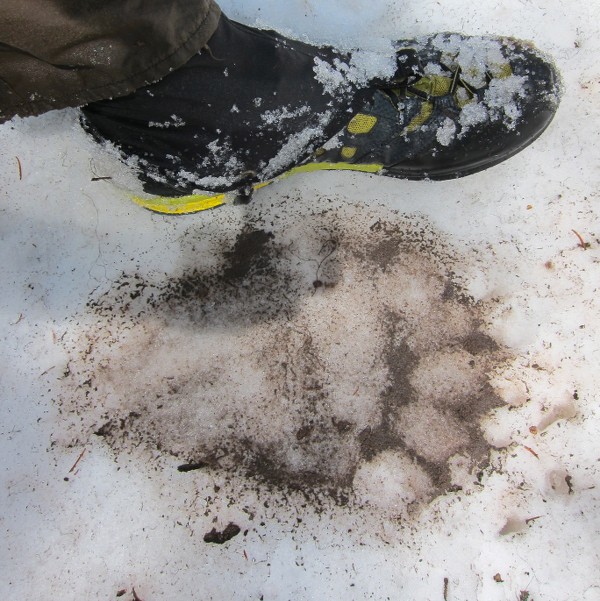 Perhaps the most fundamental attribute of a minimalist trail shoe is a judicious amount of structure and protection, which strikes a balance between allowing the human foot to work with the full support of the body, and providing enough protection for said foot to not suffer overmuch from fatigue towards the end of a long day walking, hiking, and/or running. The Rover provides what I consider a pragmatic level and type of protection for the intended use of traveling over uneven and particularly rocky alpine terrain. There's a decent bit of EVA foam on both ends of the 4mm drop midsole. Interestingly, Patagonia claims that the heel is softer than the front, this in addition to a forefoot rock plate. The idea makes sense to me, and not only for a little more stiffness when climbing: at the end of every long day of backpacking on harder surfaces, it's always been my tarsals which get the sorest first. The midsole works, the Rover is low enough to agile and secure in rough terrain, and has enough structure to guard against prominent rocks and overall fatigue after a long day. I'm a dedicated fan of minimalist shoes, but not a barefoot evangelistic. The Rover provides exactly the level of structure and padding I want for long days in the canyons or mountains.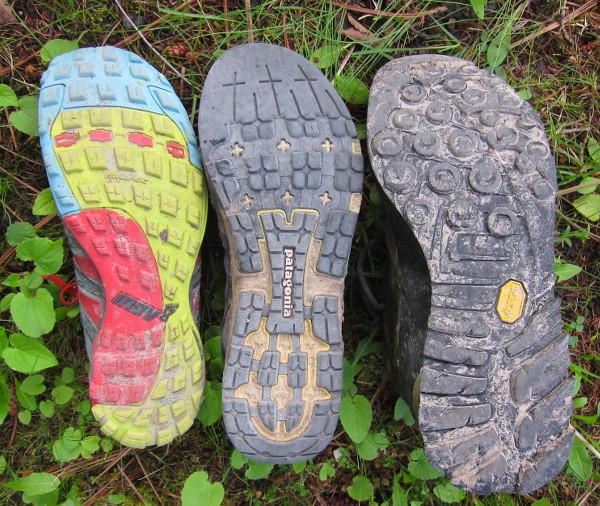 The tread of the Rover (center) is designed to maximize frictional grip, with lots of surface area, and a plain toe area for climbing. The shallow, larger tread cutouts work surprisingly well, and in mud and dirt provide decent grip. The Inov8 Trailroc, a hiking-specific tread, is shown at left, and the LaSportiva Boulder X, another approach shoe, at right.
The Rover is a good hiking and running shoe, especially in [technical terrain] [http://toesalad.com/articles/minimalist-footwear-technical-terrain/], but is it a good scrambling shoe? Most approach shoes have been and are built with a narrower toebox. This is comparable to the methodology used with modern climbing shoes, where a narrow toe box allows lacing to compress the toes and provide both a strong platform for edging on small holds and the flexibility and sensitivity needed for smearing and other trickery. As effective as this is for climbing, it is only marginal for hiking, and a disaster for a minimalist shoe, where room for toe splay and foot swelling are vital. Patagonia solves this problem with full length lacing, and a fairly wide toebox. As can be seen below, the toes aren't quite as spacious as something like the Inov8 Trailroc 235, but are a lot wider than a climbing-specific shoe like the LaSportiva Boulder X. When cruising miles on trail, leave the lower lacing loose; when scrambling 4th class ridges, cinch them tight. Just as crucial as the lacing system, the lace holes themselves are a bit sticky. Slack left in the toe area won't migrate up. Additionally, the laces themselves are nicely textured and stay tied. The Rover hikes well and climbs well, and while it might not do either quite as well as the specialist shoes, two 80 percents add up to a lot more than 90 and 15.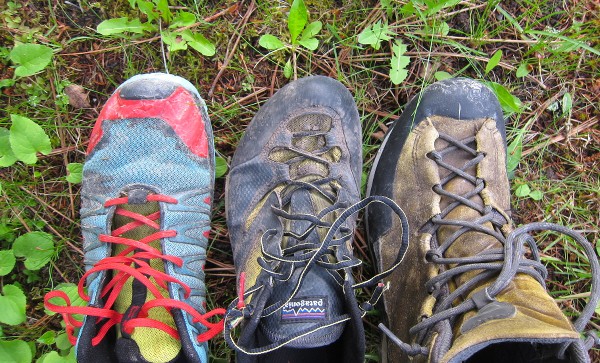 Of course, good performance characteristics mean nothing if a shoe doesn't fit, and in the era of 125 dollars shoes (the MSRP of the Rover), poor durability is hard to tolerate. Fortunately, the Rover does not neglect the basics. The primary fabric (blue) is a rubberized synthetic which after four months of use proved to be very tough, and to absorb very little water. The secondary mesh fabric (nuclear neon) is also quite tough, and drains water perfectly. I have no doubt that eventually the mesh will develop holes, but by that time the tread will probably be close to done in anyway. The mark of a good shoe is components which wear out in sync. Adding to this toughness are good toe and heel rands, and sole rubber which is soft enough to provide good friction while still wearing well. The Rover is a good investment.
Sizing a shoe like the Rover will be dictated by intended use. I wore my usual size of 11.5 (US) because I intended to wear them a lot while backpacking, and wanted to be able to wear extra insulating socks during the cold Montana spring. If I wanted to use the Rover's for summer ridge running in the Sierras or Tetons with plenty of excursions onto low 5th class terrrain, I'd go at least a half size smaller, and probably a full size. I have mid-width feet, with narrow heels and very low volume overall. The lacing of the Rover adapts to many different foot volumes, while the soft uppers and lack of any hard material in the heel allows the shoe to stick to your foot and adapt to different foot shapes. The soft heel counter also allows the shoes to fold flat, which takes up less room in a pack while climbing with rock shoes.
In summary, the Patagonia Rover is a well built shoe which executes the basics well, and also combines features from several genres to produce a versatile and solid piece of footwear which does a lot of things well. Anyone who enjoys a minimalist shoe with a bit of structure, and likes to hike, run, and climb on rocky terrain, will do well with them. Patagonia has set a bar which other manufacturers will likely soon seek to follow.