As a minimalist runner with a day job (I'm an attorney), formal and semi-formal footwear has always been a source of frustration.  I can wear anything I want on my feet when at home or when running, but when I'm in court my options are limited.  And while there are currently many great minimalist running and casual shoes on the market, when it comes to dress shoes I have yet to find anything I love. As a result, I often feel like I spend my time at home trying to undo the damage to my feet done at work. Fortunately, a company named TUNEfootwear has decided to tackle this problem head on with a line of minimalist loafers, and I got my hands (feet) on a pair to review.
Basics
First of all, if you are wondering, yes, it is spelled TUNE and not Tune.  I'm not sure why so many shoe companies insist in spelling their names in all caps, but it seems a bit contrary to the spirit of minimalism. Okay, in fairness the full name is TUNEfootwear which isn't entirely uppercase, but maybe minimalist shoe companies should consider following kigo's lead and go entirely lowercase. (VIVOBAREFOOT, I'm looking at you.)  I mean, at least ASICS is an acronym.  What's PUMA's excuse?  Okay, okay, end of rant; back to the review.
TUNE footwear comes in four styles, all of which have leather uppers and retail for $99.00.  The Penny looks like a basic penny loafer.  The Tassel and Ornament are the same shoe except that one has tassels and the other has a metal ornament on top (I'll let you figure out which is which).  All of the above come in three colors: black, brown, and tan.  The odd one out (at least as to appearance) is the Boat, which looks like a classic boat shoe and only comes in brown. All four models are built on the same last. I spend a lot of time in Khakis, so I opted for the Penny in brown. 
If you're looking for a way to save some money, TUNE just launched an indiegogo campaign (basically the same as kickstarter) that is offering discounted prices until November 1. You can check it out here.
Appearance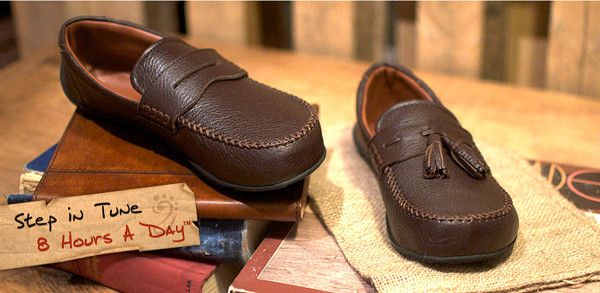 As far as I'm concerned, the acid test for minimalist dress shoes is whether I can wear them without anyone knowing I'm wearing minimalist shoes.  Fortunately, the Penny passed this test with flying colors.  It really looks like any other pair of penny loafers.  I wore them a lot with khakis, including to court (with a coat and tie) and no one batted an eye.
On a side note (and this isn't a commentary on the shoe), one issue you might want to be aware of if you are transitioning to minimalist formal shoes is that if you have chosen your hem length while wearing shoes with a raised heel (as virtually all dress shoes have) you may find the back of your pants suddenly dragging on the ground when you switch to something zero drop. Not the end of the world, but I figured I would warn you anyway.
Fit/Comfort
This is the area where I had an issue with the shoe.  First of all, the shoes run very small.  The website recommends going up one full (American) size from your normal shoe size but in my case I had to go up one and a half sizes (I'm normally a 10 and an 11.5 was the right length for me).  However, my real problem (and in the end the only major issue I have with the shoe) is that the shoe is way too tight over my instep.  This seems to be the fault of the extra band of leather that goes over the top of the shoe.  Now, you should know that I do seem to have an unusually high instep, so it's hard for me to tell whether my problem is a result of a defect in the shoe or of my freakish feet.  Unfortunately, the end result for me is that the shoe is so tight over the instep that it's painful to wear for long periods of time.  I talked to a rep from TUNE about this problem and he said that it is a problem that people with "super high insteps" tend to have with the shoe, but that the company is working on a revised shoe to address the issue. He also says that since the Boat has laces it should also work better for people with feet like mine.  
Other than that issue, the overall fit is good.  The toebox is pretty wide, though I'm sure many of you purist types would insist it isn't wide enough. However I never felt that my toes were being squeezed, and it doesn't have that clown shoe look that some minimalist shoes have, so I can't complain.  The toebox is also high enough that my toes don't feel constricted vertically.  The rest of the shoe fits close enough that my foot doesn't move around.  Since the leather is soft this isn't uncomfortable, and means the shoe doesn't fall off.  In fact, I found that I had to use two hands to get the shoes on—the fit is too close and the upper too soft to slip on easily.
Overall the shoe is very comfortable (or would have been without my issue with the instep).  The leather is soft and flexible, as is the sole.  The result is a shoe that feels good out of the box, moves with your foot as you walk, and doesn't pinch or rub anywhere.  When it first arrived it didn't seem to breathe well, though now it doesn't seem to be the case, so I think that either I imagined it or the leather opens up a bit as it breaks in.
Performance
Groundfeel and flexibility are both highpoints with this shoe.  The sole is very thin and lets you feel almost everything.  As I mentioned earlier, the sole and leather upper are both flexible, and this results in a shoe that feels like an extension of your foot, instead of a box (or dare I say it, coffin) that your foot is stuck in like many stiff dress shoes.  Weight is also good, especially for a leather dress shoe.  As a result, this is a shoe that makes me feel like walking, and just feels good to move around when I'm wearing it.  Although I didn't put in any miles in this shoe, I did a little bit of running in it and it really wasn't bad at all.
Conclusion
For my own personal use, this shoe was a tragic near miss.  I loved the comfort, flexibility, groundfeel, the fact that it looks normal enough to wear to work, and most elements of the fit.  But the darn instep was so tight on me that (even after sizing up as much as I could) they were uncomfortable and (much worse) unhealthy to wear for any length of time.  They don't work for me for that one reason, but if they fit you, I would highly recommend them.