VIVOBAREFOOT released a few interesting new models this spring. One of them is the men's Saddle.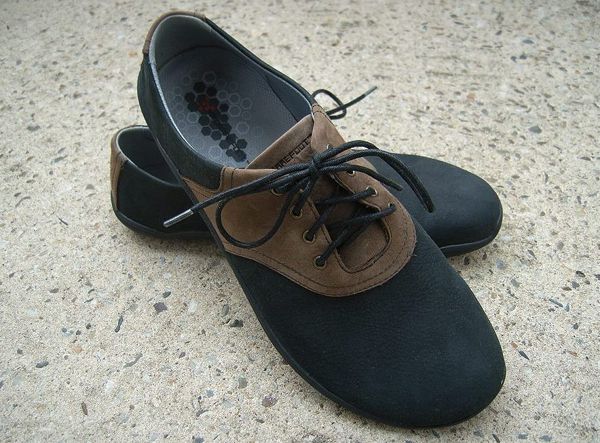 The Saddle is a classically designed Oxford shoe. The most notable detail about this shoe is the saddle-shaped piece of leather in a contrast colour over the midfoot. But the Saddle has more interesting details.
The Saddle is made of nubuck leather. It comes in black with a dark brown saddle or dark brown with a light brown saddle. The black version is more prominent and will not attract everyone. I really love this design because it is a minimal design and still pays attraction. The leather has a very fine lining, this is a particularly nice detail.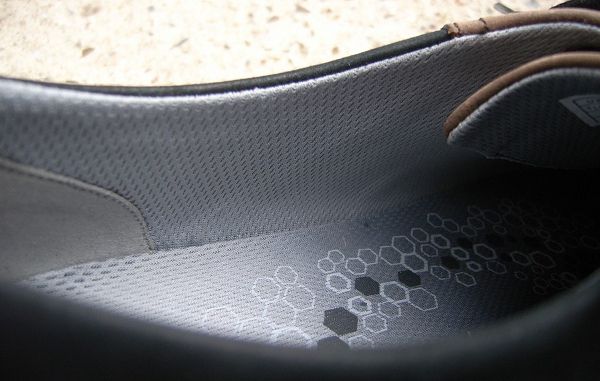 I found the Saddle very comfortable to wear, even better than my VIVOBAREFOOT Ra's. The Ra's shoe tend to cut in my Achilles tendon. I did not have this problem with the Saddles. They are also very lightweight, 564 gr. (19.9 Oz) for a pair in size EU 45. The Saddles are equipped with VIVOBAREFOOT's new On Road sole which is light, thin and flexible. The toebox is very wide.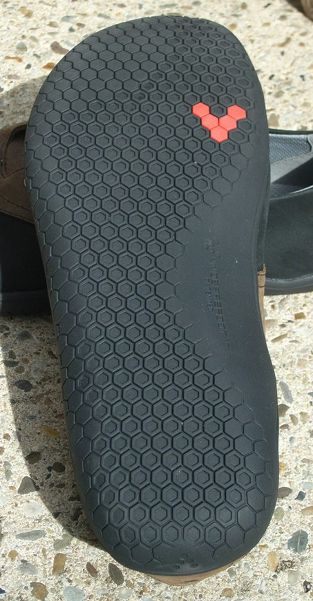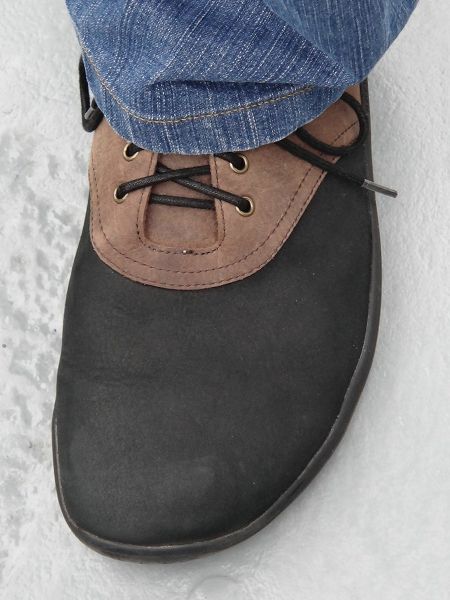 I noticed some differences in the pieces of leather used on both shoes. Some pieces are more smooth than others. This is normal with leather shoes but I don't like it when it is on a very visible part of the shoe. The leather is just a little bit stiffer than on my Ra's but not in a restricting way.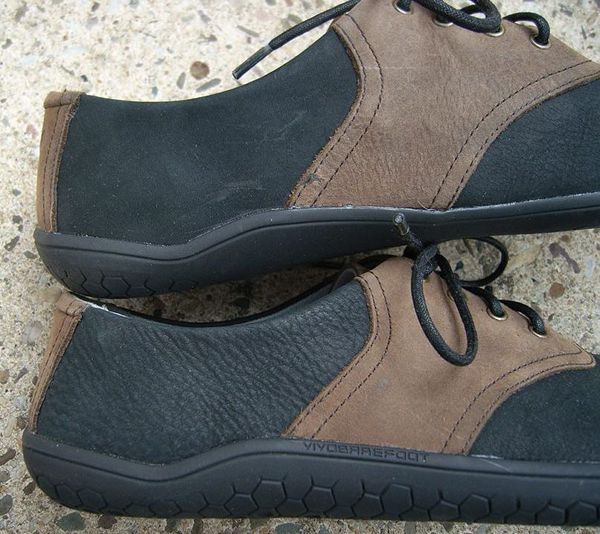 Another issue is a 'clapping' sound that occurs when walking. I think this happens because the sole and the uppers don't bend at the same place. I have experienced this before with other shoes and it took a long time before it disappeared. This can only be heard when walking in a quiet room though. In a street this is not a problem.
Interview with Asher Clark
Toe Salad had the opportunity to talk with VIVOBAREFOOT's head of design, Asher Clark, about shoe design and the new Saddle shoe. Welcome Asher.
A lot of VIVOBAREFOOT designs seem to be inspired by classical shoe designs, like the Saddle or the Gobi desert boot. Where does this preference for classical designs come from?
I'll start by saying that every shoe starts with the foot – the foot has all the technology you need and the shoe let's your foot do its thing.
For me good design is just simple design. Less is more – whatever you want to call it. Doing simple is harder to pull off then doing complicated but when you get it right you tend to get something that transcends age and people just want to wear it. Our lifestyle range is about making barefoot classics – 'simplicity in the ultimate sophistication'.
Will there be more classical shoe designs from VIVOBAREFOOT in the near future?
Yes, we have a new range of beautiful hand crafted "traditional inspired" shoes made in Portugal with the best natural hand finished leathers we could put our hands on.
They are limited runs made by an incredible shoe factory that is simply a joy to work with.
The first shoe, which is available now, is a classic stitch down unlined desert boot called the Porto.
The dirty little secret is there are more like it in the works!
What inspired you to design the Saddle with its distinguished saddle shaped panel over the midfoot?
Honestly, it was a strong call from Galahad (editor's note: Galahad Clark is VIVOBAREFOOT's Management Director) for an American flavoured saddle shoe. My present to him, he still hasn't thanked me.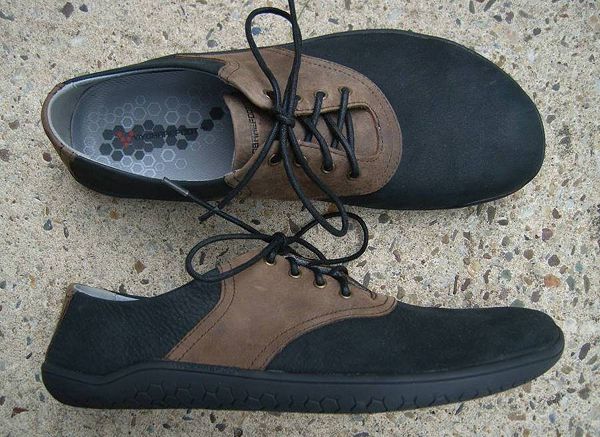 For which occasions was the Saddle designed?
For a distinguished evening at your local barefoot barn dancing club? Where you may find Galahad as head judge.
Dancing is a skill after all and the foundation of skill is proprioception!
(Editor's note: I actually danced in my Saddles at a party and they really are good dancing shoes.)
The Saddle has the new On Road sole. What are the differences with the old On Road sole?
We are always improving our shoes, often in places only your feet will notice. The new On Road sole is built around our new last. Let me tell you a little about it.
The new On Road last is entirely based on the original last, with exactly the same width. This new last is the result of five years development and three further years working with Lee Saxby.
Further improved ergonomics give unparalleled barefoot fit and feel, allowing for dynamic toes and arches, unprecedented ground feel and ultimate big toe engagement. Subtle changes, but we believe that every little % we can improve the shoes is everything!
The sole is made with an improved secret TPU formulation that gives better durability, ground feel, slip resistance and the best sensory clarity on the market.
The inside of the Saddle is made of a very fine lining. Is the Saddle designed to be worn without socks? Is this lining also on the Jay? (The Jay is a loafer, also new for 2013.)
Yes, this lining is the same as the Jay. An American company called Drilex makes all of our performance linings. We have found this to be the best for barefoot or in socks.
VIVOBAREFOOT wants their shoes to have a minimal as possible ecological footprint. Leather is not so good for the environment though. Do you experiment with or look at alternative materials like faux leather?
This is a big question. The short answer is that leather is an unrivaled material for shoes due to its natural breathability, moisture wicking, and the wearing narrative - "the more your wear it the better it looks and feels". We call it emotional durability which is another way of saying that the shoe gets better the more you wear it!
The problem with polyurethane is as soon as you drive it out of the garage it's slowly getting worse and you could argue that this makes a product a lot more disposable. So there are really two sides to this debate and we do make non-leather performance and some lifestyle shoes like our JingJing which uses the best high performance PU money can buy; and while it performs better than most PU's on the market it doesn't perform as good as leather.
What kind of shoe design do you like yourself? What is your favourite VIVOBAREFOOT shoe?
My go-to VIVOBAREFOOT shoes (which by the way, I can only wear Vivo's) are mostly samples that aren't in the market yet, one of the few perks of my job and having size 42 feet. (Editor's note: 42 or 9 US is the standard prototype size that footwear manufacturers use.)
But current styles that are always in my suitcase and at the bottom of my stairs are: Gobi (everyday shoe), Achilles (every day when it's hot outside), One (the best running shoe in the world) and Hybrid (golfing).
Do you also look at minimal shoes from other shoe manufacturers? Are there any of their designs that you really like?
Ha! This is an interesting question.
I particularly like all of New Balance Minimus's blatant hijack of our functional hexagon identity ;)
All the big brands, on occasion, make some great looking shoes and I admire Nike for their industry leading design and innovation.
When I see a great shoe it makes me feel uncomfortably competitive and that pushes me to continue to raise our bar, get in the office early, leave late and take on the big guys!