The State of the Market
Outdoor Retailer had a different vibe this year. Not better or worse, but definitely different. There appears to be a maturation going on in the minimalist shoe space. Depending on who you talk to, the minimalist shoe "market" is either growing or in decline. My sense is that the honeymoon period is over (gone are the throngs that surrounded the Vibram FiveFingers booth last year). Those who were dabbling don't see it as the goldmine they thought it might be, and those who are committed are continuing to see growth. I believe that in the next couple of years we will start to see everyone's true colors: who is really serious about staying in this space, and who was just jumping on the bandwagon.
The third issue of OR Daily - a print magazine published during the show - had a feature article called Minimal 2.0 - From one extreme to the next, minimal footwear went from barely there to a tentative middle ground. I would say that is a fairly accurate description of what I saw, as many companies are adding both thin and super flexible as well as thicker more cushioned models to their barefoot/minimalist lines.
The introduction of more thin, flexible options was confirmation that companies are still committed. The introduction of a little heel rise and more cushioning to a couple lines was a bit concerning. The good is that it gives consumers more choice because now they can get a little more protection in a minimalist shoe when they need it. The bad is that it may give companies license to call shoes with a heel rise and cushioning "barefoot". My biggest fear in all of this is that what qualifies as minimalist is going to get diluted due to lines getting fuzzier. While there have never really been any standards set in this regard, I could see consumers getting confused about what it is they are actually getting unless they are really informed.
What follows is a summary of what I saw at the show. Read it over and let me know what yo think!
New Balance
The biggest news at the New Balance booth was the announcement of their latest ultra-flexible road model called the HI-REZ - a 4.3 oz slipper-like road shoe. I was impressed where New Balance went with this. While the Minimus Zero Road was a good zero-drop minimalist shoe, this takes things to a whole new level.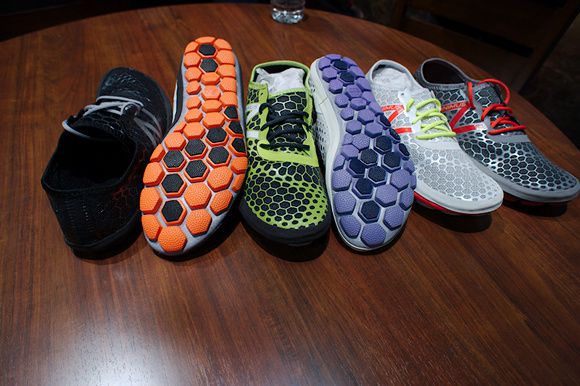 I think that New Balance has been quite innovative in searching for ways to provide both protection and flexibility. Often it is an either/or prospect, you either get good flexibility or good protection, but seldom both. This design looks like runners might be able to get both in one package. How are they doing it? By gluing 42 EVA/rubber hexagonal pods on to a flexible fabric sole.
This video highlights just how flexible this shoe is:
New Balance has also given the Minimus 10 Trail an overhaul and bumped the revision number, calling it the 10v2. The v2 features a more forgiving forefoot band (gone is the rubber, it is now a synthetic fabric) and adds some additional stretch and flexibility to the shoe through strategic use of NuFoam. One of the biggest updates to the design is a new outsole. New Balance has selectively removed rubber from the outsole to provide better flexibility in key locations while reducing overall weight and maintaining durability (so they say!). Overall I think these are excellent improvements to an already great product.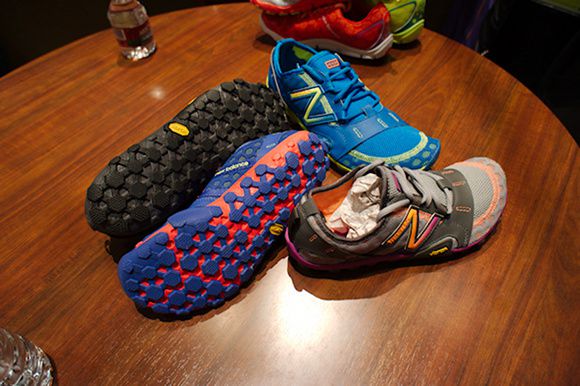 I don't know how I missed this last winter, but New Balance has a winter version of the MT/WT110 called the MT/WT110 Winter. Based on the same platform as the regular 110, but instead of the normal upper it features a zip-up soft-shell like upper with built-in gaiter. Very cool.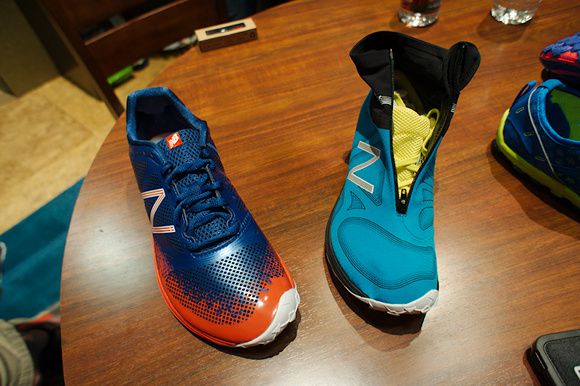 My sense is that New Balance really gets minimalist footwear, I really like what I am seeing, and we can't wait to try these out. Good job guys!
Altra
Xero Shoes (formerly Invisible Shoes)
The biggest change for Invisible shoes has been a re-branding to Xero Shoes - Original Barefootware (we love the tag line!).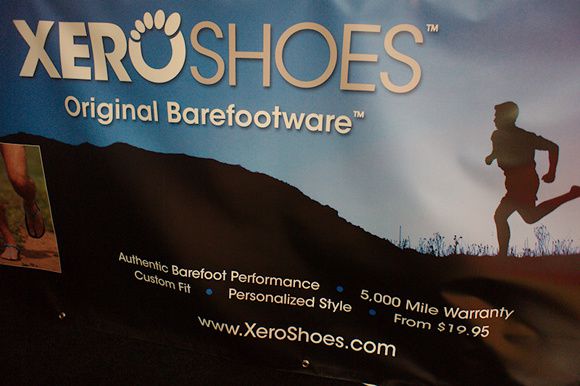 Along with the name change also comes a push into the retail space. Xero Shoes was showing off the huarache kits that will soon be gracing the shelves of shoe stores. Complete with sole, lace, and hole punch. Pick any color you want, as long as it is black - additional lace colors will be available as an accessory.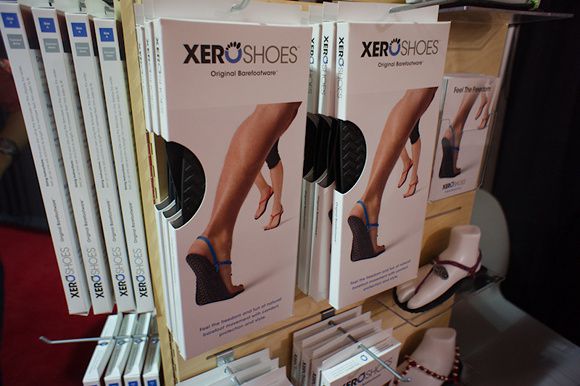 In addition to the name change and the push to retail, Xero Shoes has added a new twist to huarache fashion: color. Soon you will not only be able to pick the color of your laces, but the color of your sole as well. Gone are the days of black rubber sandals. The future is here and it is red, blue, green and brown.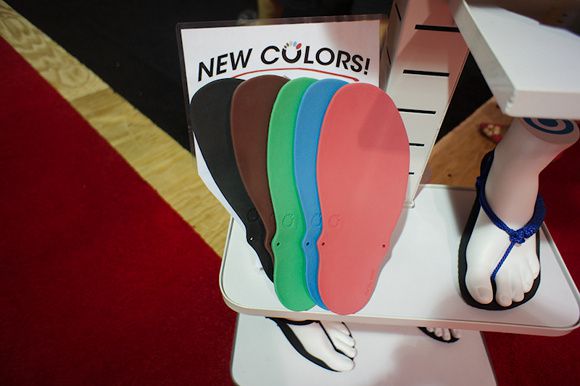 Inov-8
There are lots of new developments going on at Inov-8, and overall we like what we see.
The first development is the release the TrailRoc line. The TrailRoc is Inov-8s first off-road shoe based on their anatomic last (finally!). It comes in four flavors depending on the amount of cushioning and heel drop you want: 150 (not yet released - zero drop, zero midsole), 235 (zero drop, 6mm midsole), 245 (3mm drop, 6mm midsole), 255 (6mm drop, 6mm midsole). This comprehensive range allows you to pick the level of protection you need, or gradually work your way down the line if you want a gradual transition to more minimalist shoes.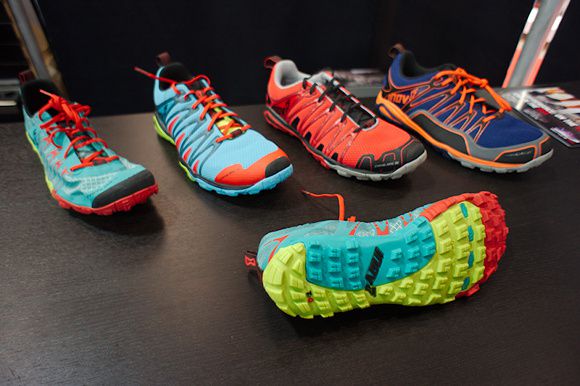 The other big development that somewhat surprised me is a re-vamp of the F-lite line. The F-lite - originally designed on the narrow performance last - will soon be offered in the anatomic last as well. As with the TrailRoc, the updated F-lite will also be available in a range of zero to 6mm drops. That will make the F-lite one of the most customizable shoes on the market: available in two lasts and several different drops and either with our without a midsole. Wow.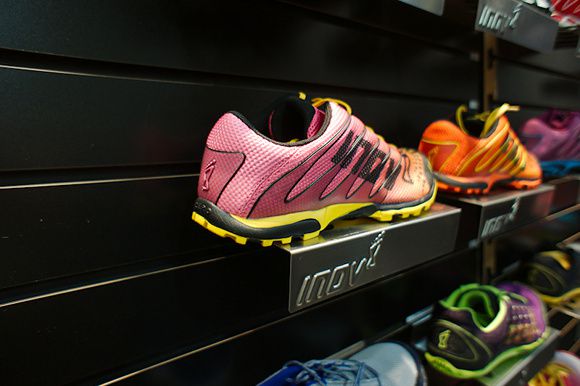 From the consumer standpoint, I really like what Inov-8 is doing here. They are basically letting you pick your "platform" (i.e. F-lite or TrailRoc), then pick your drop and your cushioning, and in the case of F-lite, pick your last as well. That is a tremendous amount of options. Since we as consumers all have different feet and different needs, more choice is better.
From the retailer standpoint, having this many options has got to be a headache. How would you know what to carry? Even if you were to just carry the F-lite line in it's entirety, that would make a pile of shoes once you take into considerations all of the different sizes available. It will be interesting to see how this goes for them.
Stay tuned for part 2 of my Outdoor Retailer 2012 trip report!
---
Acknowledgments
A special thank-you goes out to everyone who donated money to make this trip possible. I also want to thank Gossamer Gear for letting me share lodging with them during the show. Thank you!