It's (sort of) spring here in Montana. Cold, rainy days are punctuated by sunshine and highs in the 60s. The mountains are covered in snow to low elevations, but the rivers are rising—a sure sign that snow is melting somewhere. We know summer is around the corner, but wish that corner was closer than the end of June.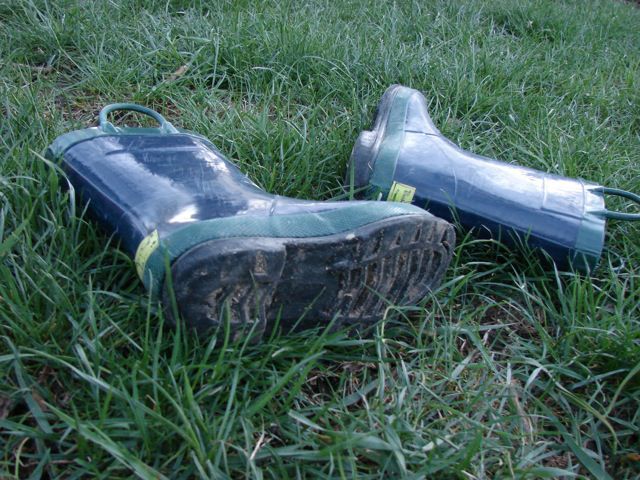 I'm still hiking in the snow with my boys (ages 2.5 and 4) and keeping them away from rivers that grow more swollen every day. We don snow boots or galoshes with our warm coats, hats and mittens most days. But as soon as the thermostat hits 55 degrees F (how do they know that?) the boys flip off their boots and start running around barefoot.
I've been waiting for this time of year, when shoes are just for inside grocery stores and restaurants. We carry them in our truck or on our bikes, just in case we need to duck in somewhere. We keep a hose outside the front door to rinse muddy toes before entering the house. Indeed, it's spring.
It seems to me that this is how childhood should be. Adulthood, too. Barefoot unless there is a health hazard or safety issue. Dirty, bare feet scream "summer" and "freedom." In a state that has a ridiculously short warm season, we have to take advantage when we can.
Lately, I've spent a lot of time looking up minimalist shoes for the boys online. Anders (the eldest) wants running shoes, Finn wants whatever Anders wants. I read shoe descriptions and the boys look at colors, but when it's time to go outside, they don't want shoes at all. Not even shoes with a wide toe box and almost no heel. Not even shoes in shockingly bright colors.
They want to slide around in the mud, feel the grass tickle their toes and slough off dead skin in the exfoliating sand box. They want the freedom of bare feet.
I'll still get them shoes—the trails we hike are too rough for little feet—but whenever possible, we are shedding shoes and slipping into a childhood summer.
---
This article is the "official" kick-off for the new kids components we have added Toe Salad. We have brought on a new member to our team: Mel has agreed to be our kids editor. She will be responsible for managing our kids specific articles, reviews, and forum.
I hope you'll join us over on the new Kids Forum to talk about barefoot kids and what to slip onto little feet when bare foot just won't work.
Welcome Mel!