In spring 2014 our family of five will be hiking the Appalachian Trail, starting at Springer Mountain in Georgia and aiming for Mt. Katahdin, more than 2,000 miles away, in Maine. We will be sharing our journey in a trail video series, Beyond our Boundaries: A Family Adventure on the Appalachian Trail. We are thrilled to have the support of some fabulous sponsors to help make this happen.
These sponsors are helping to make our hike and video project possible through gear, clothing, food, and other items. We appreciate all their support and recommend you check them out. View our entire gear list here.
---
In less than two weeks, we hit the trail. Since here at Toe Salad we have the tendency to talk about shoes, you would think that this aspect of our gear planning was the first to get checked off the list. Au contraire, at the eleventh hour, we are still putting the finishing touches on our footwear plan.
This article aims to outline what our family footwear strategy will be for the trail - at least going into it. I have no doubt things will be changed and refined as we go, but you have to start somewhere.
A Brief Background
Hiking for 6 months of the year means that we will be encountering three seasons: namely spring, summer, and fall. Not only that, but we won't have any choice but to be outdoors in whatever weather conditions mother nature decides to dish out. We can pretty much expect it all: snow, slush, rain, mud, frost, sweltering heat... over virtually all types of terrain including rocks, roots, dirt, flat, steep, and various forms of man made surfaces. And that is just the first week. Basically, anything goes.
To handle these varied conditions, I am approaching our footwear strategy by designing two systems: one for the cold/wet conditions of the spring and fall, and the other for the warm/wet conditions of the summer. Notice how in both cases I said "wet". The reason for this is that on average, when we are on the move, our feet will experience moisture more than they will experience dryness. Whether it be from sweat, rain, snow, mud, or stream crossings.
Basing a footwear strategy on attempting to keep your feet dry is an exercise in futility. Your best bet is to assume your feet will be wet, and design a system around managing moisture and regulating temperature.
I am not going to go into more details regarding our philosophy of backpacking footwear, for that I refer you to our series called Minimalist Footwear for Backpackers. If you are an outdoorsy person who is new to the whole minimalist footwear thing, I highly recommend you go read that as well.
It goes without saying, but I will mention it anyways: All of our footwear choices are going to be minimalist. That means zero-drop (or closet to it), with flexible soles, and healthy toeboxes.
Disclaimer
I am going to be up-front right now and state that all of our footwear is being provided by generous sponsors. Just because we have selected a particular brand/model, does not mean that we think it is the only one that would work, as there are many other footwear choices that could work equally well - or even better.
Which brings me to my next point. Items on this list could turn out to be complete failures in the field. That is part of what we do here at Toe Salad, we try stuff. If it works, we will let you know. If it doesn't, we will be sure to let you know that too.
The Spring and Fall System
Family Footwear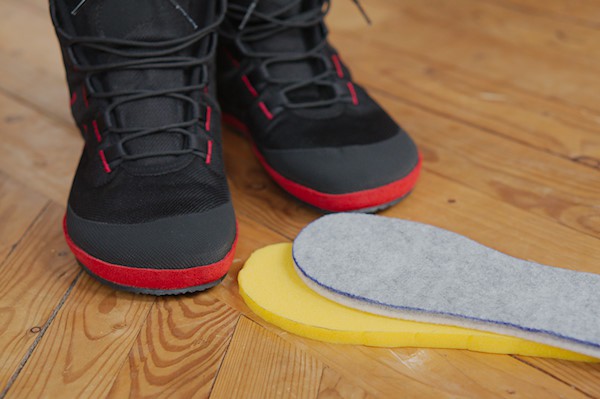 For spring and fall, the entire family is going to be using the Sole Runner Transition Vario, which we previewed here last fall. What makes this model particularly interesting is:
The insulation of the Transition Vario is made out of felt. My concern about felt is that it has a lot of potential to absorb water, which would make feet heavy, keep them wet, and dry slowly. To counteract this issue, I went to MEC, bought an Evazote sleeping pad, and cut out insulation panels from that instead. Evazote is a closed-cell EVA foam (kind of like the foam you find in running shoes). It is very light, very resilient, very warm, and doesn't absorb water. This modification is an experiment, and I am very interested to see how this modification works out.
This setup should suit us over a wide range of temperatures and conditions for spring and fall.
Socks
For spring and fall conditions, all of us will be using merino wool, closed-toe socks of varying brands and models. Nothing too thick or cushy to get too hot or absorb too much water.
We will have two pairs of hiking socks with us at any given time. One pair on our feet, and one pair in our pack. Good foot care is going to be essential, and having an extra pair means that socks can be washed/rinsed regularly on the trail.
Waterproof Socks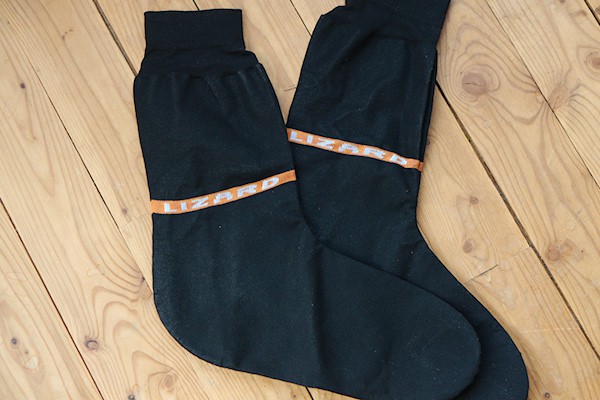 Waterproof socks are a handy thing to have, especially with kids. We have found them indispensable in cold/wet weather situations, especially in camp. When kids are warm and dry in the tent and have to go outside for a bio break, having a pair of waterproof socks to slip-on over their dry socks goes a long way towards keeping them warm and dry.
There may be some situations where cold and wet conditions will necessitate waterproof socks. I don't consider them essential to backpacking footwear, but more of a margin of safety for hiking with our kids in potentially hypothermic weather.
For this trip, Lizard Footwear will be supplying each of us with a pair of Shield Mid waterproof socks, generously oversized to easily fit over a pair of warm socks.
The Summer System
When the warm weather hits, we will have our summer footwear system shipped to us at a town stop, and we will in turn ship ship off our Spring/Fall system. No need to carry more than is necessary.
For summer, our footwear is a little more varied. Almost everyone will be starting out with something different. I say "starting out" because there is always the possibility of needing to make changes if there ends-up being a foot/shoe incompatibility.
Damien's Footwear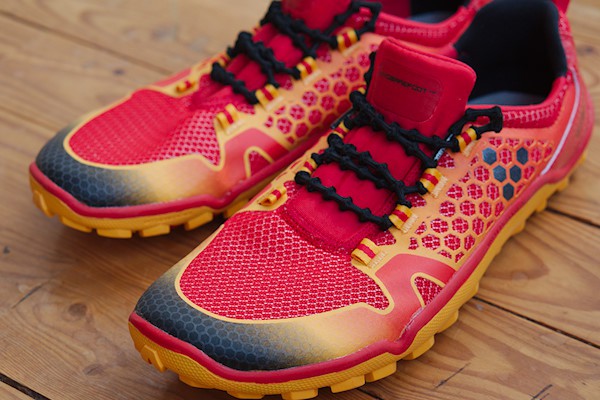 Having good luck in the past with the VIVOBAREFOOT Breatho Trail, I will be using the VIVOBAREFOOT Trail Freak - a new and improved version of the Breatho Trail. This is a bit of a gamble, as they were just released days ago and I have not actually tried them yet, but if they are anything like the Breatho Trail, I think they will be very nice. From my brief carpet test, they fit just as well as the Breatho Trail, so at least that much hasn't changed.
Renee's Footwear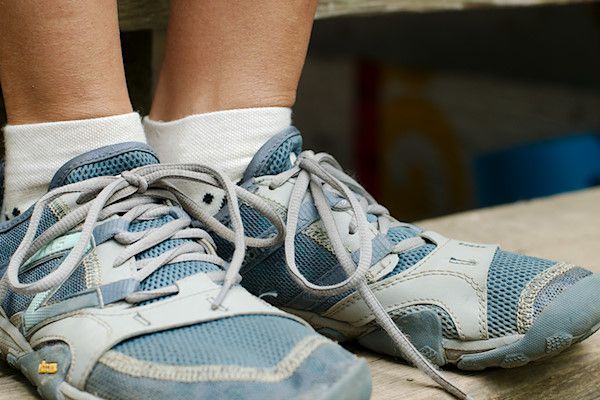 Renee has a good history with the New Balance Minimus Trail v2 (the WT-10v2). For the last several years this has been her shoe of choice, and she has (mostly) positive things to say about them. New Balance has also sent her a pair of the new Minimus Trail Zero v2 to try out as well, but she has her old standby to fall back on if the new Zero v2 doesn't work out for her.
Celine's Footwear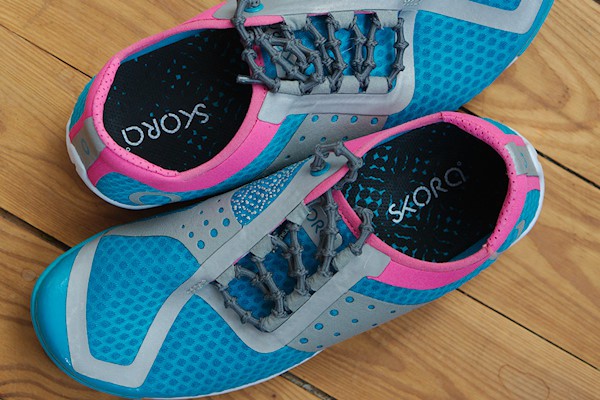 Celine will be using the Skora Phase - a lightweight, synthetic running shoe. Although not specifically designed as a trail shoe, the multi-purpose sole works well over a wide range of conditions, including trails.
Laurent and Brienne's Footwear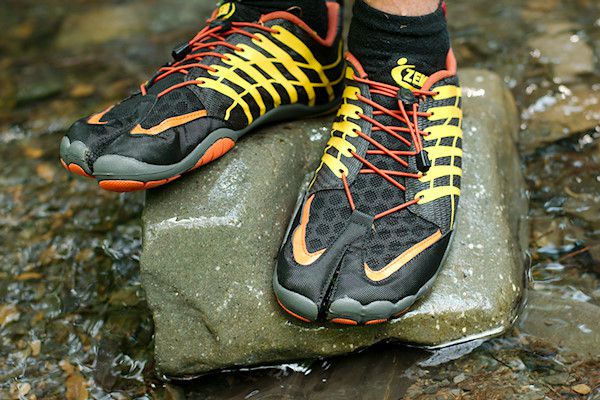 Laurent and Brienne will be using the ZEMgear TerraTECH - an outdoors oriented tabi shoe that we reviewed last year, which I loved. This shoe features a split (tabi) style toebox that gives great freedom to the toes (although they have a closed toe version available as well). The sole is not super aggressive, but designed for all-purpose outdoor use (not unlike the most of the other shoes in our line-up).
Socks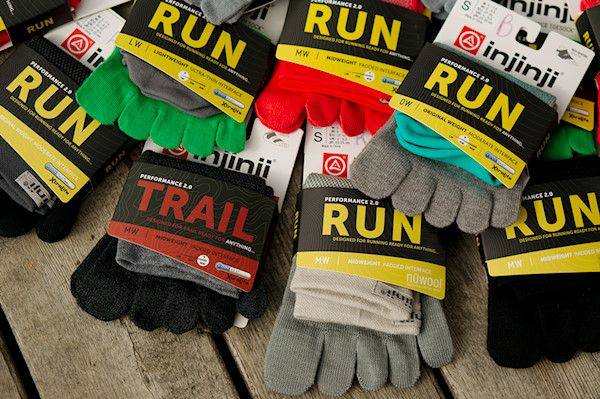 I am a huge fan of toesocks, and Injinji rates high on my list. In the summer, all family members will be wearing synthetic Injinji toesocks. Toe socks give great freedom to the forefoot, and help prevent friction and blisters. As with our spring/fall socks, we will have two pairs on the trail.
Gaiters
All family members will have a pair of Dirty Girl gaiters to go with our summer footwear. Dirty Girl gaiters are made out of a stretchy lycra material, and are attached via velcro at the back of the shoe (instead of a strap under foot as often gaiters have). They are light, breathable, and quick drying. They will be treated with Permethrin to help prevent ticks from getting into our shoes and socks.
Shoe Laces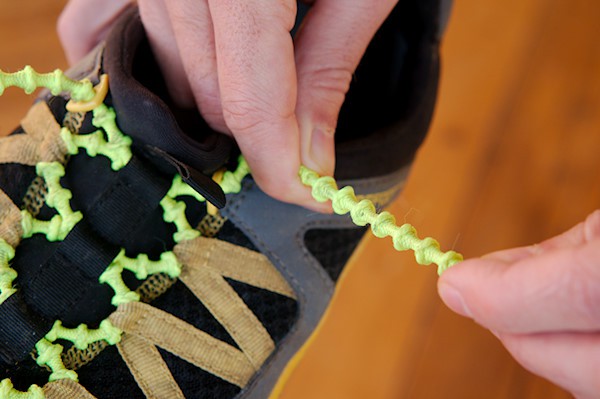 Last, but not least - and often overlooked - we have shoe laces. Over recent years I have started to place a greater importance on shoe laces and the role they play in maximizing the full benefit of minimalist footwear. Last fall I reviewed what are quite possibly the best shoe laces you can get for your minimalist shoes (or any shoes for that matter): Xtenex laces.
I won't got into all of the details about why I love them so much here, you can go read the review for that. For this trek, all of us will be using Xtenex laces on both our cold weather and warm weather footwear.
And There You Have It...
...our planned footwear strategy for the next six months. Stay tuned to find out what works, and what doesn't. We will be sure to share all the (hopefully not so) gory details with you as we go.