I am so happy to share with you all an interview with Terral Fox from Unshoes. I have had some encouraging email correspondence with Unshoes and found their story very intriguing. They have a couple of great summer options for children at very reasonable prices. I look forward to receiving our first pairs very shortly (reviews to come as well). Thank you Terral for taking the time to share your thoughts and your photos with us!
1. Tell us about your background; what path led you to making minimalist footwear?
I have always loved the outdoors. As an outdoor recreation enthusiast I loved to go hiking, backpacking and river rafting. I live in the desert so it was not uncommon to wear sandals while out on adventures. I have never really liked shoes that much so I would take any chance I could to wear sandals. My sport sandal of choice had a continuous, adjustable strap that I loved. The problem was that sand would get between the sole and footbed where the strap runs though and wear it out very quickly. These were expensive sandals so when I was in sand I would just take them off and hike barefoot. It didn't take long for me to realize that it was pointless to spend money on shoes that didn't suit my needs.
I began looking for alternatives and that is when I discovered Vibram Five Fingers. I was fascinated by the concept and began research on the "barefoot running movement" I was not a runner at the time but I still wanted a minimal sandal to hike in and for casual use. After going barefoot more and more my sandals felt like giant bricks! They were heavy, stiff and the overly large arch support was annoying to my feet. Although I thought the foot gloves were cool, I really wanted sandals. I found other huarache sandals online and almost purchased a pair but they just were not what I wanted. I wanted a strap rather than laces. I wanted something that would be easy to adjust and have a continuous strap like my old sandals. I also wanted something that looked more contemporary and sporty. I realized that the only way to get what I wanted was to make it. I've always like to make things so I started sketching ideas and making prototypes with foam rubber, left over webbing from climbing trips, and some duct tape!
2. Tell us what you envision and dream about for the future of Unshoes.
I have all kinds of new ideas and designs for future sandals swimming around in my head! I would like to take the time to develop these designs and continue to grow the business. At the moment our sandals are only available through our website but will be available through a few local retailers in the near future. We are working on a version of our Pah Tempe model that will be manufactured in standard sizing and sold through retail stores.
Although I have big plans for the future I like to keep it flexible. I think of my business like a child. If you force it to grow up too fast it can miss out on experiences that will help it be stronger. I plan to keep growing at a steady pace and stay local. The company will probably continue to evolve as it grows but we will stay true to the spirit of minimal footwear.
3. What has been the most encouraging feedback you have received?
Every time I'm having a hard day or getting frustrated with things I get some kind of email or facebook comment from a customer about how much they like their sandals. That is very encouraging and gives me drive to keep going.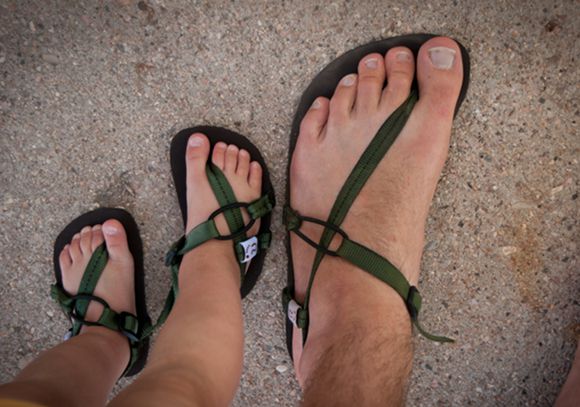 4. Let's talk kids. When and why did you start making sandals for children?
I didn't have children when I started making sandals but I planned on having kids so I guess I never even thought about not offering sandals for kids. I think that children need flexible footwear for their developing feet even more than adults do.
5.How do you balance work and family life?
That has been difficult! Although I love my job and I'm excited to go to work each day, my family takes priority. I am getting better at training others to do some of the work I have always done. I still work very long hours but I can be more flexible and spend time with my family. It also helps that my office is at home. I get up early in the morning so that I can work without distraction and then I can spend some time with them before I go into the workshop.
6. Tell us why you think it's important for children to grow up barefoot/wearing minimalist footwear.
It just makes sense to me. I recently observed my son playing with some other children. Although he was by far the youngest child of the bunch, he was much more agile on his feet than the other kids. They stumbled and stepped on toys and fell down every few minutes while my son didn't seem to have that problem. As they learn to walk and as they continue to grow they need to be able to get feedback from the ground and allow their feet to strengthen.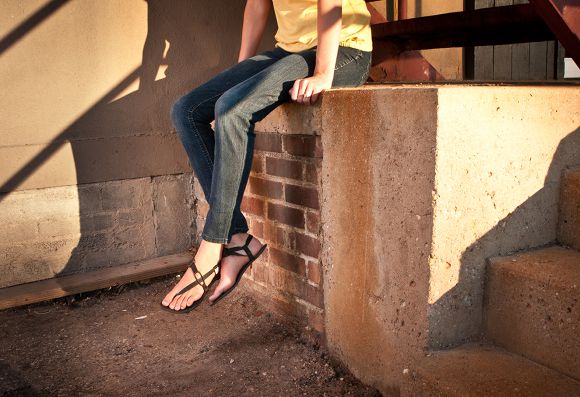 7. Does there seem to be a high demand for children's minimalist footwear? Why or why not?
There is less demand than I would have thought. I think that people just assume that we don't make kids sizes because it seems that fewer companies are making footwear for adults and children. I am seeing more and more minimal options for kids and I think it is encouraging. The demand for children's sizes is steadily growing.
8. Tell us about the challenges you encounter making children's footwear.
It is surprising how many challenges there are in making children's sandals! Finding the right strap length can be difficult. As we learn more and more about the development of young feet and the different stages they go through it gets easier. One problem is that kids grow in spurts and they all grow at different rates. That makes it hard for us to guess how much room to add for growth. If we don't add enough the sandals then the kids don't get much time wearing them. If we add too much then they trip on them and it can be frustrating. We like to consult with parents on how much growing room they would like. Since our sandals are custom made we have a rather long turnaround time. I encourage parents to wait to send us tracings until their order is coming up in the production queue. That way they are up to date when we produce them.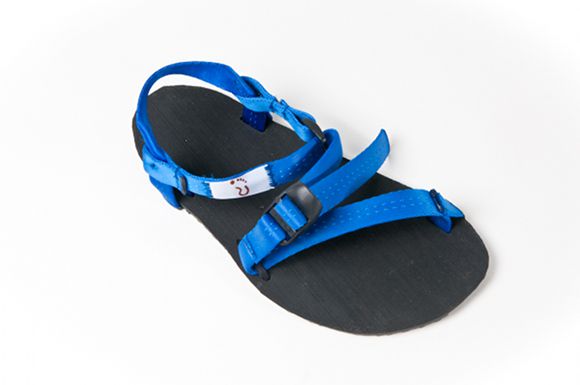 9. Is there a possibility that you might be making some winter minimalist shoes for children in the future?
Yes, we would like to do something like that in the future.
10. What are some barefoot activities your family enjoys?
We really like to go hiking together. Much of the time we have to wear sandals because of the rough terrain but that is something that we can all do. We occasionally go running together as well but since we all run at different paces and distances we don't always go together. We spend as much time playing outside as we can. If any of that time can be spend barefoot then all the better!
11. Anything else you would like to share with us...
We are currently brianstorming for a design change on the children's sandals to allow a very quick and easy way to get kids sandals on and off. I have used my son to experiment on. Once we got the right tension on his sandals it isn't too hard to get them on and off but it would be nice to have an easier way. Kids are wiggly and don't usually have the patience to fuss with sandal adjustments.
---
About the Author
Charity lives with her husband and 4 delightful children in Maine, where she embraces all the richness of the outdoors that the area has to offer. Her life is full with homeschooling her children, running, gardening, dreaming big, community projects, and giving in to any spontaneous adventure that arises. She writes about her family adventures and daily life at SixNPajamas.