Note: This article was originally published on Outsideways (our other site) in November of 2010 but has been moved here, with a few minor updates.
---
Our good friends over at Ground Truth Trekking have a great article on how to trek with a toddler. It is an excellent read with lots of good tips that would apply to families with kids of all ages.
Also, as you probably are aware, our family just recently finished our thru-hike of the Appalachian Trail and documented it as a video series called Beyond our Boundaries.
For those of you who aren't quite ready for a long-distance trek yet but are looking to get out on some day trips, this post is for you. Day hiking makes up a significant portion of our outdoor activity when we are not out backpacking or trekking.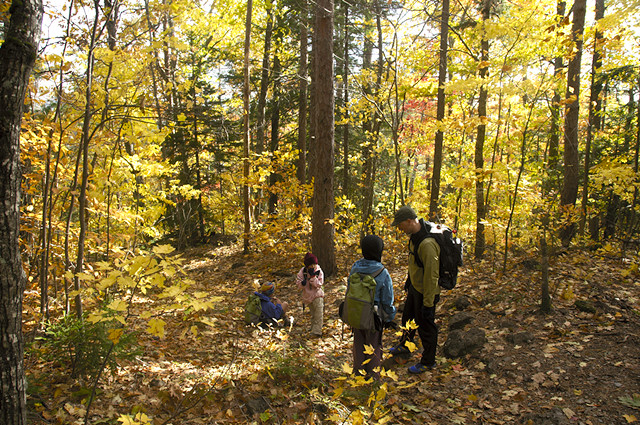 One of the ways that we are able to pull-off our one-day-a-week hiking trips is by having checklists. We have a checklist for each season. The night before we head out on a day-trip we pull out the checklist. The kids are responsible for assembling their clothing items and putting it in a pile. Once everyone has their pile together, I read the checklist out loud and everyone double-checks that they have everything they need. The kids then separate out the clothes they are going to wear and pack the rest in their backpacks. When firing on all cylinders the entire process takes less than a half-hour.
The order of the items in the checklist is actually quite important. I want my kids to be able to think about what they are bringing, and understand the various clothing layers and what they do. It is getting to the point now that they can pretty much assemble all they need without having to look at the list.
When teaching them about what they need to bring for clothing, I tell them to think of it in this order: from head-to-toe, and from inside to outside. Our list is therefore written in that order.
What follows is our clothing checklist for fall hiking. It applies both to children and adults. Once people are experienced with what their bodies require in various weather conditions, we allow individuals to tweak it according to their needs. This list also assumes that you will be spending the entire day outside without the luxury of easily being able to go indoors to warm up. If you are only going out for a couple of hours, you can adjust as necessary.
Head
Winter hat - a light fleece beanie works great
Balaclava or Buff (optional) - not required if you are bringing a hoodie (see below). We have found Buffs to be highly versatile pieces of clothing and highly recommend them.
Torso
Wool/synthetic undershirt - For more info on what we like to use, read our article on underpants.
Wool/synthetic t-shirt
Wool/synthetic long-sleeve undershirt
Light-weight fleece hoodie (preferred) or fleece sweater
Windbreaker - the lighter weight, the better
Rain jacket (optional) - whether or not you need this will depend on the forecast. For fall we prefer to bring something waterproof, breathable, and durable. I.e. I wouldn't recommend a rain poncho.
Insulated jacket (optional) - Something light-weight and windproof and preferably with a hood. This jacket is meant to be worn at rest stops. If you have to wear this to stay warm when hiking then you aren't bringing enough other layers. In early fall or late spring when the temperatures are mild we don't bother with this. In colder weather this becomes essential.
Hands
Wool/Synthetic light-weight gloves or glove liners
Mitts (optional) - in early fall or late spring when the temperatures are mild we don't bother with these.
Legs
Wool/synthetic underwear - as with the undershirts, for more info on what we like to use read our article on underpants.
Wool/synthetic long underwear
Fleece pants (optional) - some people get cold more easily than others and long underwear isn't enough.
Synthetic hiking pants - make sure they are highly wind resistant and durable.
Rain pants (optional) - whether or not you need this will depend on the forecast. As with the jacket, we prefer to bring something waterproof, breathable, and durable.
Since this article was first written, we have made some changes to our leg wear for hiking and backpacking in cold conditions. These days most members of our family prefer hiking in thermal tights instead of pants and long underwear. Often we will pair thermal tights with shorts for a little extra wind protection. We have found this combination to be both more comfortable, and warmer over a wide range of weather conditions. This is what we wore on our Appalachian Trail thru-hike.
Our original recommendations will work fine (it is what we used for many years), and is really just a matter of personal preference - if you prefer pants, go for it!
Feet
Wool socks - we prefer a mid-weight sock, something not too thin.
Waterproof socks (optional) - in cold/wet conditions these are VERY helpful. Make sure that the combination of wool socks, waterproof socks, and shoes work well together. Having very tight feet will cut circulation and your feet will get cold.
Hiking shoes - we like to wear light-weight trail runners.
Gaiters - something lightweight to keep the debris (and sometimes snow) out. We like Dirty Girl gaiters, but there are other brands/models that are similar in functionality.
Crampons or some form of traction device (optional) - we will bring these when we think there might be ice.
If you are going to be hiking in the fall during hunting season, make sure that one of your clothing items is blaze orange!
This list has worked well for us for many years. Renee has published an comprehensive Kid's Outdoor Gear Guide at FIMBY which includes hiking layering recommendations for all seasons.