This is part 3 of of my product round-up from Outdoor Retailer. Click here for part 1, and here for part 2.
Merrell
Merrell has plans to expand their barefoot line in two directions, bringing both more minimal and less minimal models to the market in 2013.
One stand-out that really caught my eye was the Merrell Vapor glove which is in my mind, taking things in the right direction. Weighing in at around 5 oz with 2mm of EVA, a 4mm outsole, and nice light mesh upper, the Vapor Glove looks like it has great potential.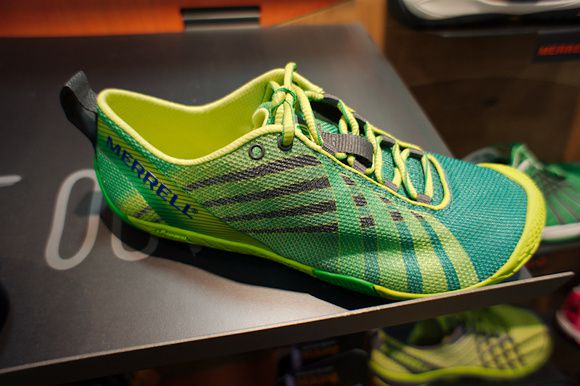 So while there was one really impressive shoe being added to the more barefoot/minimalist end of the spectrum, the bulk of what they will be bringing feels kind of ho-hum. The Proterra for example, will be a 4mm drop shoe with 5/9mm of cushion and available in both low and high top versions. The upper will be breathable, the sole will have a funky negative lug pattern, and it looks like it will be pretty durable. These new models will probably sell well for them, but just didn't strike me as very interesting: a watered down version of barefoot technology. Probably something that will appeal to a lot of people.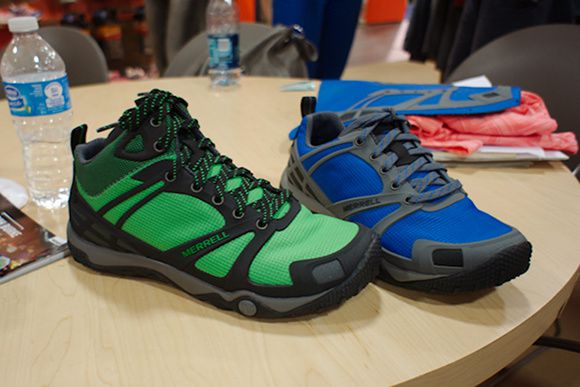 GoLite
Remember when GoLite said that they could never imagine another day when they would develop a new shoe with a heel rise? Well... that day has come :-) Although it isn't much, GoLite will be adding 2mm to the heel of their latest designs. Their reasoning? That the weight distribution of our feet makes it such that with 2mm drop, we actually stand at zero. Does it make any difference? I am not sure. If I were standing on soil, the same phenomenon would occur (hence the logic of brands who make negative heel footwear), does that mean it is bad? I doubt it, but whatever. I guess 2mm is not enough to really get upset about.
In addition to adding a little on the heel, GoLite will also be adding more cushioning to all new models. While GoLite never really jumped into the barefoot movement with both feet, it is pretty clear that they are not sold on the idea.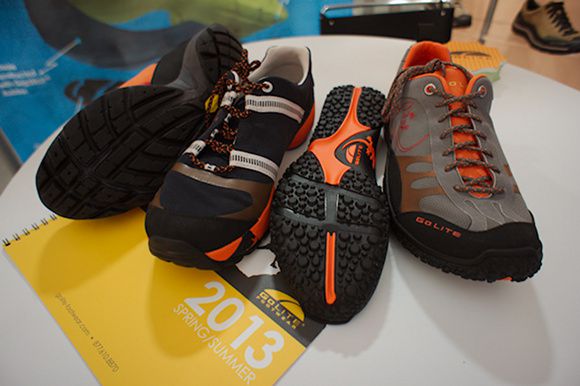 Otz Shoes
Otz Shoes (formerly Otzi3300 - a sane name change in our opinion) had always had one thing really going for them: style. Oh, and comfort too. While their contoured cork footbed is not ideal from a pure barefoot/minimalist perspective, they have told us that they are working on a completely flat version of the footbed as well.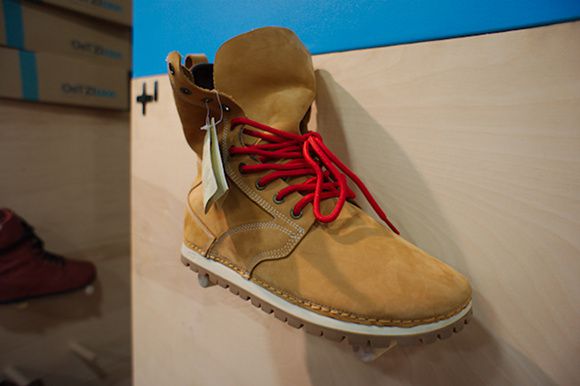 In the style department, well Otz never ceases to impress. Cool colors and styles in a variety of natural materials including cotton, linen, and leather. Built around their signature wide comfortable toebox and cork footbed. While a wide swath of the minimalist market is focused on sports and running, for those of us who are looking for something casual and stylish, Otz delivers. Lets hope they follow through on the flat footbed!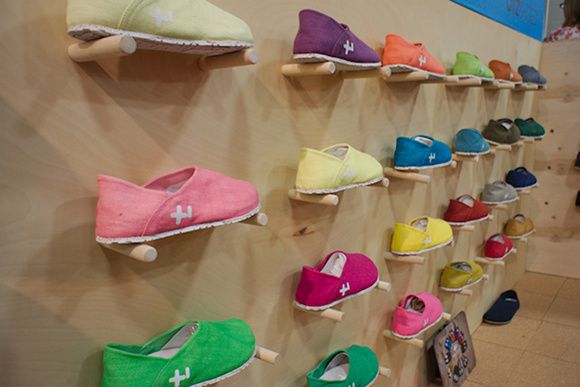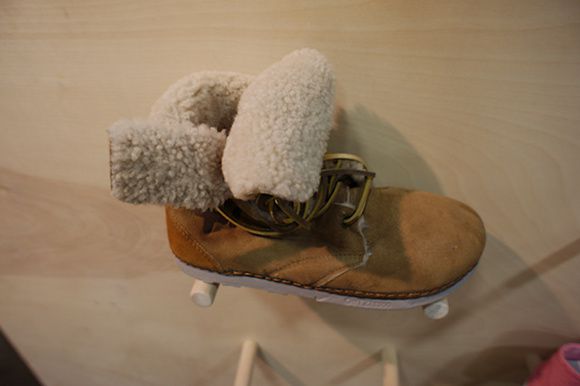 Sockwa
Having one of the thinnest, most sensitive soles we have tried, Sockwa continues to slowly refine their product line. Although I can't give very specific details at this point regarding the latest product innovation they have in the works, what I can say is this: the next iteration is focusing on better breathability, especially through the arch area. Intrigued yet? The concept is pretty cool, and I can't wait to share more with you once they are ready to unveil it.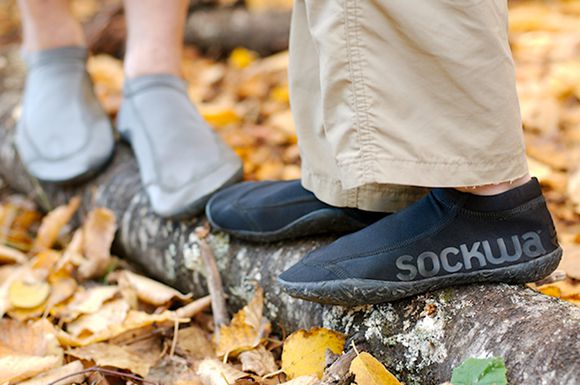 Zhik
Last summer at OR we were pleasantly surprised to stumble across the Zhik booth and discover their water sports shoe called the ZKG. For 2013, the ZKG gets even better with an improved sole for wet conditions and a few refinements to the upper. Stay tuned for our review of the new ZKG in the coming weeks.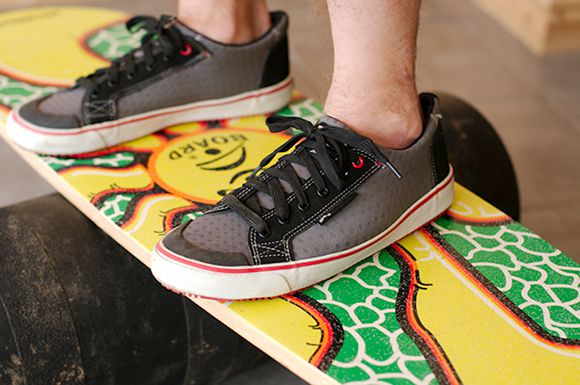 Hoka One One
ToeSox
I love toe socks. Up until this years OR, the only brand I had tried was Injinji. While they worked well, I had always found myself wishing for a little more durability.
ToeSox claims to have nailed the durability, and also have improved comfort and fit over their competition in the socks-with-toes market. They gave me a sample of their All Sport Lightweight to try out. After some limited testing, I have to say I agree - at least when it comes to comfort. My samples are super soft, and fit very well. Only time will tell on the durability end, but so far things are looking good. Maybe we can convince them to make a lightweight, durable, merino version too...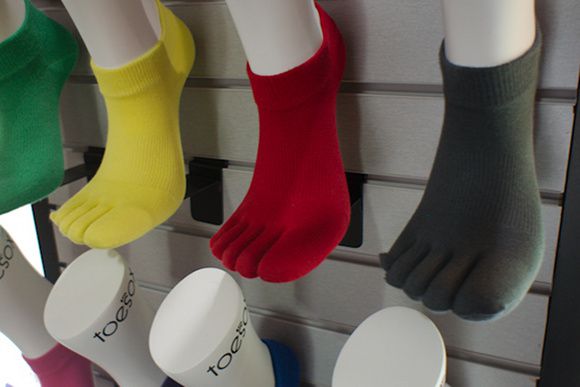 Injinji
There wasn't much in the way of new models being showcased at the Injinji booth, but there was big news nonetheless. Injini is going through a product line reboot. Dubbed Injinji Performance 2.0, they will be re-vamping their entire line with better materials and a new fabrication process that is said to improve comfort and durability across the board. Sounds like good changes to me!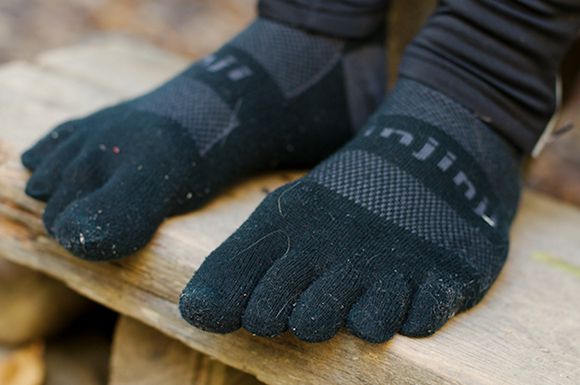 Swiftwick
Swiftwick contacted me prior to the show and asked me to stop by their booth. I hadn't heard of them before, so didn't know what to expect.
When I got to the booth I was pleasantly surprised to find a very wide range of cool products. Swiftwick specializes in bringing the benefits of compression technology to socks. When I first heard of compression socks, I was immediately on my guard. Being a guy who hates restricted feet (especially toes!), I envisioned something akin to Japanese foot binding. My fears were dispelled rather quickly however.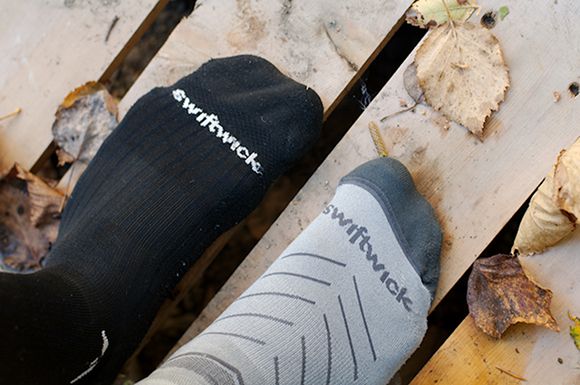 Swiftwick's sock compression does not compress the toes, there is ample room in the toebox - a huge plus as far as I am concerned. It does lightly compress through the mid foot and heel. Does the compression help with muscle fatigue and recovery? I am not sure yet, but I have some samples that I am in the process of testing.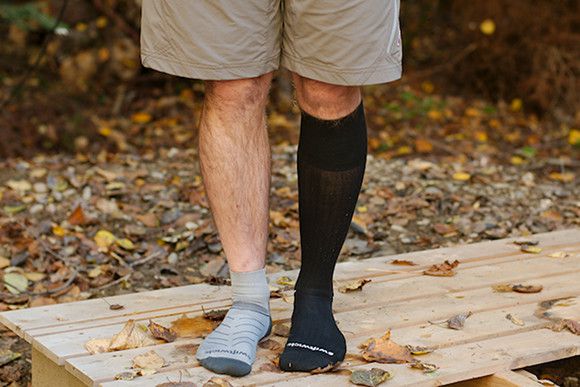 A few stand-out features found in Swiftwick's line include: Very high needle knit fabrics (i.e. 200, which means exceptional durability); A wide variety of heights, including over-the-calf for calf compression; And, one of the thinnest sports socks I have ever tried: the Pulse (I LOVE this sock!).
Lorpen
Last summer while at OR I acquired a sample pair of Lorpen Tri Layer Lightweight Running socks. Over the course of the next year they quickly became my favorite lightweight closed-toe sock. The fabric is soft, and VERY stretchy giving me unrestricted toes. About the only complaint I had was that they only lasted me a year :-)
Disappointed by the fact that a favorite pair of socks had worn out, I went back to their booth and managed to get my hands on a second pair. Needless to say, they are still as good as they were last year - I highly recommend them.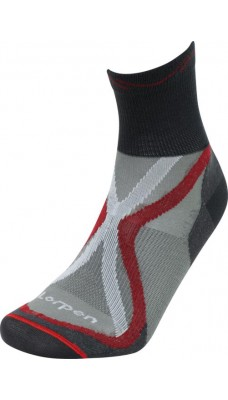 ---
Acknowledgments
A special thank-you goes out to everyone who donated money to make this trip possible. I also want to thank Gossamer Gear for letting me share lodging with them during the show. Thank you!