This is part 2 of of my product round-up from Outdoor Retailer. Click here for part 1.
Teva
Teva didn't have anything new to show when it came to barefoot shoes, but apparently their Zilch and Nilch are still doing well enough that they are keeping them in the lineup for 2013.
What I did find mildly amusing though was a big marketing push they were doing for a new line of footwear that accommodates a more "natural" form of heel striking. As they say, a picture tells a thousand words: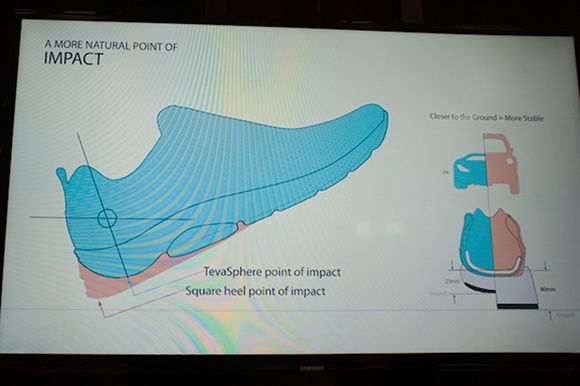 Skora
Skora had several new products to show us. Some of them we are allowed to share with you, while others you will have to wait for (however I will say that we REALLY like what we are seeing - sorry to tease!).
What we can talk about are two new models that they will be releasing in 2013: The Core and the Phase. These two models sport a new outsole constructed out of IBR (Injected Blown Rubber) which - while less wear resistant - is lighter, cushier, and more flexible than regular rubber. To help with wear, Skora has inlaid regular rubber in a few strategic locations. The use of IBR instead of regular rubber also means that an EVA midsole is not required as the outsole compound is able to provide the cushioning. The Core will be constructed out of Pittards goat leather and the Phase will be constructed out of a new-sew (i.e. laminated overlays) Airmesh upper. Stack height (i.e. thickness of the sole from inside-to-outside) will be 8mm for both models.
We were only able to take pictures of the Core as details for the Phase were still being finalized.
Luna
More Inov-8
I just realized as I was looking through my photos that I missed telling you some other news items from Inov-8: the release of the Road-Xtreme.
The Road-Xtreme line tries to bridge the gap between the Road-X line (traditional style, cushioned, raised heels, and high wearing outsoles) and the Bare-X line (barefoot/minimalist). Not only does it bridge the gap, but it blurs the lines as well, which may make it hard for some people to decide which model they want to go with.
There are two features of the Road-Xtreme series that differentiate it from the other Inov-8 road lines. Where the Road-X and Bare-X models are unisex, the Road-Xtreme has both mens and womens versions. Secondly, the Road-Xtreme features a dual compound sole using their Fusion EVA to reduce weight and sticky rubber inlays in strategic high wear areas. Additionally, the zero-drop version of the Road-Xtreme is now the lightest road shoe that Inov-8 makes - the mens version weighing 138g (4.9oz) and the womens version weighing only 118g (4.2oz).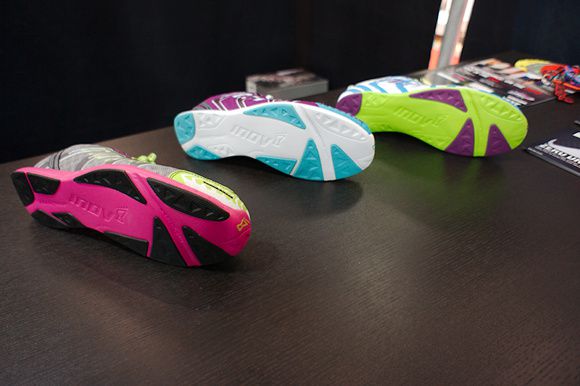 VIVOBAREFOOT
VIVOBAREFOOT continues to refine their running line by offering two new road oriented models, and updating the Evo.
The first new model is called the One. The One features a thin lightweight mesh/PU laminate upper and the new VIVOBAREFOOT On Road 3mm outsole. VIVOBAREFOOT has told me that this model is particularly well suited to indoor/treadmill use due to it's high breathability and thin flexible sole. Of course many of you will most certainly want to use this outdoors as well, especially in the summer heat. The other new model they will be adding is called the Stealth. With the same 3mm sole as the One, the Stealth has a little more robust EVA cage upper (The EVA cage is a lightweight EVA laminate between two layers of thin mesh). The Evo will also see a design refresh for 2013, giving birth to the Evo Lite - a lighter, more flexible, and more breathable version of the Evo.
In addition to the road models, VIVOBAREFOOT will also be introducing a new outdoor/hiking model: the Synth Hiker. As with the other hiking oriented models, it will be waterproof and breathable, but instead of the leather upper a full synthetic (100% vegan) upper will be used. I think this model has great potential for cold weather use such as mild winter and cold/wet spring and fall conditions.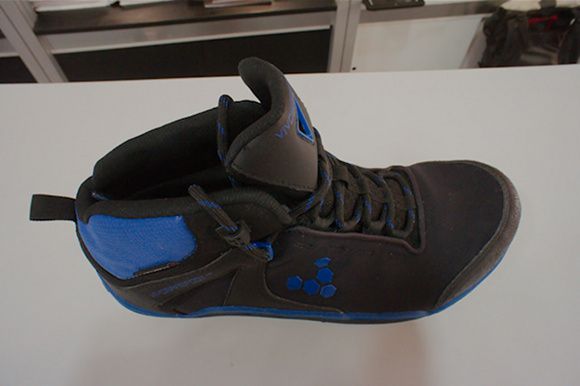 Lizard
Hiking boots get weird? I hardly think so. My opinion is that they we are finally starting to see some revolutionary designs in trail footwear. It is not uncommon to see more minimal trail models also being constructed in a less durable fashion. The problem is that when travelling in rugged conditions, the lower the shoe, the more susceptible the uppers become to damage due to scraping on rough rocks and roots. As a result I am always on the lookout for barefoot trail shoes that are both minimal, AND durable.
What Lizard has done is design a barefoot/minimalist outsole for the outdoors (based on Vibram rubber) and married it to a variety of uppers: from light, thin, airy, for water/casual use to durable for rugged use. I think this concept has a lot of potential, and it will be interesting to see if they have managed to find the sweet spot between minimalism and durability. A big unknown in my mind is the quick lacing system, and whether or not it will be able to provide enough security for the foot.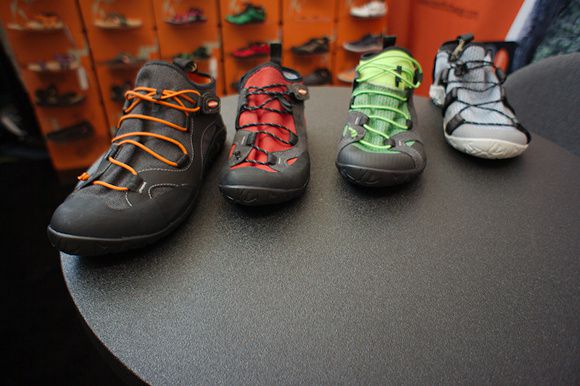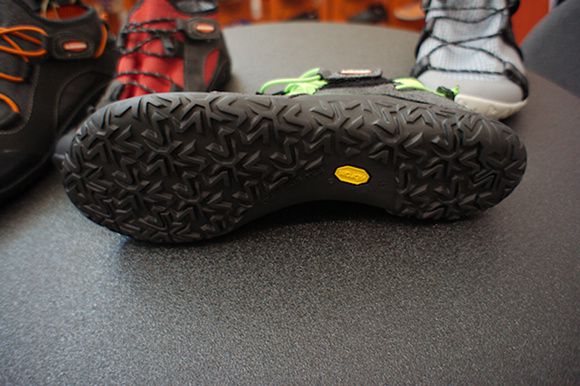 Stay tuned for part 3 of my Outdoor Retailer 2012 trip report!
---
Acknowledgments
A special thank-you goes out to everyone who donated money to make this trip possible. I also want to thank Gossamer Gear for letting me share lodging with them during the show. Thank you!