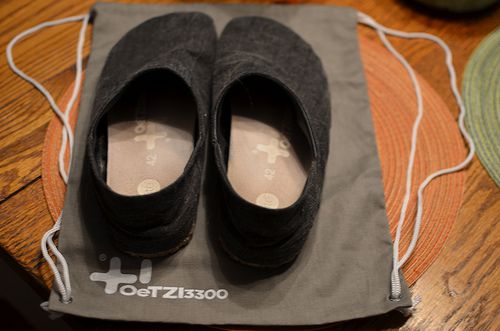 The OTZ-300GMS is a new lightweight offering from OeTZI3300. It is a unisex model designed in a resort style and comes in a variety of colors of coarse linen. OeTZI3300 calls it a minimalist design and says it is ideal for warm weather. Features include the linen upper, an outsole made from rubber and Jute fibers, minimal use of harmful glue throughout the shoe, and the company's CORKcomfort footbed. The footbed is designed to provide "maximum support while providing the natural sensation of walking barefoot". It was designed specifically for the OTZ-300GMS in order to provide a softer ride and reduced weight. The footbed is made from compression molded EVA foam that has been wrapped in a cork casing. It is lined with a suede leather covering. The combination of materials provides for a soft feel and the cork will form to your individual foot shape over time. The cork also provides antimicrobial properties which reduce bacterial build-up and allow for the shoes to be worn with or without socks.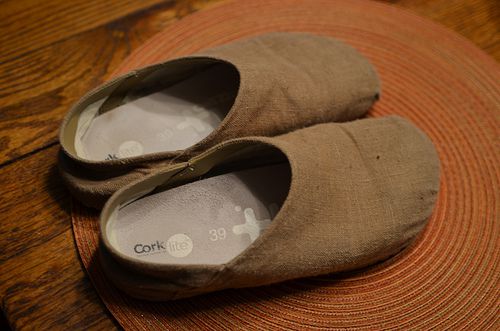 OeTZI3000 initially sent me 2 pairs of the 300GMS, but due to miscalculations on my part these were way too big. After some correspondence, I returned the 2 original pairs and was sent 3 new pairs including a size 42 black and size 43 t.moro (chocolate brown) for myself (we still were not 100% sure on sizing), and size 39 beige for my wife. The size 42 (men's US 9) fit me best, so I will be reviewing that one. In regards to sizing, I would say these run a bit large. My typical shoe size is a 9.5 EE or EEEE. I often have to size up due to small, improperly designed toe boxes, and that caused my initial miscalculations with the 300GMS.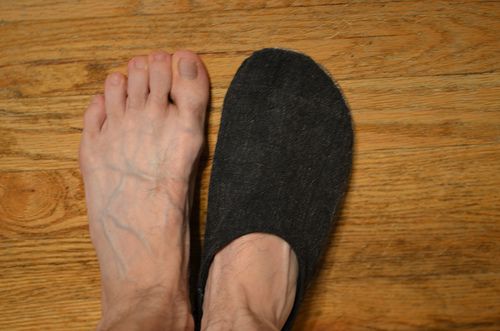 My wife and I have worn the 300GMS off and on for a little over 1 month now and feel we have enough basis for a good review. This model runs $75, which seems to be priced competitively with similar designs on the market. The shoes come in small box and include a linen carry bag which is a nice touch. We plan to use the bags for grocery runs. Since one of my main sporting activities is lightweight (or ultralight) backpacking, naturally I had to weigh the 300GMS. The size 42 came in at 17.5 oz for the pair making them one of the lightest models in my closet.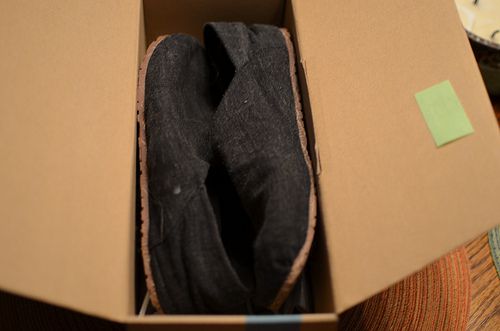 I consider the 300GMS to have a pretty minimal upper and outsole, although the outsole is very hard. These are not going to provide the ground feel you'd get from something like a Vibram FiveFingers or any of the models from Soft Star Shoes. The 300GMS has a very thick insole, which as described above, will conform to your individual foot over time, thanks to the cork content. I consider the insole to be supportive, but not overly so. If you're in the process of transitioning to minimal footwear, you can definitely leave the insole in. However, if you're already well used to minimal footwear, you will probably want to remove the insole for a flatter overall shoe and a bit more ground feel. The toe box is an anatomical design and well shaped for a wider foot or someone who likes room in that area.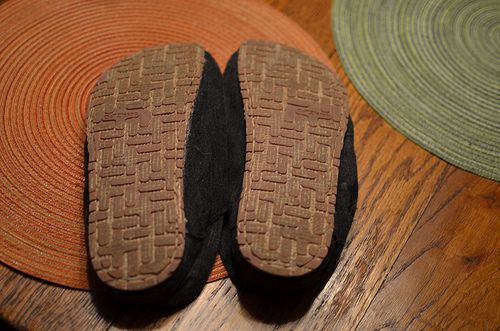 The linen uppers on the 300GMS make it a great casual or even business casual shoe. It looks equally good with casual slacks, jeans, or even shorts. You can wear the 300GMS as a slip-on or you can push the heel in (it's not formed) and wear them like a clog. Since we live in Asheville, NC, I don't get a whole lot of looks from strangers like I would expect in somewhere like Atlanta, GA (our previous home).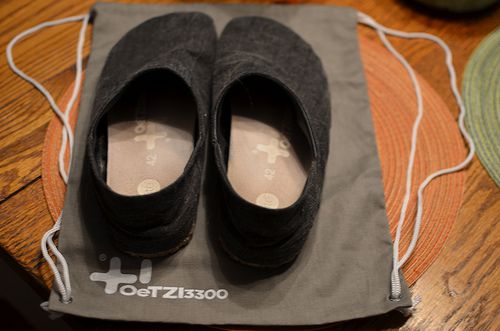 My wife, Robin, has also contributed her thoughts on the 300GMS. Robin is finishing up her Doctorate in Physical Therapy and is currently working her last clinical rotation at a sports medicine clinic. She also completed a meta-analysis on barefoot versus shod running in regards to biomechanical factors related to long-term injury as part of her program. Robin states that she gets 2-3 unsolicited compliments a day at her work place on how comfortable they look, and she agrees that they are indeed very comfortable. She says they have a conforming (as opposed to supporting) arch, and she's on her feet pretty much all day. Robin loves how the shoes slip on with no lacing required and loves how breathable they are, especially with our recent heat wave here in the southeast. She has a very low-volume foot and likes how the upper holds her foot and doesn't allow her sliding inside the shoe too much, as most higher-volume shoes do.
Robin has also provided some cons for the 300GMS. In her case, the heels don't stay up due to the non-formed soft design, but she also has this problem with similar shoes. Her heels are very narrow, and she lacks the bony heel bump most of us have on the back that helps hold shoes up. Robin recommends the heel be formed with a stiffer support so that it stays up or be replaced (or supplemented) with some type of elastic closure. Due to the heel issue, Robin wears hers like clogs. This isn't a major issue, but she can't run in them since she has to hold them on with her toes. Robin said that the soft nature of the fabric upper allows her toes to hang over the front of the insole, which feels weird but isn't uncomfortable.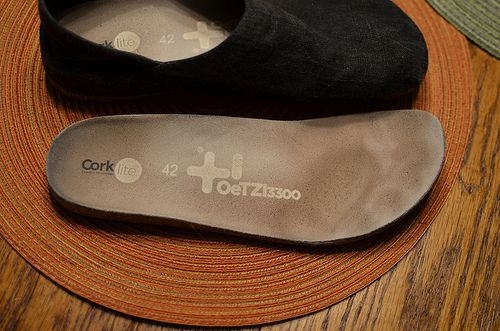 Overall, Robin and I agree that this is a great looking and stylish shoe. You can dress them up or down with anything from slacks to jeans to shorts or skirts. They are quite comfortable (with or without the insole). If you leave the insole in place, they offer about the right amount of conforming stability versus cushion. The 300GMS is very easy to put on and remove. Robin wears hers daily, and I've worn mine frequently as well. In my opinion, the 300GMS is a great for those transitioning to minimalist footwear as well as for those already well versed in the market. Since most minimalist offerings are a bit more bold (and attract a lot of attention), the 300GMS fits a niche for someone looking for a shoe that blends or something they can wear to work.