I am a sucker for a good story. Being an engineer at heart, I really enjoy the stories of product inventors and company founders. Especially the geeky ones where some guy encounters a problem, passionately solves it, then creates a livelihood out of the solution. I think that almost every company that exists probably has a good story tucked away somewhere. The problem with big companies is that while they may have been founded on a good story, many are not connected to it any longer. Small companies on the other hand are often in the middle of living it.
Andrew Rademacher - founder of Stem Footwear - is one of those guys who happens to be in the middle of a good story. As a high school and college athlete, he discovered the hard way that modern footwear sometimes hurts more than it helps. Rather than regurgitate his story, I highly recommend you go read it on the Stem Footwear site here - I found it both fascinating, and unsurprising. Unsurprising because Andrew isn't the only one with a story of footwear related athletic injuries, and fascinating because he endeavored to do something about it; not only for himself, but for others as well: He founded a shoe company.
Looking over the Stem Footwear website, one thing becomes quickly apparent; Stem gets minimalist footwear. With more pages dedicated to providing information than products, they do a superb job of educating and supporting the consumer. Because this thorough understanding has existed since the inception of the company, it is at the foundation of their product design. This becomes immediately apparent the moment you put a pair of Stems on your feet...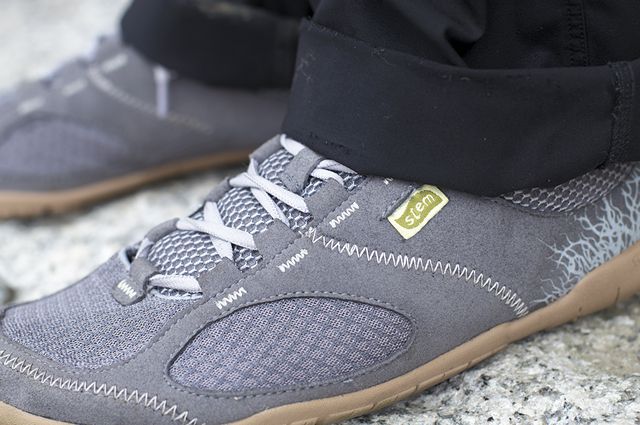 The Origins Series
Stem kicked off their product line with the Origins series: a sporty shoe with heavy leanings towards the casual side. That doesn't mean they don't work well for physical activity, but that they are equally at home in the gym, on the pavement, or at the office. They come in five models (three for men, two for women), the only difference between models is the color. The pair I have are called the Primal Origins which is a really nice gray color, the other two colors available being dark brown (Survival Origins) and a green/gray combo (Natural Origins). The first thing my wife said when I took them out of the box was "wow, those are nice... minimalist shoes have really come a long way". The Stem design is really eye-catching.
Not only did Stem do well on the styling, but they hit all of the minimalist footwear requirements almost perfectly dead-on. Zero drop? Check! Foot-shaped anatomic last? Check! Breathable upper? Check! Flexible upper? Check! Flexible sole? Check! Usable sockless? Check! Often, different shoe models will excel at that list to varying degrees, but it is a rarity to find a shoe that does them all so well. Kudos to Stem's designers!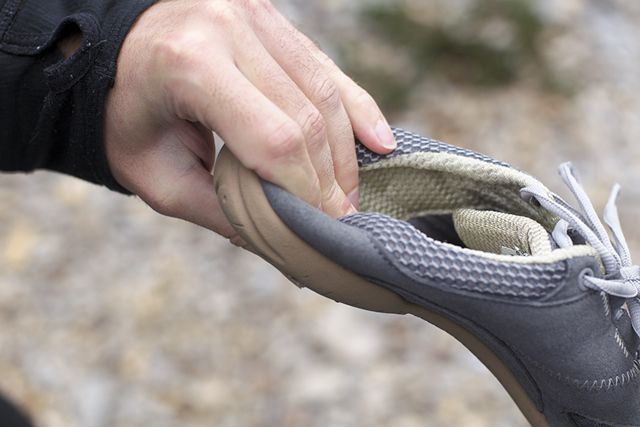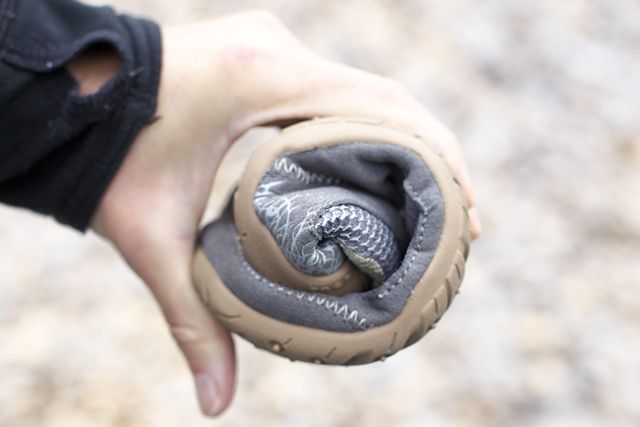 The Primal Origins are a great shoe for walking and everyday use. The colors and styling makes them perfectly suited for the office and around town. The fit, fabrics, and construction also makes them equally suited for fitness pursuits such as weight training and road running. I think they are less suited for rough trail conditions; the uppers look like they haven't been designed to take the abuse of a rugged environment.
What I like
These shoes have some of the softest, most flexible and comfortable uppers I have ever tried. Constructed out of a combination of lightweight mesh and a synthetic suede (100% vegan) fabrics, they feel better than my slippers.
They are very light-weight. At 200g (7.3oz) for my size 43, I hardly notice they are there.
The outsole has both thickness and flexibility. This is a combination I really like because it gives protection and flexibility at the same time - usually it is one or the other. A testament to their air-infused outsole design.
The toebox is excellent, one of the best I have seen (on par with Altra). The rest of the last is excellent as well, making for a good anatomic foot shape.
They look really good. The colors and styling are good for both casual and sport use.
The shoes are machine washable.
What I don't like
The dye stained my socks. Not a huge issue, but something worth noting.
While the uppers are soft, flexible, and dry quickly, they don't have a lot of stretch. If I were to change one thing, it would be to add a little stretch to better accomodate the expansion of feet expand under load.