I needed a new pair of shoes for more formal situations, like when applying for a job. The VIVOBAREFOOT Ra is a shoe that is very well suited for this. It is made out of leather and comes in black, dark brown, and reddish brown. It is also available in an olive colored suede in the USA and a beige colored suede in Europe. The Ra comes in mens, kids and, juniors sizes.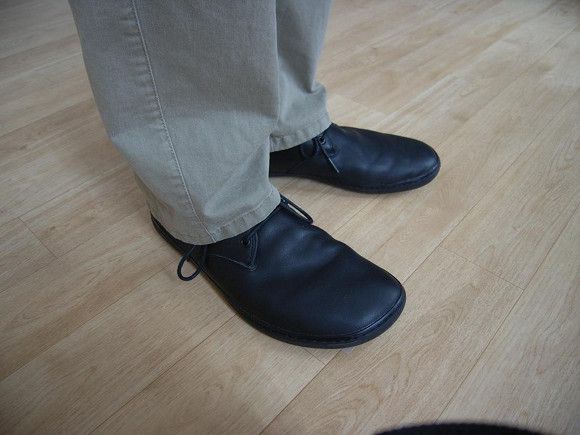 In addition to its minimalist sole, the leather uppers of the Ra are also quite simple - consisting primarily of four pieces of leather and three pairs of eyelets for the laces. In black, they are really all black. No coloured details. This makes them perfect for office use.
My feet are wide at the front but narrow at the heel, so I was afraid that the Ra would be too wide at the heel for me. The Ra is very wide at the front, it is one of the widest shoes I own. The heel cup fits my feet very snugly - in fact initially it was too snug on one foot. The leather was cutting into my Achilles tendon. Luckily I was able to find a shoemaker who was able to fix the problem.
The sole is the thinnest that VIVOBAREFOOT offers. This is my first pair of VIVOBAREFOOT shoes with this type of sole, I have been amazed by the ground feel. When walking from one room to another in the office I am able to easily discern the difference in floor surfaces without looking at them.
The ground feel would even be better without the insoles but I prefer to leave them in. The leather around the ankles is rather close fitting; if I remove the insoles it begins to cut into my ankles.
The leather is very soft. Together with the great fit and the barefoot feel, the shoes are very comfortable. This is exactly what you need for a shoe that you wear all day long.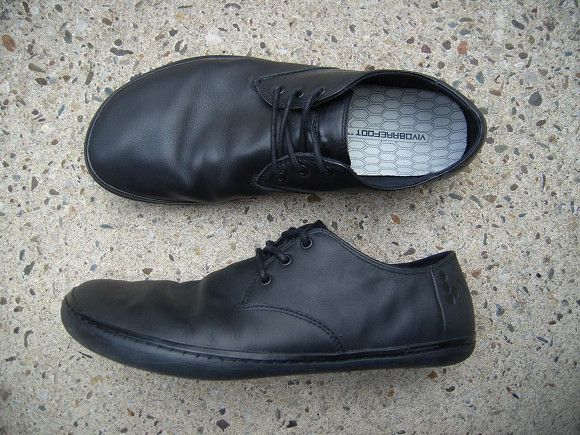 The shoes weigh 21 oz (594g) in a size 45 (US 11.5) for the pair; very lightweight. You may find yourself jumping around the office the first time you wear them.
New for spring 2012 is that the Ra is also available in canvas, in the colours navy and red. This shoe is 100% vegan. VIVOBAREFOOT also has a boot version of the Ra called the Gobi (The Gobi may not be available in the US).
There are also a few other alternatives to the Ra, like the Merrel Tough Glove and Edge Glove, the VIVOBAREFOOT Legacy and Dharma, the Russell Moccasin minimalist oxfords, and custom options from Flexible Footwear. Another interesting dress shoe that has yet to hit the market is the Primal Professional.
The retail price of the Ra is $130 USD / EUR 115 / GBP 85.