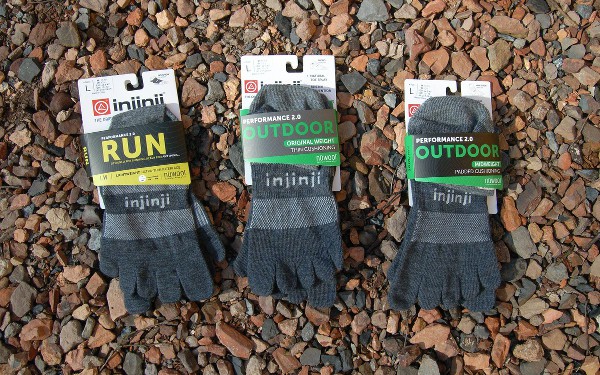 Once upon a time, Injinji had a collection of Nüwool socks but they were (sadly) discontinued. Lucky for us, they were not discontinued forever, but replaced by a new 2.0 generation. Nüwool is a mix of merino wool, nylon and Lycra (spandex). Merino feels comfortable to the skin and reduces odor but is not very strong. The added nylon gives the socks their strength while the Lycra adds stretch.
Injinji socks are usually made out of synthetic fibers, and synthetics are notorious for harboring foul odor. Injinji used to have odor fighting bamboo socks but they don't make them anymore. When Injinji released the first version of their Nüwool socks, I wore them on multiple hikes in moderate and cold weather and they performed well - No odor, no blisters and a comfortable feel against the skin.
Outdoor 2.0 Midweight Mini-Crew and Crew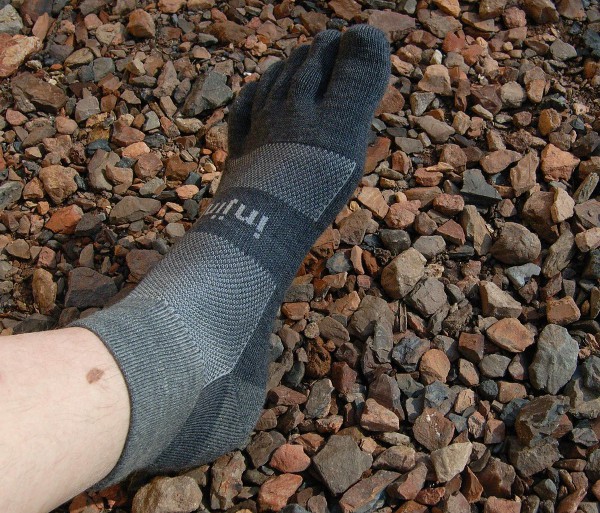 These socks have the most cushioning, made with merino wool terry loops on the inside, directly against the skin. The terry loops are under the mid foot and around the heel, not under the toes. They feel the most comfortable on my skin but are also the warmest (not ideal for summer). I tested a pair in mini-crew length but I would prefer them in crew length for cold weather use.
The contents are 64% wool, 33% Nylon and 3% Lycra.
Outdoor 2.0 Original Weight Micro and Crew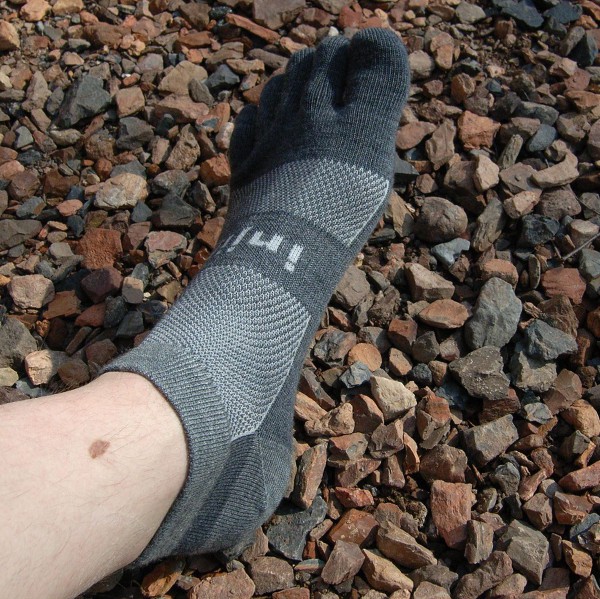 Without the terry loops these socks are not as warm and have less cushioning. I found them to be perfect for hiking and running in shoes that have one toebox (i.e. not Vibram Fivefingers). For hiking I would prefer these in crew length as well.
The contents are 64% wool, 33% Nylon and 3% Lycra.
RUN 2.0 Lightweight No-Show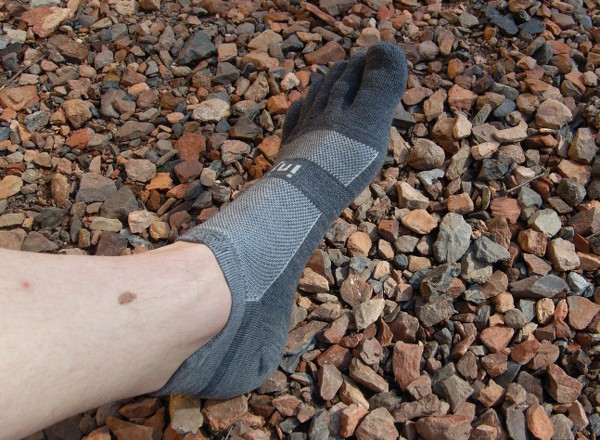 According to the Injinji website these socks are ideal for minimal footwear. I found these to be the perfect liners for my VFF Speeds that I use for running. I have used them a lot and have had no blisters so far. They are very good at keeping odors at bay, and can be worn many times before washing. These socks have been my running socks for the last few months. They have performed well and they still look very good.
The contents are 65% wool, 30% Nylon and 5% Lycra.
All of the socks have an arch support encircling the mid-foot for a secure and stable fit. The top has a mesh knit for breathability.
Concluding Thoughts
I always read and hear many different opinions about washing merino wool garments and socks. Some people advise regular detergent and even washing them together with jeans. Others advise using a wool cycle with a liquid wool wash. The moisture and odor fighting properties wool comes from the lanolin that is naturally present in the wool. To prolong the life of the lanolin, I have found that the best protocol is to wash the socks only when they smell (hang them out at night) and to use a special wool wash.
If you are interested in trying out Injinji Nuwool socks for yourself, you can buy them on Amazon.