This review is about a pair of socks that I love to wear for both hiking and daily use: Woolpower liner socks. Woolpower garments and socks are usually thicker than those from other companies, except for their Lite line. They don't, however, make socks in this line.
Woolpower liner socks are a little bit thicker than other liners but I think they have the right thickness for me for a lot of occasions. Their regular socks come in 200, 400, 600 and 800 gr/m² thicknesses. The 600 and 800 are their winter socks - these socks are really thick.
Where most socks these days have padding zones, air channels and even ankle bandages Woolpower socks are still just no-frills socks made out of a mix of merino wool, polyamide, polyester and elastane. Does that make them inferior to all those high tech socks? In a German outdoor magazine the Woolpower 400 socks fared best in their tests, leaving socks from renowned sock makers like Bridgdale, Falke and X-Socks behind. The socks performed well in cold temperatures and dried fast. They were also the only socks that could be washed at 60?C (140?F) and they were one of the least expensive of the socks tested.
Woolpower socks have the same thickness all around the foot. This makes them great socks for cold weather and as for sleeping socks when camping (or at home).
Merino wool is the main ingredient of Woolpower socks. It makes them very resistant against odor, however merino is less durable than synthetics. The addition of synthetic yarns makes the Woolpower socks much stronger. You can wear Woolpower socks for almost a week without smell. Hang them out at night though, leaving them crammed in your shoes will keep them moist and smelly.
Needing one or two pairs of socks in a week saves you buying socks and washing detergent and spares room on the clothesline. It also reduces environmental impact. One thing Woolpower garments and socks don't really like is being washed together with Velcro or opened zippers. They are also susceptible to pilling.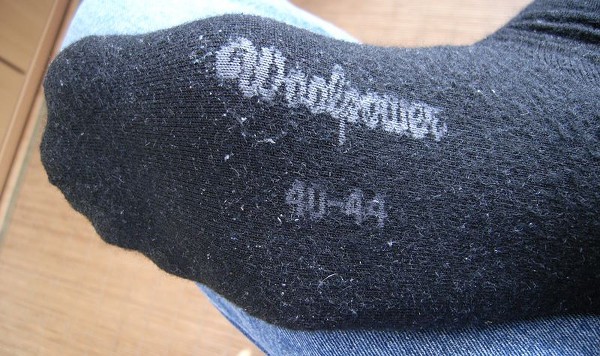 During a hike in wet and cold weather I used one pair of liners for four days in a row without smell or blisters. They dried fast after my feet got wet.
In the winter of 2012/13 I wore one pair of liner socks about 70% of the time. At the end of the winter the socks still looked fine. They were knee-high liner socks. I would not recommend them though. Woolpower socks have a roomy fit and the knee high socks did not stay up on my calves.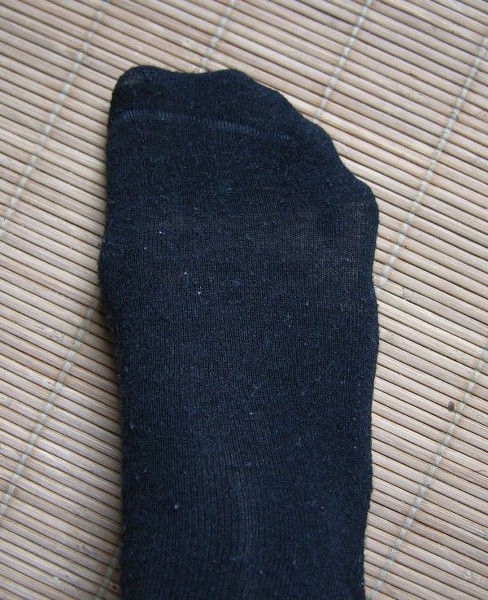 This roomy fit is also a reason I like Woolpower socks: My toes can spread out easily, almost like when I am wearing toesocks. The advantage over toesocks is that I can take them off very easy.
Woolpower liner socks are available in black, grey and white.