In Minimalist Footwear for Backpackers - The Shoulder Seasons, I mentioned that low gaiters are an essential part of a footwear system for light travel in the backcountry. They keep debris and dust out of your shoes, and add a measure of warmth and ankle protection, all without adding too much weight or warmth to your feet. This article will discuss best practices for selecting such gaiters, in the context of a number of contemporary examples.
Trail gaiters have a simple job to do, and are at their best when they do it with minimal material. Designing a gaiter which keeps pebbles and sand out of a shoe is easy. Building a light one which disappears in use while staying attached through thick brush, stream crossings, and the occasional bout of postholing is another matter entirely. How each of the gaiters discussed below do this is the most salient concern. A prospective buyer should match their desired level of retention with their needs.
If your gaiters don't stay put, chafe, suck up too much water, or are a pain to work with they'll end up in your pack, or left behind in the closet. I've yet to meet anyone who quarrels with the virtues of gaiters, just whether they're worth the bother.
Underfoot cords perform admirably under all conditions, but have two shortcomings. The thinner ones will stand up to only mild use, and the thicker ones are too large to fit into the insteps of minimalist shoes. Poorly designed cord, made of absorbant materials, will ball up with wet snow under certain conditions. Velcro heel patches have become a popular alternative, as they avoid concerns of underfoot abrasion and can be used on any shoe. Velcro patches work well under less severe conditions, but regardless of the size of the patch and the quality of the velcro, bushwacking and postholing will eventually cause such gaiters to ride up and become useless.
Fabric preference will also drive gaiter selection. There is a inexact but inexorable inverse correlation between fabric durability and breathability. Folks who hike and run in hot weather may have to settle for a slightly less durable gaiter to avoid hot feet.
Inov-8 DebrisGaiter 32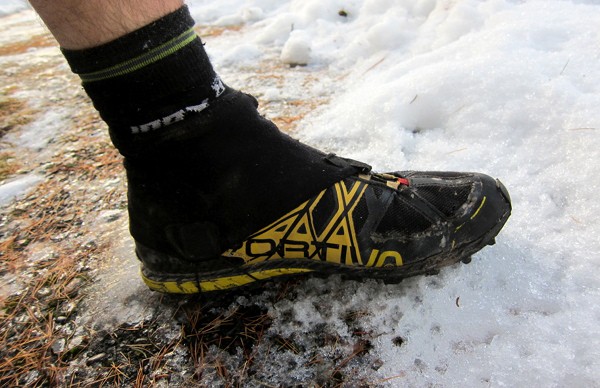 The Inov-8 gaiters are made of double layer of a fairly thick nylon knit, with a 2% elastane content for stretch. They fit very close and are pleasingly supple against the skin. They come in one color, black, and in three sizes claimed to fit US mens sizes 4-13. They feature a lace hook, as all the gaiters here discussed do, and an underfoot cord made from a large rubber o ring. The o ring attaches under each side of the gaiter via small velcro tabs. The o ring is easily replaceable, which is fortuitous as it is also easily worn through when traveling over even modest rocks.
The Inov-8 gaiter is enjoyable to wear, and fits well. The thick layers of fabric provides a certain amount of protection against abrasion. Unfortunately this fabric absorbs a great deal of water, and does not dry particularly fast. If left wet and unattended overnight they will freeze into an incoherent blob of fabric. Durability appears to be reasonable, largely due to the amount of fabric available, though it does pill after a fair amount of use. Cosmetic, but less than ideal.
The Inov-8 gaiters are best suited to cooler weather and mild terrain. Their strengths are a close fit and a fabric which feels good against the skin.
Montbell Stretch Semi-long Spats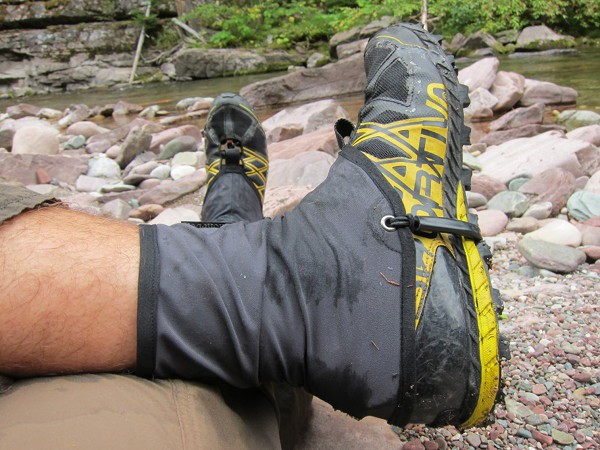 The Montbell Spats are exceptionally trim and well tailored from 140 denier stretch nylon. They appear almost too small when sized properly, but expand enough to fit over even light boots. This excellent fit helps keep them from snagging against brush and the tread of your other shoe, which factilitates good durability. The fabric itself is quite durable as well, and does a good job not sucking up too much water when soaked.
The spats secure via a underfoot cord formed from shockcord inside a thick plastic tube. This assembly girth hitches through a grommet on the inside of each gaiter, and then goes over a hook on the outside of the gaiter. The system is easy to use, and impressively secure. Even more impressive is the durability of the tube. I put a lot of hard miles into wearing through them, and was unable to do so. The only durability issue I had with the spats, indeed one of only two issues, was that the outside hook would occasionally get caught on grass and rocks. I did bend one once, while downclimbing in a slot canyon, but was able to bend it back. The only other issue was that the underfoot cord was too thick to fit into the nonexistent instep of a minimal shoe like the Inov-8 Trailroc 235.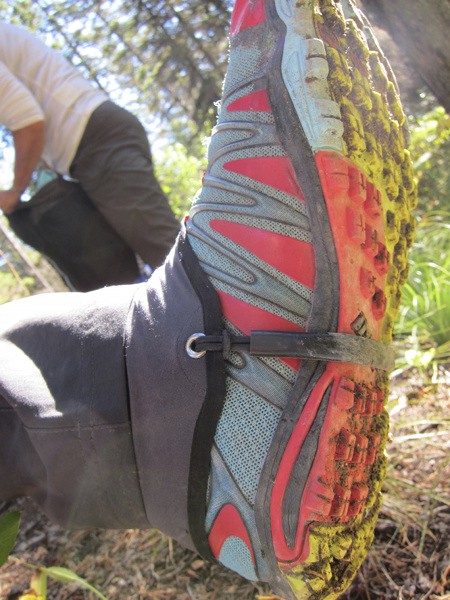 The Montbell Spats are an excellent choice for any hiking or running, so long as your shoes have enough tread height to work with the underfoot cords. Once they're on, they disappear. They're the best overall gaiter in this review, and the best trail gaiter I've ever used.
Outdoor Research Stamina Gaiter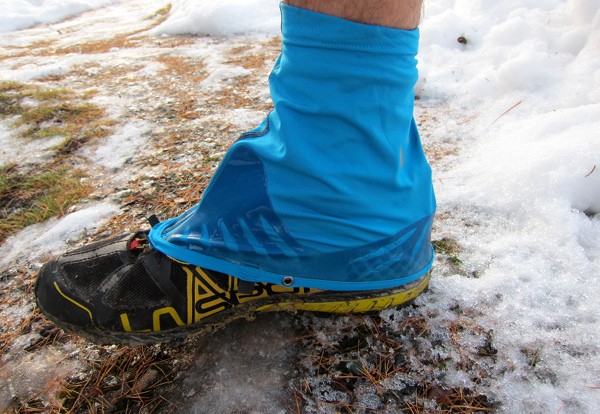 The Stamina is a very flexible gaiter. It comes with velcro on the gaiter, and two sets of adhesive patches for use on two pairs of shoes. They also have small grommets for use with included underfoot cords. The polyester fabric is light and stretchy, and the most breathable in this review. There are silicone overlays near the bottom which serve to enhance abrasion resistance, which is passable. A cinch made of shock cord at the top is designed to keep them from sagging.
Unfortunately the cut of the Staminas is rather roomy, and they do tend to sag an catch on things. There are four lace hooks, which are very small, meant to hook on to low profile laces, webbing lace eyelets, or large gauge mesh of shoes themselves. None of the shoes on which I used these gaiters had mesh large enough to serve here, which might explain my dissatisfaction with the fit. The velcro patch is also quite small, and thus easily detatched by snow or brush. The included underfoot cord will fix this, but is not especially convenient to tie and untie repeatedly.
The Staminas are an excellent choice for warmer conditions, but I struggled to find my enthusiasm due to the baggy fit.
Montane Trailblazer Gaiter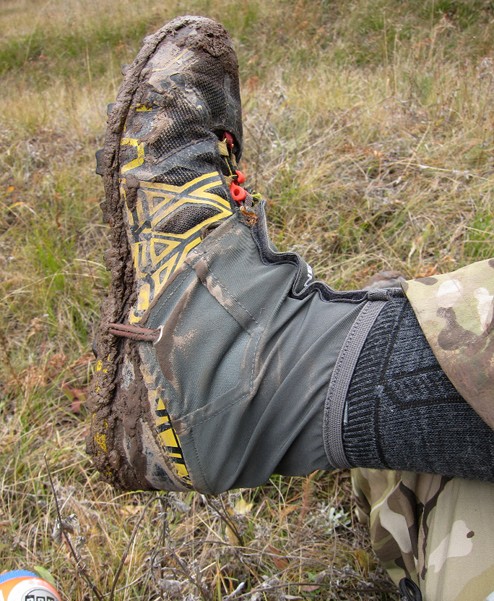 The Trailblazers are the only gaiter in this review with a velcro front opening, normally a feature found on taller gaiters. It is convenient, as these gaiters can be donned and doffed without taking your shoes on and off, but the layers of velcro do add weight and bulk. The rest of the gaiters tested here weighed around 2.25 ounces per pair. The Trailblazers were closer to three.
That said, the Trailblazer is impressively sleek and trim fitting. At first they seemed awkward and too small, but tightening the instep cord won a very precise fit. Users should expect a bit of fiddling to get the ideal amount of tension here.
The Trailblazers use two different materials, a stretch nylon for the bulk of the gaiter, and a burly non stretch nylon low on the sides. The stretch material is at least as durable as that used on the Montbells, while the non-stretch material is exceptionally durable. These gaiters promise to provide a long life. The instep cord is generic shockcord and not especially durable, but is easily replaceable.
The Trailblazers are good for all uses, and especially for those who want something which will last a long time. The tradeoff is the added bulk of the front velcro closure, and an instep cord which is only moderately durable.
Conclusion

None of these gaiters are a bad choice, but depending on your preferences some are better than others. Aside from minimalist shoes with no instep, I can't think of a shoe short of full-on winter boots that the Montbell Spats wouldn't serve well. The Inov-8s are more confortable, however, and the Outdoor Research Staminas cooler in hot weather. The Montane's are exceptionally durable, and provide an option for those who always forget to put their gaiters on before their shoes. Overall, it's a good time to be a gaiter wearer.