This past sumer at OR I snapped a few photos of some boots that caught my eye at the OTZ Shoes booth. What I liked about them is that they looked both stylish and warm - I always have my eye out for zero-drop cold weather footwear. Renee and I have had a couple pairs on test for a few weeks now and while we can't give you an extensive review from such a short time-frame, we certainly can give your our first impressions.
In the past, one of our biggest complaints with OTZ Shoes has been the non-minimalist insoles. Their CORKlite footbed has a built-in arch support and a slight heel-toe drop. Everything else has been good though: they have a beautiful toebox, flat outsoles, good flexibility, and - of course - really nice styling. So while hanging-out at the OR 2011 tradeshow, we encouraged OTZ to make an optional flat insole for those of us who want a little less support. This past summer when we met again, they told me that they had brought prototypes of the new design, but that a hungry airport baggage carousel had conspired against us and decided to eat them instead.
When our boots arrived in the mail, we were delighted to see that prototypes of the minimalist footbed were in the box as well. The new footbed is cork with a leather top, just like the current footbed, but completely flat. Here is a photo of the current footbed and the new prototype for comparison: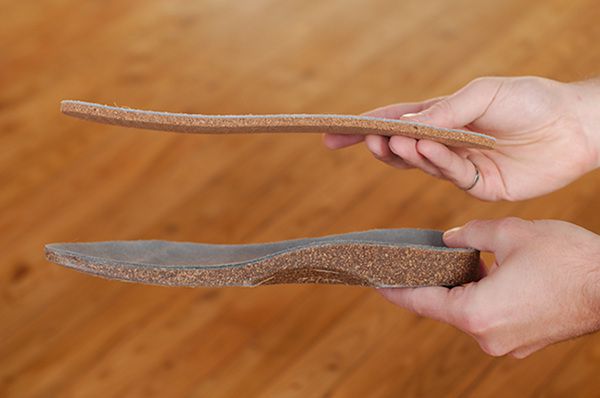 The verdict on the footbed? So far both of us really like it. It is simple, it is flat, it is comfortable, and it provides some insulation from the cold ground. What is there not to like? We now have zero drop boots suitable for winter conditions, a rarity in the minimalist shoe world. With time, I suspect that the cork and leather will gradually mold to our feet which means they will get better with age. If I were to make one suggestion (considering that this is a prototype anyway), it would be that the cork edges be sealed with some sort of glue - like the current footbed. I get the feeling that the cork would get a little crumbly along the edges otherwise, but only time will tell on that one.
Now on to the boots...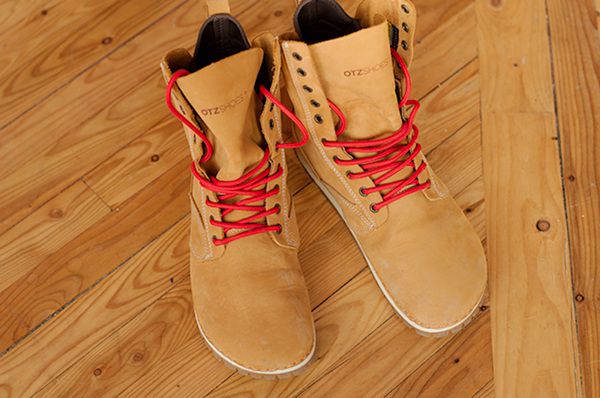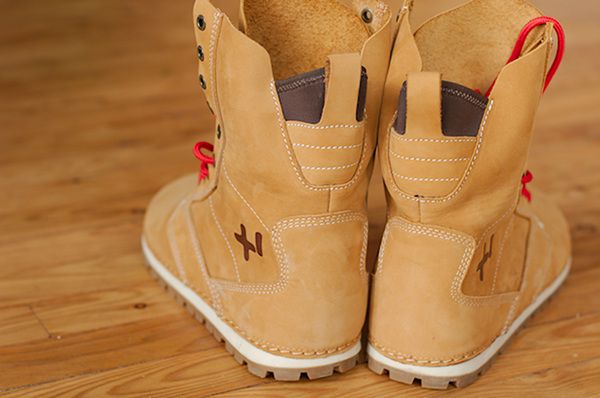 The OTZ1-Troop Vibram is a mens boot designed for all weather conditions. It is constructed out of a water resistant leather and has this comfortable internal stretchy sock thing that hugs the foot and provides some extra warmth. Being made of leather, they were a little stiff at first, but they are starting to soften up nicely. These boots look super durable, being triple stitched, they should last a long time. Additionally, they feature an anti-slip Vibram lugged outsole.
As the snow has started to fly, I have been wearing these as my primary boots for all casual use. So far, they are great. They keep my feet warm, they keep the snow out, they have good grip, and they look good. I think that I will probably treat the leather with some sort of conditioner (maybe something like Snow Seal) so that the leather stays nice and supple.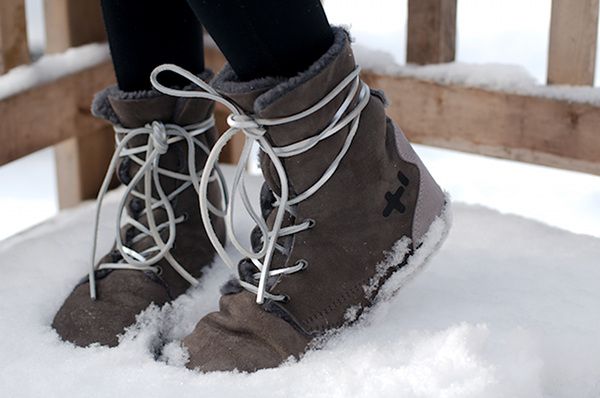 The OTZ1-Troop Shearling is a little less of an "industrial" design than the Vibram version. It features a softer, warmer shearling sheepskin upper, and anti-slip outsole (although not Vibram) with a shallower tread pattern than the Vibram version. The finer lines, softer materials, and gentler construction make this boot best suited for casual use (whereas the Vibram looks like it could actually handle a day on a job site). My wife and oldest daughter (who now happens to be the same size as her mother) LOVE these boots. There is frequent jostling at the front door to see who gets to wear them - mom usually wins :-) They are available in both men's and women's sizes.
Renee wears them whenever she heads out around town, Celine (my daughter) has been wearing them when she goes sledding. They have gotten pretty wet from the sledding, they are not as water resistant as the Troop Vibram. I think we will be looking for a suede leather conditioner for these as well, hopefully it will add a little more water resistance.
OTZ is on a roll here. Having a minimalist footbed in development, and now some boots suitable for winter in production, those of you who live in colder climates may want to give these a closer look.