Two years ago Damien and I took a trip out west. It was our 15 year wedding anniversary trip, the first ever extended vacation without our children. It was fabulous.
On that trip I bought a new pair of shoes, the New Balance Minimus 10 Trail (mens version here). Two things are noteworthy about that experience.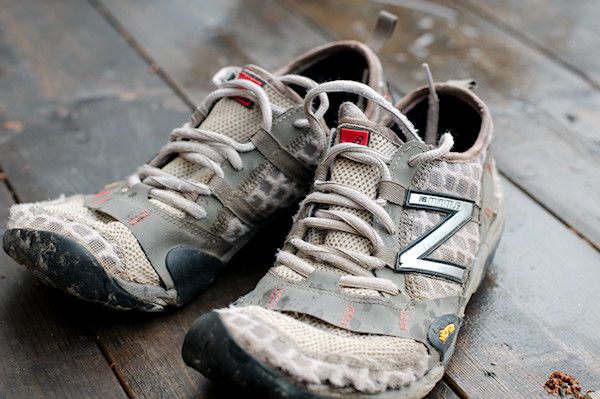 We actually bought the shoes. I remember complaining at the time that we still had to buy shoes for me while Damien managed to keep his feet shod by doing reviews. But I think that's the last pair of shoes we've had to purchase for our family. Thanks to Damien's efforts here at Toe Salad and the generosity of the companies who supply all these shoes for review.
We bought the shoes in a brick and mortar store. After years of only being able to find minimalist footwear in obscure places online, here we were buying minimalist footwear in an honest-to-goodness store. It was then that I finally clued in that "barefoot shoes" had gone mainstream. We weren't the shoe weirdos anymore.
Because we don't do a lot of shopping, I remember the store we bought them. Schnee's in downtown Bozeman, Montana. I remember there was a street concert that day and the sky was bright with sunshine and white puffy clouds. And that we ate our lunch, al fresco, purchased from the deli counter at the Bozeman Community Food Coop.
All of those memories are associated with this humble pair of shoes. And what a well worn, humble pair of shoes they were when it came time to toss them out this summer.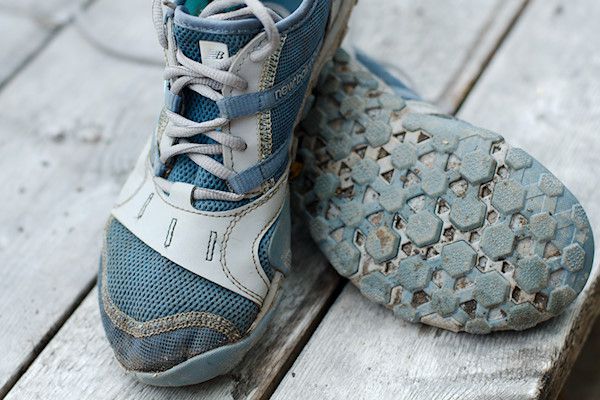 The New Balance Minimus has been my most minimal sneaker to date (OK, I had a pair of FiveFingers before that, but what do you call those?). Unlike my husband, I don't test a new pair of shoes every few weeks. In our house, he's the one with the "shoe problem". I have a few pairs that suit my purposes just fine and I'm happy to own the least amount of shoes in the house!
So I can't compare these shoes to other models or brands. But I can say this for the Minimus. When they wore out I wanted to replace them with another pair of the same model.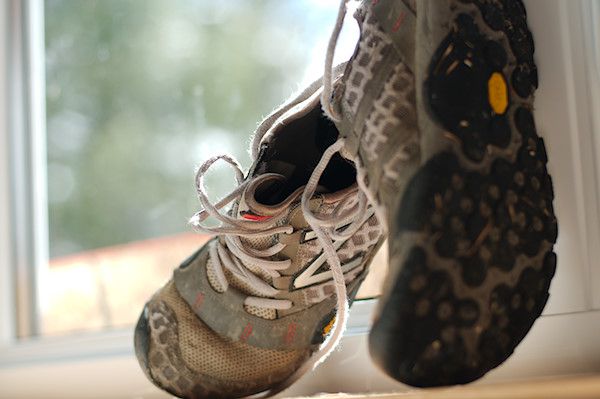 I like these shoes, they have served me well. I have worn them exclusively for our weekend hikes and backpacking trips. And last fall, when I added trail running to my list of physical activities, these shoes were the "perfect fit".
That was my experience with the old Minimus. What about my new pair? Still so clean and pretty, relatively.
So far so good.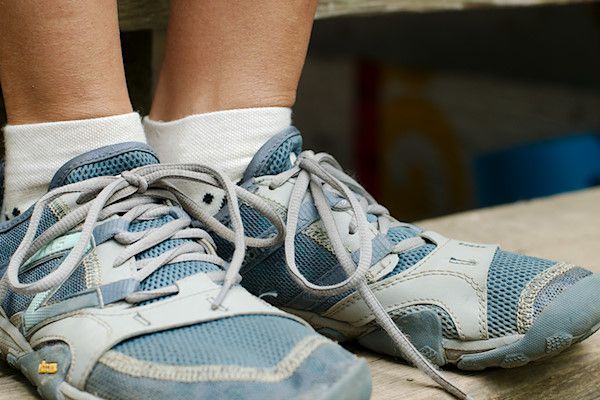 The first pair I ordered were a tad too short. I forgot, New Balance Minimus tend to fit small. I needed go a full size up from my usual 7.5.
You'll notice in the photo below that the lip on the toe is starting to peel, after only one month of wear. I hope it doesn't get worse but Damien says he can work some cobbler elf magic with glue and a vice if needed.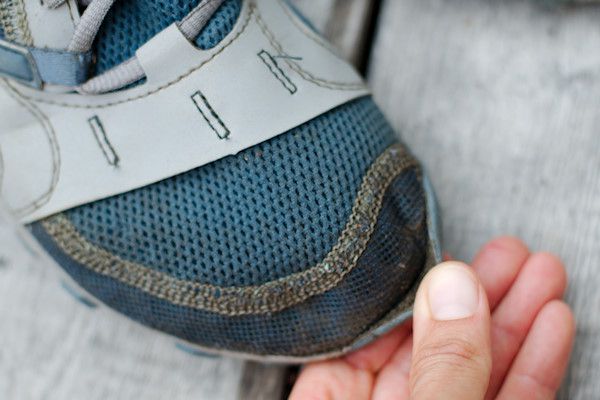 My experience with my old NB Minimus Trail shoes is that the toe upper, made of a lightweight mesh, which is great for breathability and quick drying after wet hiking conditions, is also especially susceptible to abrasion and wear and tear.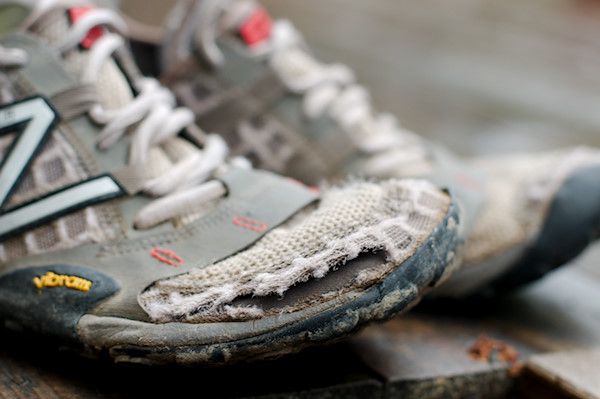 I hope the new model uses a more durable mesh as these are the shoes I intend to wear on the trail next year.
My experience with both the older and newer model women's Minimus Trail shoe has been overall positive. I like the sole. It feels like just the right amount of "ruggedness" for me to feel confident in variety of trail conditions. I love the breathability. I appreciate how light and flexible these shoes are on my feet.
My only concern with both models has been the toe area. We'll see if that improves with future design and material modifications.