Most of you here are familiar with my husband Damien, creator and technical genius (he's my husband, I can say this) behind Toe Salad. I am the mama/homeschooler/homemaker of our partnership and testing minimalist shoes isn't usually my gig. But this time around, it's my turn.
For the past year or so I have been wanting to replace my old pink crocs with a more minimalist "croc-type" shoe. Specifically, I was looking for a summer shoe that:
Is easy to slip on and off for quick trips out the door and around the yard during summer.
Can get wet or dirty and be washed easily.
Is multi-purpose for gardening, hiking, and summer life in general.
Is very light. I want a shoe that can be used as a "camp" shoe for backpacking trips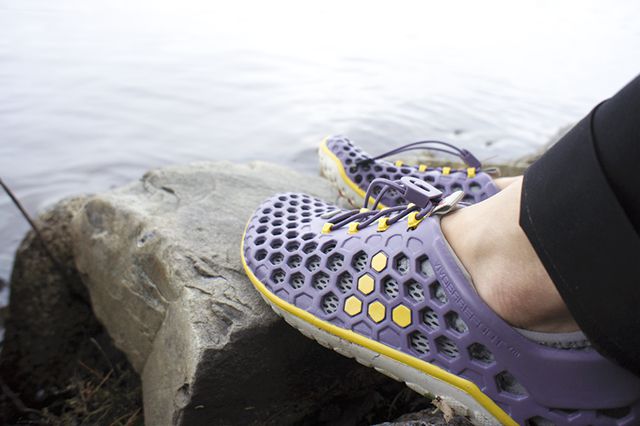 In the past, my crocs met most of these conditions fairly well but when they died at the end of last summer, I wanted to replace them with a minimalist model. Something better for my body than those thick soled, squishy pink sandals.
Damien, being the great researcher that he is, and also using some of his contacts, was able to score me a pair of purple VIVOBAREFOOT Ultra's.
When I googled this shoe to see the exact model and product information I came across a few reviews already written on this shoe, mostly by runners.
So, here's the thing. I'm not a runner. I am a hiker and backpacker but I'm not your "typical" athletic woman, if there is such a thing.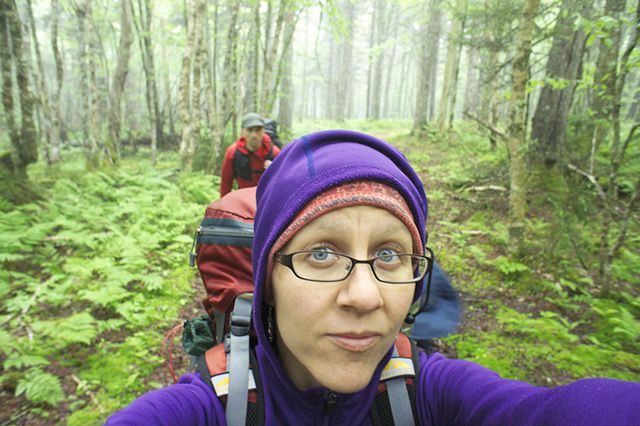 I'm wearing these as an everyday summer shoe and weekend hiking shoe. This is not a running shoe review. I'm a busy barefoot in the kitchen mama wanting a great all around summer shoe to fit the criteria above.
After wearing them for four weeks I can say the Ultra's fit the bill for those purposes.
Things I like about this shoe:
They feel really good on my feet. The toe box is very wide but the inner liner fits like a soft glove. Great combo. If I'm going for a walk in these, vs. around the yard and town wear, I do wear a thin sock in addition to the liner. My feet are quite narrow and I find that sometimes when I'm barefoot the heal rubs just a bit more than I like.
You can wear them a couple ways, reducing your need for multiple shoes. I like to take out the inner liner for beach walks where my feet will be getting wet. But mostly I use the inner liner in place because, like I said, my feet are fairly narrow.
Super easy lacing system. The adjustable stretch laces can be cinched up to whatever your foot width. Too bad my son couldn't wear these. He hates tying his shoes.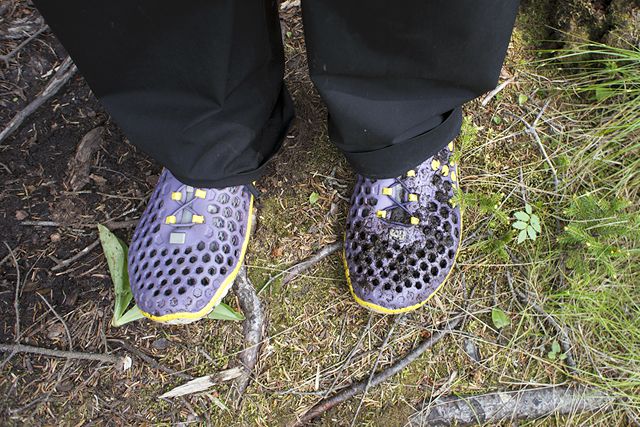 A less than positive experience:
I took these shoes on a four day family backpacking trip last weekend. There will be more to follow about that trip on our adventure blog soon. For the first two days I loved them. They were comfortable with a thin sock, though a bit loose on the downhill.
They really shined at the end of day two when I used the outer shell as a camp shower shoe and was able to thoroughly wash and dry the inner liner in just a few hours of sunshine. I love that!
This is exactly what I had hoped for these shoes for trail life, which is why I brought them. A comfy hiking shoe that could double as camp shoe with the dirty, wet inner liner removed.
On day three of our hike the system broke down. There was a lot of rain and mucky trail and the inner liner soaked up too much of this water. I squished, squished, squished along for the next two days in soden shoes.
Now, those of you who are miminalist shoe backpackers know this is to be expected. Wet shoes are part of the "experience". But this particular liner held too much moisture for my comfort. And let's just say I didn't like it very much (read: I complained a lot to Damien).
Also, the large-ish holes, great for breathability and just what I want for a camp shoe, let in twigs and little rocks that rubbed my feet. Though of course I wasn't aware of this till the end of the day when my feet throbbed in these spots.
But, on the upside when we came home my shoes were washed and dried (in the sun) in a couple hours. Whereas the more traditional running shoes my family wore took longer to clean and dry. But I needed mine cleaned fast, they are the only summer shoe I own.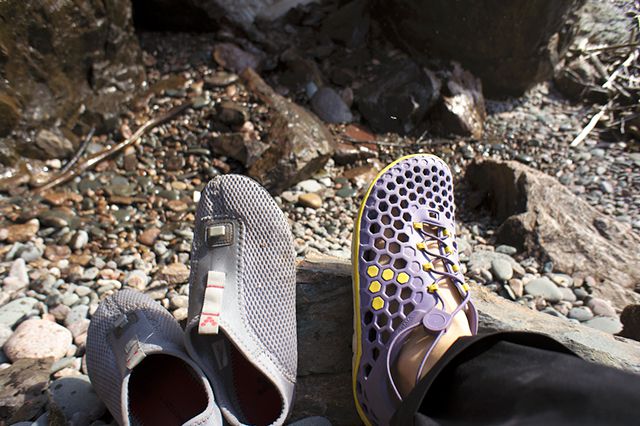 One more thing, you might notice in the photo below that the third right lace loop doesn't look right. That's because the tab holding the lace in place is broken. VIVOBAREFOOT has offered to replace the shoe for me or have the part replaced. I am currently waiting on that part as they are out of stock. But I really appreciated the great customer service to try and get them fixed or replaced, at no cost to me.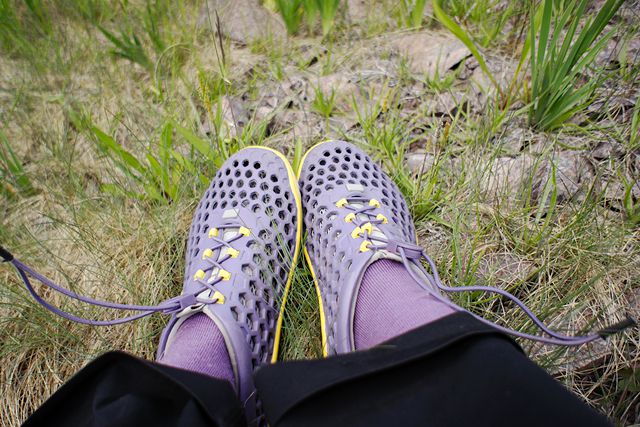 I think Tina's review of these shoes at Living Barefoot is helpful. She has a runner's perspective but lots of what she says I concur with, especially how comfortable these shoes are. My only real less-than-positive experience with this shoe is that they held too much water for my comfort in rainy backpacking conditions.
For everyday summer needs, moderate hiking, around the yard, around town, and beach walking (ie: what most people do during summer) these are a great shoe.