With the exception of sandals/huaraches, no other shoe offers as much freedom for the toes as Vibram FiveFingers. Their glove-like design means that toebox width is largely irrelevant - a FiveFingers feature that I have absolutely loved since I bought my first pair of (now discontinued) Classics.
Like gloves, the limiting factor for FiveFingers is the cold. Having your piggies separated from each other means that they can't snuggle together to keep warm. Thus full-on winter conditions (unless you are Barefoot Jake), is largely off-limits for this type of footwear.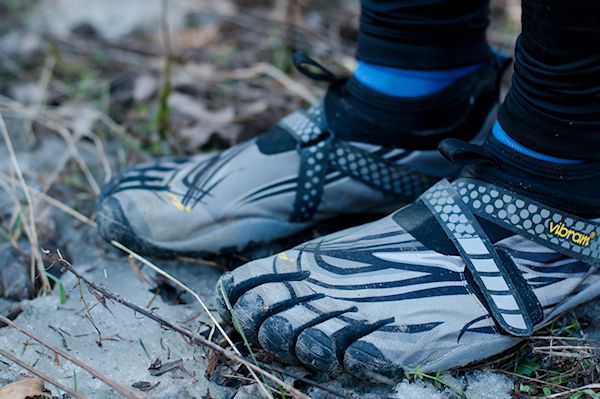 Vibram FiveFingers Lontra
The Vibram FiveFingers Lontra and the Speed XC are designed for cold, wet off-road conditions; When temperatures are hovering around freezing with ice, snow, slush, and mud. For some of you this might sound like winter, but where I live they call this spring. The last couple weeks here have brought us morning snowfalls followed by afternoon mud - perfect conditions for testing out spring footwear.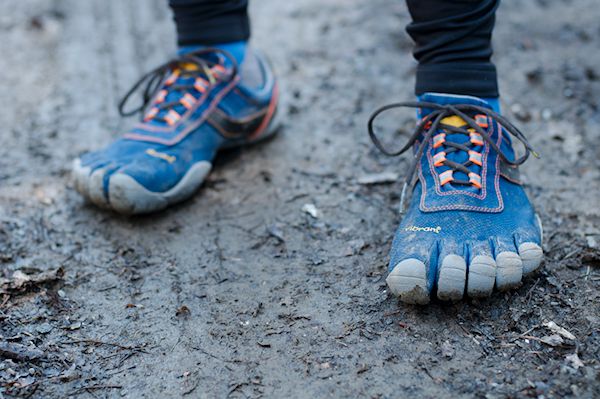 Vibram FiveFingers Speed XC
Both the Lontra and the Speed XC feature multi-layer laminated uppers with taped seams for water resistance and warmth. They both have the Vibram TC-1 Dura outsole, and 4mm of EVA foam under foot for rock protection and insulation.
The Lontra is the more wintery version of the two, as it has a stretchy microfleece-lined neoprene cuff that snugly fits around the ankle to prevent debris/snow/whatever from entering into the top of the shoe. The uppers are secured on the foot with a velcro closure. The Speed XC on the other hand has a more traditional running shoe upper, complete with tongue and laces. Both shoes have a wicking polyester lining.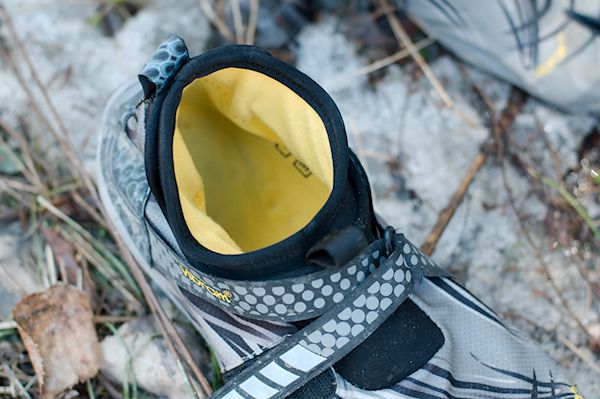 Let's get one thing clear: any footwear that claims to keep your feet dry is a joke. Really. It is an impossible endeavor. Your feet are going to get wet, either by sweat from the inside or water from the outside. (The Lontra and Speed XC are no exception to this rule - despite efforts to slow the entry of water, the toes get wet almost immediately when used in damp conditions). The two issues that really matter are: Will your feet be warm enough? How quickly will they drain/dry?
The Lontra and the Speed XC have been designed to favor warmth over dry time. The seam-taped water resistant uppers are not the kind of thing you want to have on your feet when doing a river or stream crossing. In those conditions, you want an upper that drains as quickly as the water enters. However for cold/damp conditions like the spring mud and slush I have been running in as of late, the design seems to work pretty well - with one caveat: dry time.
Due to the nature of the fabric used on the uppers, both models take a really long time to dry out. When I air dry them at home, it takes longer than 24 hours. Heat and/or air movement is required to get them to dry any faster. I like using them for outdoor activity under a day in length in spring conditions, but I would never use them for a multi-day trip. My thinking is that Vibram is not designing these for the multi-day crowd anyway. Short term trail use is the sweet spot for these.
The fabric, being that it is a stiff-ish laminate (stiffer than the stretchy fabric normally found on FiveFingers), is not as forgiving around seams. This is most noticeable around the toes where there is a veritable seam party going on. For the most part I found the toe seams to be well engineered, however I did experience a couple hot spots from time-to-time around the seam between my big and second toes. These hot spots have not ever materialized into a bilster, but I think for longer duration activities, this would be something to watch out for.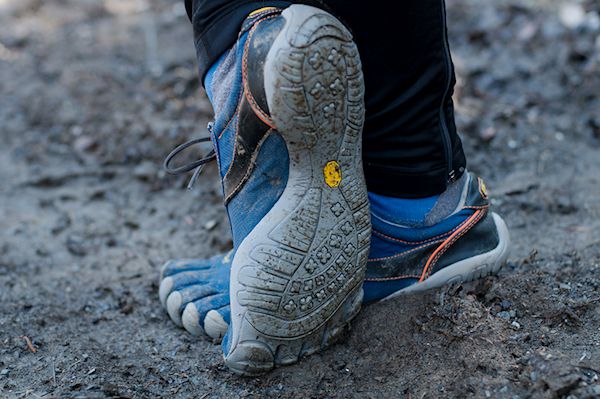 The shoes are stiffer than other FiveFingers I have tried. Having stiffer soles and stiffer uppers means that they feel a little less glove like. While other VFF models have this one-with-your-foot feeling, these feel more like i-am-wearing-a-shoe. The toes, while in separate pockets, don't have as much freedom to splay any-old-way they like. Overall, these feel like a shoe with toe pockets rather than a second skin for barefooting. However, when it comes to cold weather I am not looking for a second skin - so this shouldn't be taken as a negative, just an observation.
Because the Speed XC has a traditional running shoe closure, it is also built more like a shoe around the ankle. This means it has a lot more structure built-in to the heel and around the ankle opening. I have found that the stiffness of the heel cup and the rise at the achilles presses uncomfortably into my achilles tendon, making it sore after extended use. This is a problem that I have experienced with other less minimal shoes as well - a sign that this shoe is veering off into the territory of "too much".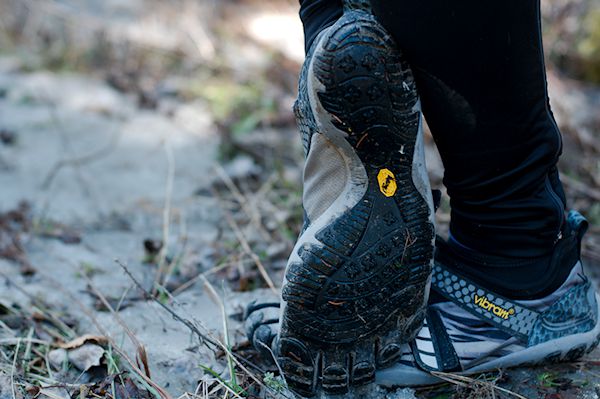 The Lontra on the other hand, with it's built-in gaiter and velcro closure has a significantly different design. It does not have the same structure around the ankle or achilles as found on the Speed XC, making it a much more comfortable (and warmer) shoe.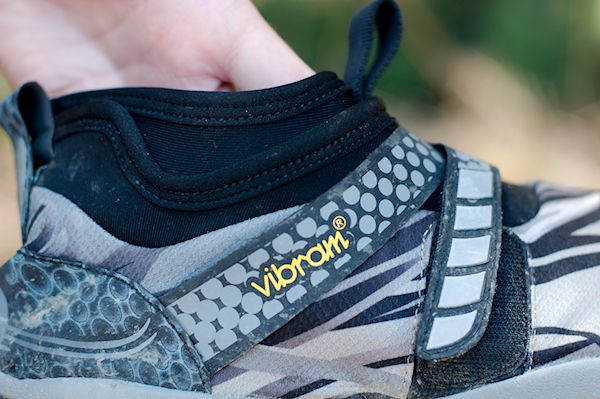 When I first got the shoes earlier this winter I tried them out on a short day hike with the family. Conditions were hovering around -12C with a bit of a wind. My feet didn't last more than about 20 minutes before my toes went numb. Lucky for me, I had brought an extra pair of closed-toe shoes just-in-case. From this experience, I can say with confidence that these are not a winter shoe - unless you are doing a high-output activity, or live in a region where winter is mild.
Overall, my favorite between these two models is the Lontra. I prefer the less structured upper, the built-in gaiter, and the more comfortable fit. I see it as having clear utility in my shoe quiver: a shoe for short-duration activities (i.e. daily trail runs, not backpacking) in cold and wet conditions. The usefulness of Speed XC however is a little fuzzier. In conditions in which I would consider wearing it, I think I would actually prefer less of a shoe with a quick drying upper.