Earlier this fall we published a page of book reviews, Real-Life Adventure Books for Hikers and Backpackers. We recently updated that page with two new reviews for the books Small Feet, Big Land by Erin McKittrick and I Promise Not to Suffer by Gail Storey.
Small Feet, Big Land and I Promise Not to Suffer are both published by Mountaineers Books. The publisher has partnered with us to giveaway one copy of each book to our readers. Thanks Mountaineers Books!
I really enjoyed these women's stories. Although I reviewed them from a backpacking and adventuring perspective, I think they would interest anyone who enjoys good stories about real people doing interesting things. Who doesn't enjoy a book like that?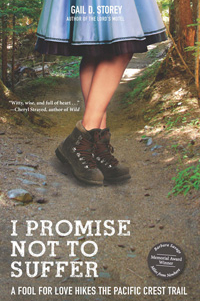 I am intimidated by most trail stories written by women. Inspired yes, but intimidated also. These women are so hardcore, so bad-ass, so competitive. And I'm just... not.

And so, there were many things I could identify with in Storey's memoir about her husband's thru-hike and her near thru-hike of the Pacific Crest Trail.

...this trail story, like all good trail stories is about so much more than the challenges and highlights of hiking every day for months on end. It's about living well and loving well.
---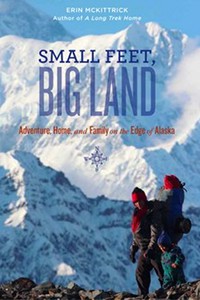 What I appreciate most about this backpacking and adventure book is that the "trail tales" are rooted in community, family living, and environmental ethic.

A lot of hiking adventures stories are, "look at me finding myself on the trail" (in some form or another). This is not necessarily bad. We need to read tales of personal growth and development. Better yet, we need to grow ourselves.
The giveaway is open for anyone, anywhere. The publisher will ship winning copies anywhere in the world. Thanks Mountaineer Books!
To enter your name for a chance to win a copy (what a nice treat to get a new book in the mail for those long winter nights!) please fill out the entry form here.
Congratulations to our winners!
Heather Polson won Small Feet, Big Land
Rebecca Scheele won I Promise not to Suffer