I love to wear really minimal shoes and stand very close and stable to the ground. In winter though, thin minimal shoes are sometimes not the best option. Most cold comes from the ground and shoes with a thin sole just don't provide enough protection from that.
Merrell sent us a pair of the new Mix Master Mid Waterproof boots to test as winter footwear. These shoes are ankle high and waterproof. They have a 20 mm stack height (the total amount of material between your foot and the ground), 9 mm of cushioning and 4 mm of drop. They are from Merrell's new M-Connect series. A lot of Toe Salad readers will not see these as minimal shoes but I think they are close to minimalist and a good option for winter.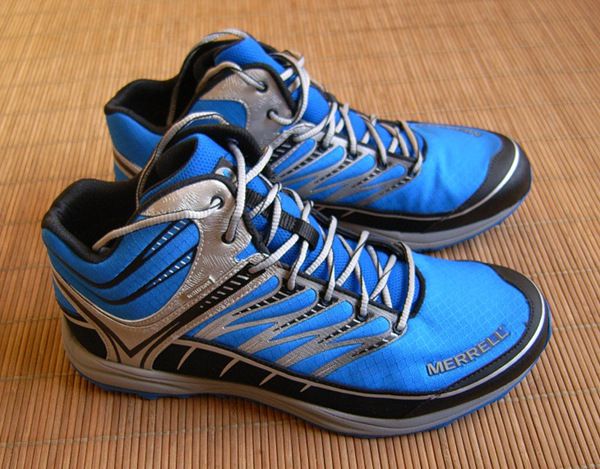 The Mix master Mid waterproof is available in mens sizes only. The Mix Master is available for women too but not in the ankle-high or waterproof versions.
The Mix Masters have shock absorption: in the heel there is an air cushion and in the forefoot there is an absorption plate. The waterproofness comes from a waterproof membrane. The uppers are made from a textile that looks to be pretty strong. Merrell also added an EZ Clean finish that sheds dirt and moisture. In high wear areas, like where the shoe bends in the toebox, the EZ Clean finish is easily damaged. This happens often with shoes and can be restored using aftermarket products, though I think the finish on my Merrells wore too quickly.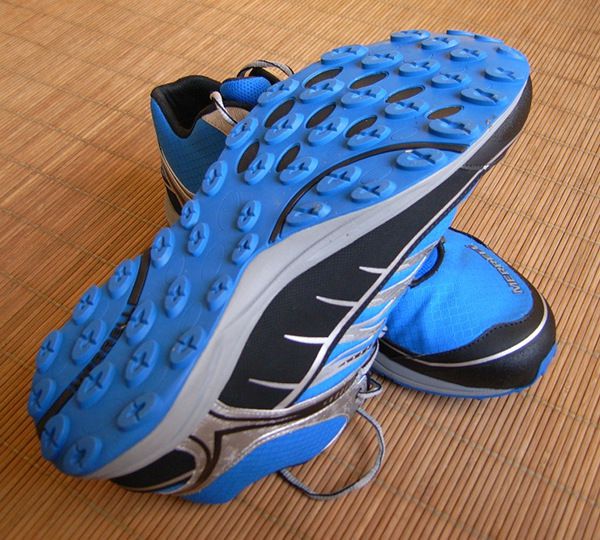 I used the shoes for hiking in cold and wet weather and for going to town. I could clearly feel that the thicker soles provide more insulation but also less stability. The soles are also less flexible than what I am used to in minimal shoes. When I did a hike in 10cm (4 in) of snow after a -16 C (3 F) night the uppers of the shoes were too thin to give enough insulation. Next time I would use thicker socks.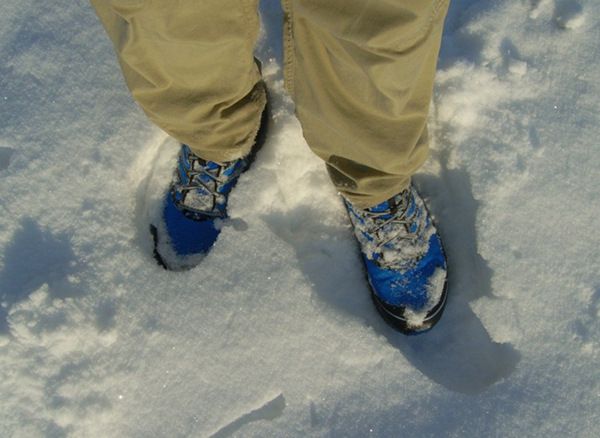 These are my first 4mm drop shoes. The last few years I was used to 0mm drop shoes. I think the 4mm drop is barely noticeable. My old Inov-8 Roclite 390's that used to be my winter hiking shoes have a 12mm drop that I can feel very well. It is possible to feel the ground beneath your feet when wearing the Mix Masters - but you have to be paying attention. Because of the thicker soles you do not automatically feel what's beneath your feet like with thin minimalist shoes.
The soles are completely flat. I did not feel any arch support. This also means it is difficult to attach a gaiter to the shoe. I would advise Merrell to add an attachment point for gaiters at the sides. In off-road situations the 3.5 mm lugs give enough grip.
These shoes are really lightweight: a pair in size US 11.5 (UK 11, EU 46) weights 726 grams (25.6 oz). It makes them great for ultralight hiking and backpacking.
The Mix Master Mid waterproof retails for $140 USD (EU 130, GBP 110). It comes in the colours blue with silver details and black with greenish-yellow details.