Merrell just released the Proterra Mid Sport, a shoe that is inspired by minimalist shoes. With its 21mm stack height and 4mm drop, a lot of Toesalad readers might not see them as minimal shoes. But the Proterra contains a few interesting features that make it worth a further look. And for next winter there will also be a waterproof and an insulated waterproof Proterra available, which will be great winter shoes.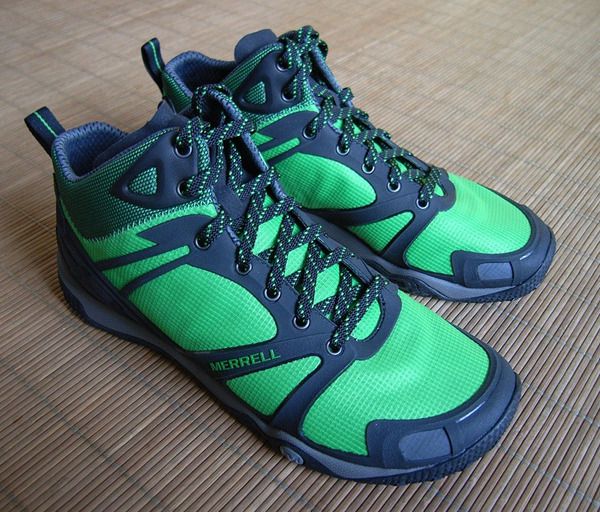 In the Proterra Mid Sport, Merrell has made a shoe with an important feature found in minimalist shoes: enough underfoot stability to give you a firm connection to the ground. They achieved this by giving the sole a flat diamond pattern with inverted lugs.
Each diamond has an oval shaped lug inside to provide extra traction. The result is a sole that is very stable and gives good traction when hiking on-trail or walking through town. For real off-trail hiking I would recommend the Merrell Mix Master.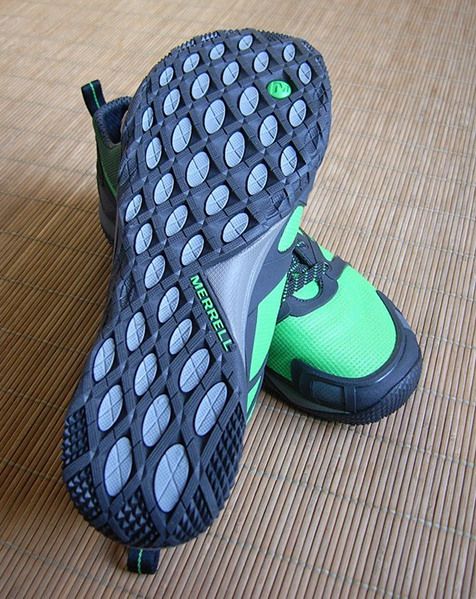 Another great feature of the Proterra is the toebox. The Proterra toebox is very roomy and gives ample room to the big toe also.
My test shoes came in an apple green test sample colour (bright colours are the new fashion trend). You can also get them in a black and grey colour scheme or beige colour called Brindle.
Very interesting also are the uppers of the Proterra. Merrell used a new technology for this called Stratafuse. It means that the foot cage is injected in the mesh upper without the use of glue or stitching. This construction technique makes the uppers lightweight and durable.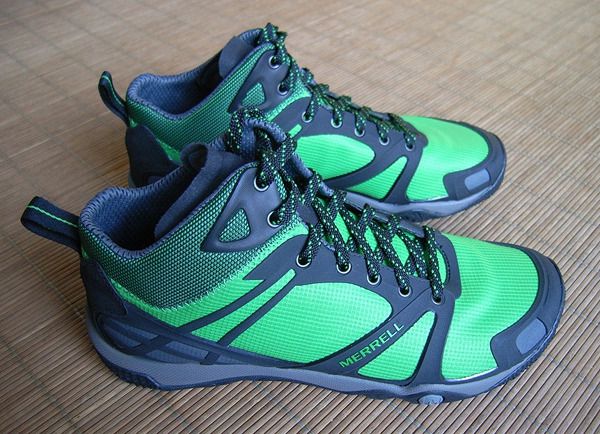 The mesh itself is also worth noting. It is so fine that I don't think sand would pass through but it is still very breathable. The mesh is also water resistant (but not waterproof) and quick drying. This makes the shoes very useful in spring and summer under a variety of conditions, from dry to wet areas. When your feet get wet just keep walking. The water will be pressed out and your feet will get warm again soon. Thin socks are the best for this.
I hope Merrell will use this mesh material in their other minimalist shoes as well.
When I started hiking in the Proterra's they fit me well from the beginning. Under my midfoot I felt something like an arch support on the wrong side (outside) of my foot but this feeling passed away after some time. Because of the thicker soles, the Proterra's offer less proprioception than real minimal shoes. But they do offer a lot of (traction) stability which I really liked. The Proterra's have enough grip for up or down hill surfaces that are not too slippery. However, the diamond sole pattern can get easily packed with sand which will decrease the traction.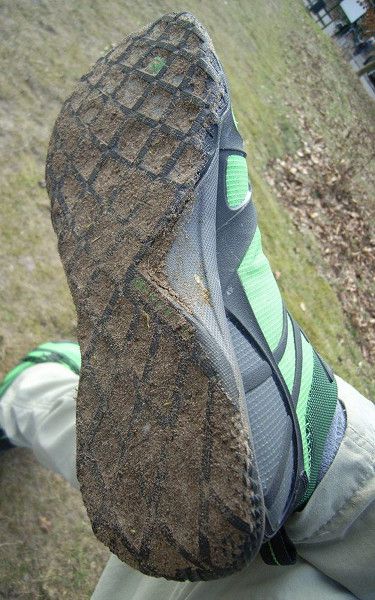 The sole pattern looked to me to have a lot of grip on snow and ice. I can now confirm that on icy roads they don't have more grip than other shoes but the flat shape of the sole will hold traction devices (with spikes) very well. For snow testing unfortunately I could only test the shoes in a thin layer of powdered snow. This was not a good test situation for snowy circumstances. When hiking through snow my feet got a little wet. I wasn't sure if this came from the snow or if it was sweat.
The laces are prone to wear and tear. After a hike through the woods they got some damage.
My Proterra's weighed 943 gram (33.3 oz) for a pair in size US 12 (EU 46.5 / UK 11.5). This is more than 200 grams heavier than my Mix Masters. I think the sole construction makes the shoes heavier because the diamond pattern and the lugs use a lot of rubber.
Next autumn Merrell will release the Proterra with uppers made of leather, Gore-Tex Connectfit and insulated Gore-Tex Connectfit. Connectfit is a development from Merrell and Goretex together to improve the use of Goretex in shoes. These shoes will be interesting minimal winter shoes for temperatures below freezing.