Up until recently, when reviewing footwear I didn't have much contact with shoe companies other than by email. Outdoor Retailer was a great opportunity to finally meet some of the faces behind the products, see their passion, and hear about all the cool things that they have cooking. There is something really energizing about being in the presence of people who are following their dreams by bringing their innovative ideas to market. One of the innovators whom I had the pleasure of meeting was Steven Sashen - the founder, president, and all-around great guy behind Xero Shoes.
What do you get when you put a former Nike designer, a former Reebok designer, and Steven Sashen together in room and shake vigorously? The worlds first purpose-built sole for huarache running sandals. From the days of recycled car tires and strips of leather, huaraches have come a long way. Xero Shoes has seriously raised the bar with their latest innovation: the FeelTrue sole.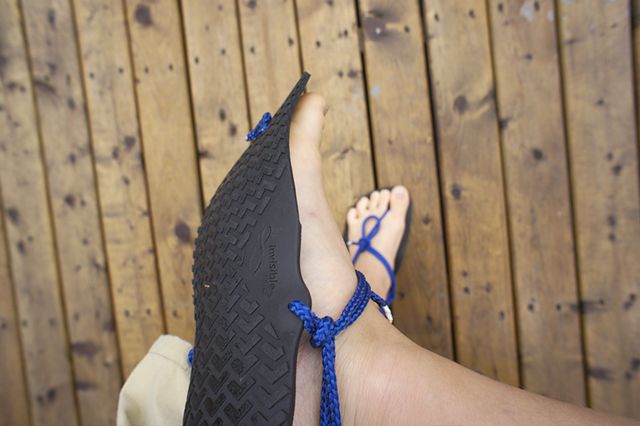 Up until this point, standard huarache construction went something like this: take a sheet of rubber, trace an outline of your foot on it, cut it out, punch some holes, thread some lace and voila, you're done. Stick it to the man. (Goodbye behemoth shoe manufacturers! ... oh and thanks for the rubber Vibram!).
The FeelTrue sole is molded out of a highly wear-resistant rubber compound. It has a chevron-shaped tread pattern, a lightly textured top, pre-punched side holes, and is contoured to the shape of the foot. There are two versions available: the Connect which is 4mm thick, and the Contact which is 6mm thick. Both the Connect and Contact come in pre-cut sizes ranging from kids on up to big-footed adults. No more foot tracing required: all you have to do to get a perfect fit is punch a hole between the toes, thread the lace, trim around the toes, and you are done.
How Do They Work?
My 10-year-old son and I have been giving these a pretty thorough test for the past month in a wide variety of conditions. I have been wearing the 6mm Contact and he has been wearing the 4mm Connect. We have taken them on walks, errands, long day hikes, and one multi-day backpacking trip.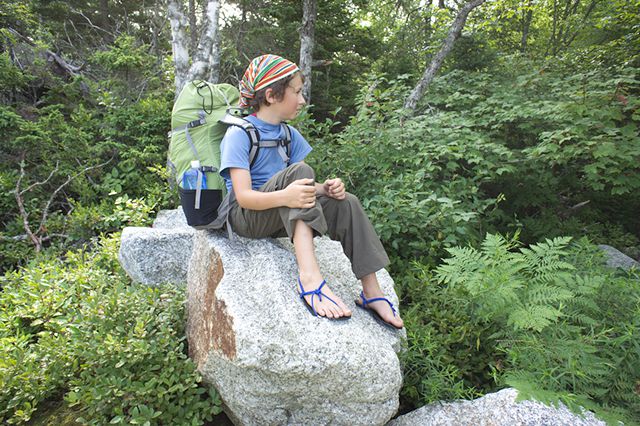 In the summer months I spend most of my time barefoot. When I go out to run errands I will usually bring something along to slip-on if required. Easy-on/easy-off footwear is most important for me in this regard. To meet this requirement I decided to lace my huaraches using the slip-on method as described on the Xero Shoes website. I was very pleased with the results, the slip-on method worked as advertised. From these experiences I can say without a doubt that these sandals are great for general/everyday use.
For walking/hiking and running on mild terrain, the Xero Shoes are excellent. The ground feel is great and they provide just enough protection to take the edge off rocks, gravel, and roots. The biggest complaint my son has is that when on trails, he frequently gets pebbles and twigs stuck between his foot and the sandal. That doesn't happen to me quite as often as it does to him, and we have just learned to deal with it - to the point where neither of us really notices it anymore.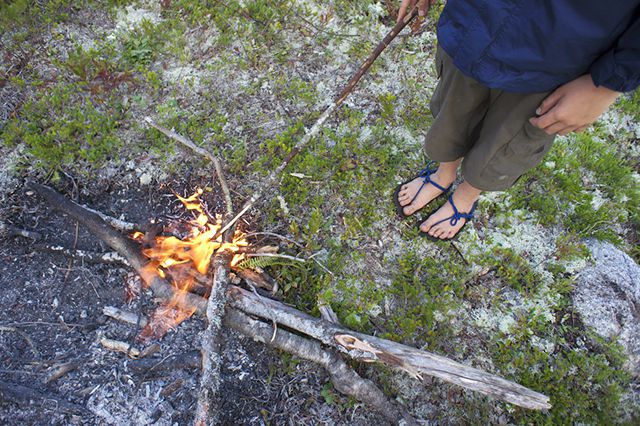 My son loves his huaraches. They are his current footwear of choice for almost all daily summer activities. To make it easy for him to get them on/off his feet we made laced his using the slip-on method as well. He wears them hard. He plays hard. He runs, leaps, jumps, and has no problem with them staying on his feet. About the only downside to this level of activity is that he wears through a lace about once every two weeks. Considering the amount of abuse he puts them through (if anyone will destroy a shoe, it will be him!), I am very pleased with the durability of the sole.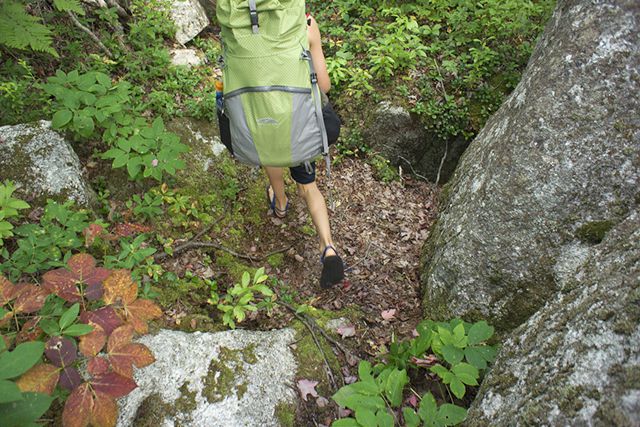 For hiking/backpacking and running on rough/steep terrain, we both agree that this type of footwear is not ideal. Our feet tend to slide around and being that the laces are thin, they dig into our skin - especially on a steep descent. My son thinks that a thicker strap may help them feel more comfortable on steep terrain. For off-road conditions where the soil may be loose, the bushes thick, and the terrain rough, they don't work so well either. On one particular hike we ventured off into the bush in pursuit of a route to the top of a rocky outcropping. I managed to return with a rather large cut on my foot that would have easily been averted with a little more foot protection.
All that being said, after hiking and backpacking for extended periods of time wearing a huarache, it feels restricting to put a shoe on again. On our most recent two-day backpacking trip I brought my Xero Shoes and a pair of New Balance Minimus Trail shoes. I started the trip wearing the huaraches. By the end of the first day, the skin between my toes was starting to get a painful blister from the strap. When I switched to the Minimus I felt like I was subjecting myself to foot binding. Interestingly, my feet had decided to take full advantage of their huarache freedom and had expanded making minimalist shoes feel uncomfortable.
When it comes to running, the Contact really comes into it's own. My toes have freedom to move and my feet have protection from the rocks that I frequently encounter along the side of the road. The contoured shape of the sole helps keep them from flopping or catching on the ground. Since running is what the FeelTrue sole was primarily designed for, I think it is safe to say that they have met their design requirements straight-on.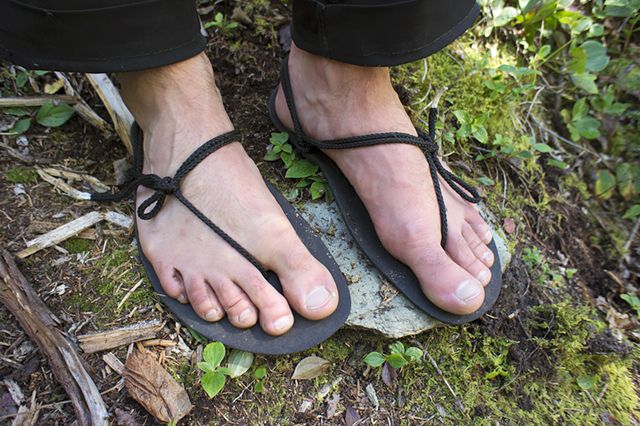 Verdict
Xero Shoes is on to something. For a durable, warm weather running or general purpose minimalist sandal, you can't go wrong with the FeelTrue sole. The new design makes it extremely easy for almost anyone to get a good fit. The other thing we like is the price - these truly are minimal shoes at a minimal price.
If you are looking for something for use in cold weather, off-road, bushwacking, or on rugged terrain then Xero Shoes are probably not your ideal choice.