The Kigo Pai is a trendy, oxford shoe designed for everyday use. It is both comfortable and stylish, while remaining very minimal. The Pai is available in both men's and women's sizes in four different colors.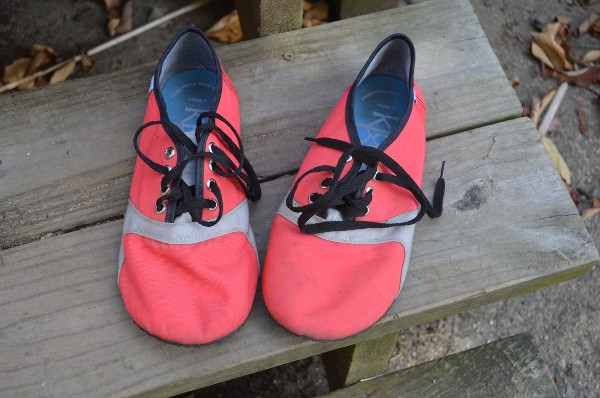 Construction
The Pai puts a high priority on being environmentally friendly, as a lot of recycled components are used in its construction. The general makeup of the shoe is as follows:
A 3mm Gomma ruber outsole combined with a 1.5mm EVA insole offers high sole flexibility and high ground connection.
The 100% recycled Repreve upper and footbed offer a texture I have not felt in a shoe before (one that feels much like canvas). I enjoy this new texture, although I found that it rubbed the upper part of my foot when I wore the shoes without socks.
The 100% Kaluna lining is soft and feels much like a jersey t-shirt.
There is absolutely no toe spring or heel rise - the shoes are completely flat.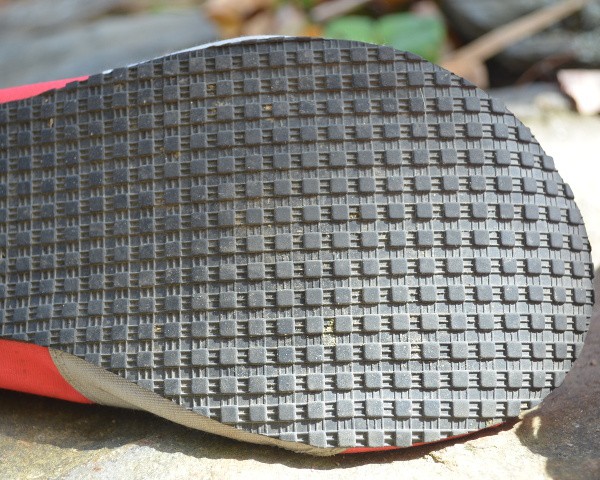 Kigo has a cradle-to-cradle philosophy, they want every pair of shoes to live a waste-free life. Once a pair of Kigos has been worn out, they can be recycled to be used again. Kigo offers 25% off to consumers who choose to re-purpose their old shoes. More details on the program can be found on Kigo's recycle, reuse, rewards page.
It doesn't get much better than that; A company that is committed to sustainability and using resources responsibly all while creating a quality, minimal shoe.
Fit
The Kigo Pai is the widest minimalist shoe I have worn. I found the standard lacing system to be very helpful in getting the right fit. I was able to cinch the laces up enough so my foot did not slip around in the shoes. I imagine they might not be the greatest fit for someone with a narrow foot. I can, however, see them fitting very well on those of us who have a medium width or even a wide width foot.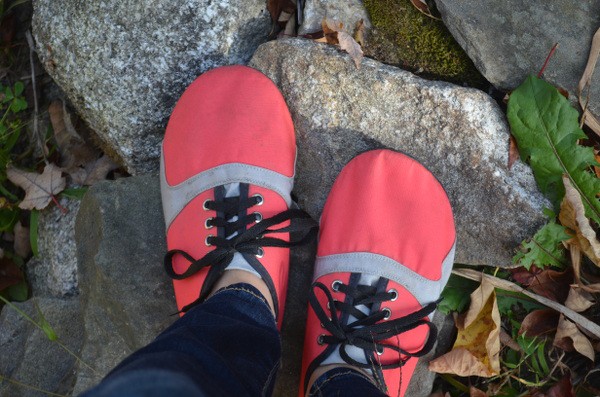 I found the Pai quite comfortable with the exception of the upper fabric rubbing on my foot when I wore the shoes barefoot. A pair of ankle socks quickly remedied the problem. I have found the shoes to be a little too warm to wear in the summer, especially with socks. My feet tend to sweat quite a lot on hotter days.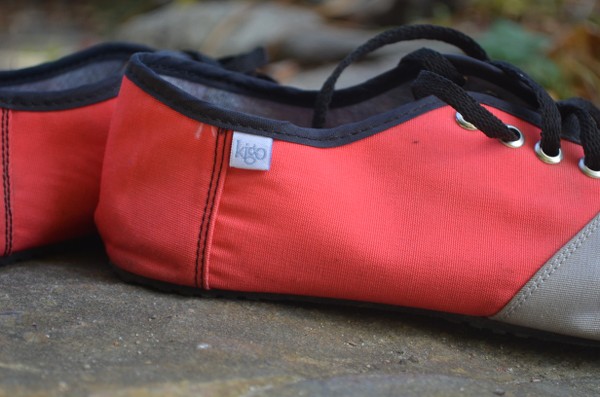 They run true to size, although they do not offer half sizes for women. I am usually a 7.5 US and found the size 8 fit fine. If you are unsure, Kigo has a printable size guide that is accurate and very helpful.
Style
I like shoes, and I especially enjoy having a pair of fun, everyday shoes that are also multi-functional. They look great with jeans, but also compliment my skirts nicely. And, oh the color! There is something about the bright, boldness of Poppy that demands attention while acting as an excellent compliment to any hue.
The wider toebox took some getting used to. There are not many shoes that have this wide of a toebox. After a few weeks, it no longer felt unusual. In fact, I came to appreciate the wider toebox not only for its benefits to my feet but as an addition to the unique style of the shoe. The last Kigo uses for these shoes provides the wearer with ample toe room, and also gives the shoe a little extra style.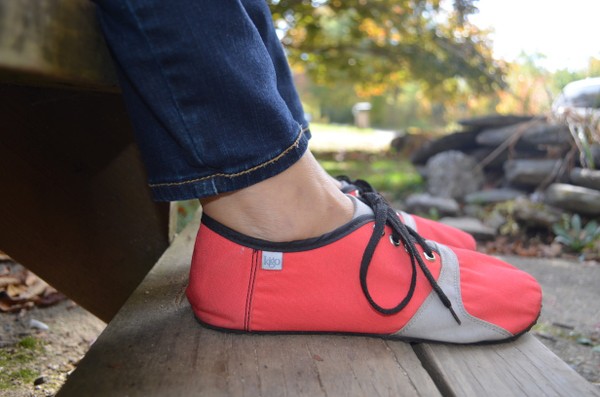 Purpose
I like to hear about businesses that have purpose. Businesses that are about more than making a profit. Businesses that look beyond what is right in front of them. Kigo has become one of those businesses to me. They have vision and passion to create a quality product whose benefits go beyond the sale. Kigo footwear offers more than a minimalist shoe; they offer a story and an ideal that generates connection: connection to the earth, connection to people, and connection to our own personal convictions.
Right now, for every one pair of Kigos that you purchase, Kigo will donate a pair of shoes to Soles4Souls. Soles4Souls will ship the new pairs of Kigos to micro-entrepreneurs in developing countries. Those people will then sell the Kigos, make a profit which will help them support their families.Kigo is also offering $25 off for you which makes the Pai available right now for $50.