Summer is in full swing, and I want my little one's toes to be free and bare as often as possible. However, there are times when that simply isn't practical. I like to have a couple pairs of summer shoes on hand for such occasions. The KidoFit Lily and Frogy have been my four year old's "go-to" shoes for the summer.
The Frogy is a sandal designed specifically for summer adventures. The Lily is designed as more of a multi-seasonal shoe, and will also be used in the fall. Both shoes are very similar in their construction, and close to identical, except for their style and purpose.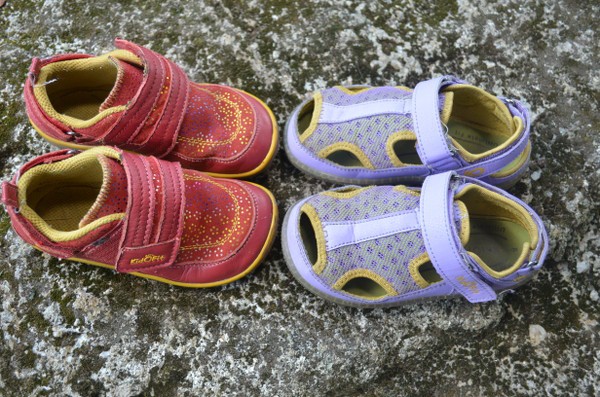 Design
The most unique (and genius) aspect of the KidoFit shoes are the soles. A truly transparent sole showcases your little ones' toes (or piggys as they are called in our home). These are the most intentionally made soles I have ever seen. No more trying to guess size and growth by pressing my thumb around her toes. The transparency of the sole also makes it possible to see how the toes fit in the toe box. I can see that there is plenty of room around her toes for lots of wiggling.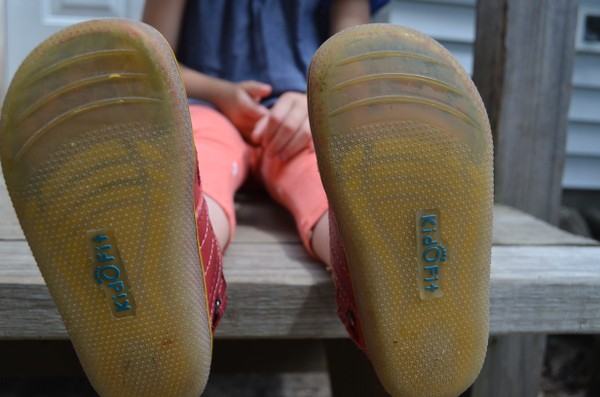 The shoes come with a unique customizable fitting system. Each pair of our KidoFit shoes came with two sole inserts. When used, these inserts can extend the life of the shoe, giving the wearer multiple sizing options in one shoe. The more inserts in the shoe, the snugger the shoe fits. As the foot grows, you can remove the insert, giving more room for the growth of the foot. This is a nice feature, but I also found that the shoe was less flexible when my daughter was wearing both inserts. The inserts also inhibit the view through the transparent sole which isn't a problem but something worth mentioning.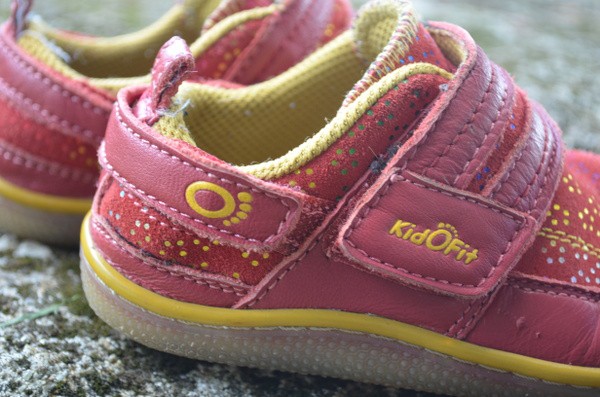 The shoes also feature a Velcro adjustment strap in the back and over the top. This makes the size even more customizable. Cinching the Velcro in the back gives the foot an extra push from behind which minimizes any slipping if the shoe is too large. Many of us want to buy a shoe that fits so these extras may not seem necessary. I actually found them very helpful because my toddlers' feet grow so quickly. It has been nice to have a shoe that grows a little with her.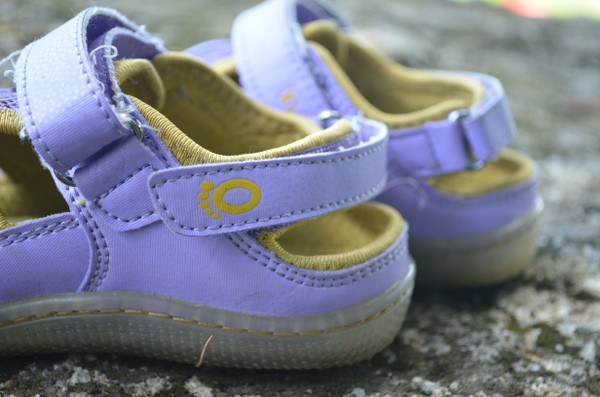 We all know how easy Velcro is. She is happy because she has some independence with her footwear. I am happy because, in a house with 5 children, I love finding shoes that my little ones can slip on and off all by themselves.
Style
Oh the sparkles! What 4 year old little girl doesn't love something that sparkles? She had a tough time choosing, but she settled for her two favorite colors (red and purple). Both pairs come with just enough sparkle, although she has become partial to the Frogy in purple.
While both styles are cute and functional, I prefer the Frogy Sandal over the Lily shoe. I have found the sandal to be more flexible and softer.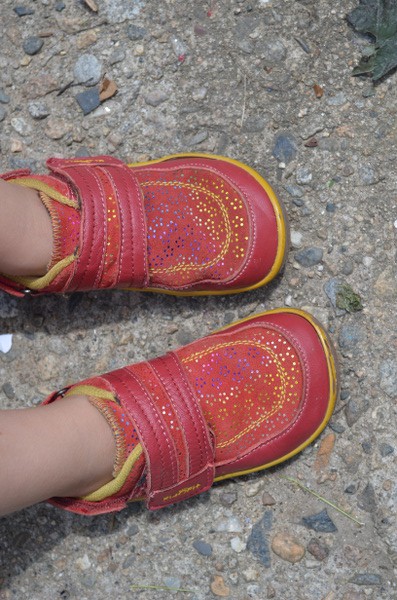 Fit
The sizing is not consistent between styles so be prepared if you are ordering. We ordered a size 8.5 US in the Lily and a size 9 US in the Frogy. Both shoes seem to fit her foot just right, but the Lily is not as popular as the Frogy. The upper fabric of the Lily rubbed her foot a bit at first, and she really did not like that. I did find the uppers to be a bit more stiff than the Frogy. But, after some wear, and my own "playing" with the shoes, they softened up.
The fit of the Frogy is much more comfortable to her. She does not complain of any rubbing or pressure. She doesn't have pressure spots on her foot once she takes them off. There is plenty of room in the toe box, and the back doesn't rub even when she wears them without socks. I also like that the Frogy allows air to flow around her foot while still semi-enclosing her toes which has prevented her from stubbing them or smashing them into rocks.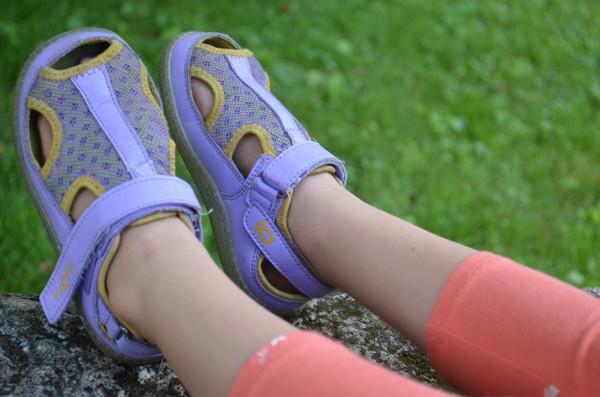 Minimalism
KidoFit shoes are designed "utilizing our expertise in foot bio-mechanics and ergonomic design, we craft the most functional children shoes."
Both shoes have a nice wide toe box; the sole is completely flat with no heel rise and no toe spring. The sole is also thin, and the shoe is very flexible. I did find the KidoFit shoes to be a bit heavier than other minimalist options we have tried, but only by .5 ounce on the largest margin.
Concluding Thoughts
I have found the quality to be quite comparable to all of her other shoes. No rips, tears, or holes even after a couple months of wear. And really wearing them... on hikes, climbing, etc.
The price is also very decent. $42 - $55 for shoes and a bit more for their boots (yes, they even have boots). I like that my 4 year old still fits in their smallest "toddler" size. She will be able to wear KidoFit for a couple more years. I do wish (and I say this with almost every review I write) that they would extend their sizes to meet the needs of older children. There is such a gap in minimalist footwear for children ages 7 - 12. It would be nice to see KidoFit expand and offer their footwear for older children as well.
Overall, I am very impressed with KidoFit. The communication with the company has been positive. The shoes have been intentionally crafted. They have been created with not just the child's needs in mind but the parent's needs as well. Every detail from the adjustable straps and the sparkles down to the transparent soles has been purposed and strategic and given KidoFit shoes a permanent place on our shoe rack.