Like most Toe Salad readers, the editors see most shoes on the internet first. Sometimes shoes don't seem so interesting until you see them in real life and hold them in your hands or have them on your feet. This happened to me with the ZEM Gear 360 XT. The ZEM Gear 360 XT is an all-purpose shoe that can be used for anything: hiking, running, daily use, or camp shoes. For all these purposes there are better options, but the ZEM Gear 360 XT is one of those shoes that does them all. And they're affordable too, so for a lot of barefoot beginners they will be a good shoe to start with.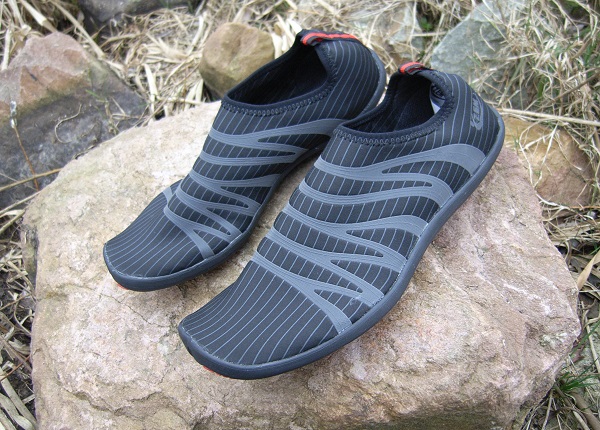 The soles are made of rubber and a 2.5mm Poron cushioning. The stack height is 4 to 5mm. Poron gives an excellent cushioning. At the time I was testing the 360 XT, I was also running with the very minimal Vivobarefoot Evo Pure with its 3mm sole. The difference was very distinct, especially for road running. Only two millimeters more sole thickness and so much more cushioning. And yet so much proprioception. The soles are also very flexible and give good grip on most surfaces but not in mud.
The toe box is very wide. It almost looked square so my toes had a lot of room to splay. The 360's lack a toe protector. I hurt my toes a few times after kicking branches that covered the ground when hiking after a storm.
There is also a ninja version of this shoe. It should be worn barefoot or with toe socks or ninja style socks. The benefits of ninja shoes are described in our 2013 Tabi shoe article.
The uppers are made of a very elastic material that keep the shoes on the foot well, also when running. I think they will prevent sand entering the shoe though I could not test that yet. But they will certainly not prevent water coming in. The upper material soaks up water very easily. This makes them less useful for cold and wet weather use. The uppers are also vulnerable to thorns. The uppers are supported by highly reflective tech-bands for lateral stability.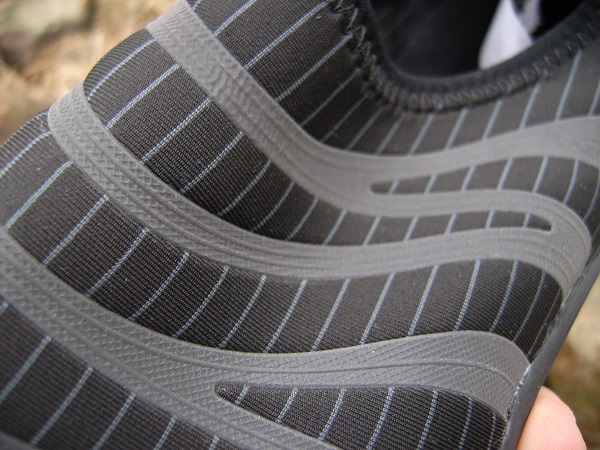 The shoes have a big toe spring which would seem to not to be a good thing in minimalist shoes. But because of the flexibility of the soles the toe spring will disappear when you wear them. The toes will press the front of the sole down without putting much pressure on it. The pictures below show that very well.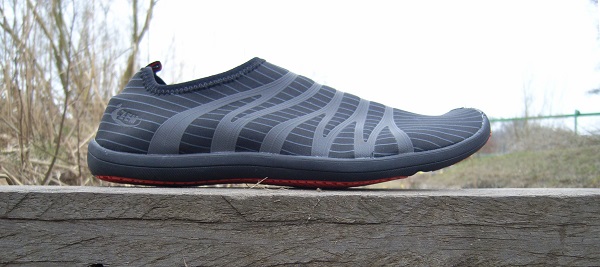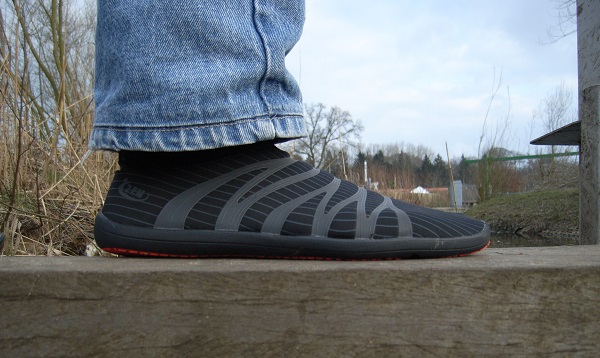 My 360's weigh less than 130 grams per shoe in size US 12 / EU 45.5.
The ZEM Gear website does not give any information about how to clean the shoes, but it should be possible to clean them in the washing machine.
A remarkable thing about the shoes is that you can store them very flat. This, together with their feather weight, makes them very suitable to be used as camp or travel shoes, or to take them on a barefoot hike for just in case shoes.