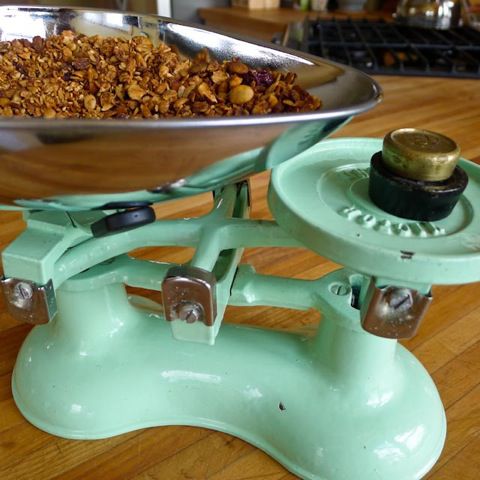 Ingredients
1/2 cup coconut oil
3 – 4 cups rolled oats
1/2 cup sesame seeds
1/2 cup sunflower seeds
1/2 cup pumpkin seeds
1/2 cup almonds, chopped
1/2 cup walnuts, chopped
1/2 tsp. cinnamon (or to taste)
1/2 tsp. sea salt
1/4 cup honey (or maple syrup)
2 Tbsp. almond butter (or other nut or seed butter of choice)
1 tsp. vanilla
3/4 cup dried cranberries
3/4 cup raisins
Preparation
Preheat oven to 325 degrees. F.
Place coconut oil, sweetener and nut butter in small pan on low heat. When melted, remove from heat, add vanilla.
In large baking dish or cookie sheet: combine oats, seeds, nuts, spice and salt. Mix well.
Pour liquid ingredients over dry ingredients, using a spatula to fold and evenly coat the dry mixture with the set. Spread evenly and bake.
Turn and stir granola every 15 or 20 minutes so that it toasts evenly. Bake until granola is dry and golden (45-60 minutes).
While granola is cooling, add raisins and dried cranberries and mix well.
After granola is cool, store in an airtight jar.
Recipe can easily be doubled, which is a good idea, as extras can be frozen or given away!
---
This recipe is a companion to the article Whole Food Nutrition Tips (& Training) for Longer-Haul Distances.