Recently I was able to have a look at the new Merrell barefoot men's shoes for 2013. There will be a new line of casual shoes for men in a lot of colours.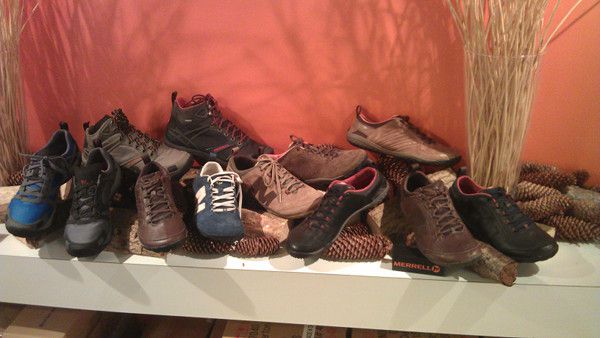 The first new style is the Tour Glove. This is actually a Trail Glove design made in leather and mesh. The sole has been taken from the road glove. I think a lot of Trail Glove users will like this shoe. The shoe will come in six colours.
The second style is the Excursion Glove. These will be the first Merrell barefoot shoes with Merrell's distinctive 'M' on it. These shoes will probably be liked by people who were already traditional Merrell fans. The uppers are made of perforated leather (seven colour styles) or non-perforated leather (six colour styles).
Also visible on the left side of the picture are Merrell's new Proterra shoes in the low and mid styles. Merrell designed a special sole for the Proterra that is not really minimal (21mm stack height) but will give barefoot like traction. The sole is designed to keep you connected to the ground and give more ground feel. In spring there will be a low and mid high style available with uppers made from quick drying mesh. In autumn 2013 the Proterra will also be available in leather, Goretex Connectfit and insulated Goretex Connectfit. Connectfit is a development from Merrell and Goretex together to improve the use of Goretex in shoes. These shoes will be very good minimal winter shoes, when the temperatures drop below freezing.
Merrell is moving all of their barefoot shoes into what is known as the M-Connect series. There will be a few different lines. The lowest stack height will be in the new Vapor Glove (5,5mm). Then there will be a lot of shoes with 9,5mm stack height: the Road Glove, Trail Glove, Hammer Glove, Flux Glove and Torrent Glove. 13,5mm stack height will be in the Bare Access transitioning shoe. These are all zero drop.
4mm drop and 20mm stack height will be in the Mix Master line that have aggressive lugs. Mix Masters are in low and mid height with mesh or waterproof uppers and some sandals and hybrid shoes. I received a pair of Mix Masters Mid Waterproof and I can tell you that these shoes are really lightweight: 717 grams or 25,3 Oz for a pair in size US11,5/UK11/EU46. The Proterra's are also part of the M-Connect series.
For more, see our Merrell coverage from the Outdoor Retailer 2012 summer market.