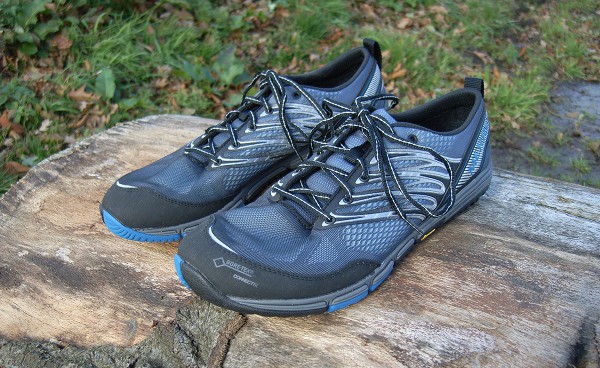 Despite the cold weather, most Toe Salad readers would prefer to use thin soled shoes during winter. As long as you keep running or walking you can keep your feet warm. But not everybody is a runner or hiker.
Tremendous temperature loss via the ground in real cold weather can be inevitable and requires thicker, insulating soles. For these situations Merrell offers a few shoes that are very close to minimal. They are zero drop or have a small drop of 4mm. In this article we will look at some suitable winter footwear.
The first model is the Merrell Ascend Glove, which we will be reviewing here on Toe Salad. This model is the most minimal of the shoes in this article. With 6mm cushioning, a 10.5 mm stack height and 0 mm of drop, it is the bigger brother to the well-known Trail Glove (which has 4mm cushioning). The Ascend Glove is available in two configurations: mesh and Gore-Tex ConnectFit. The Gore-Tex waterproof/breathable laminate will offer better protection from the elements. A downside... the Ascend Glove has some arch support; it is not a lot but it is definitely there.
An alternative to the Ascend Glove for daily use are the almost identical Cypher Glove and Venture Glove. They have a different sole but the cushioning, stack height and drop are about the same.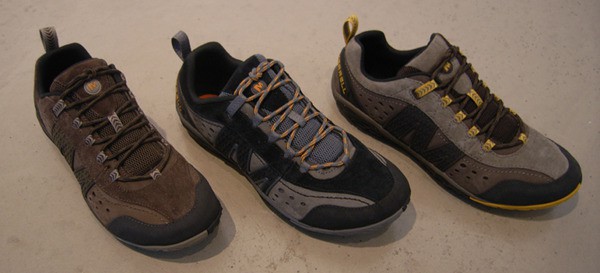 Six months ago Toe Salad reviewed the Merrell Proterra. With its 21 mm stack height and 4 mm drop, they look far from minimal, but they can make great winter shoes. The interesting part about this shoe is the sole which provides enough underfoot stability to give you a firm connection to the ground. The toebox is very roomy. The Proterra's sole is designed for on-trail hiking and does very well for daily use too.
The Proterra is now available with Gore-Tex uppers, which will provide protection from snow and rain.
Also of interest is the Proterra for kids. It is nearly identical to the adult version but zero drop. I think this is a good decision on Merrell's part because while 4 mm of drop maybe small drop for an adult, it is a huge for a child. The stack height is 9.5 mm and the waterproof uppers are made of Merrell's own M-Select Dry.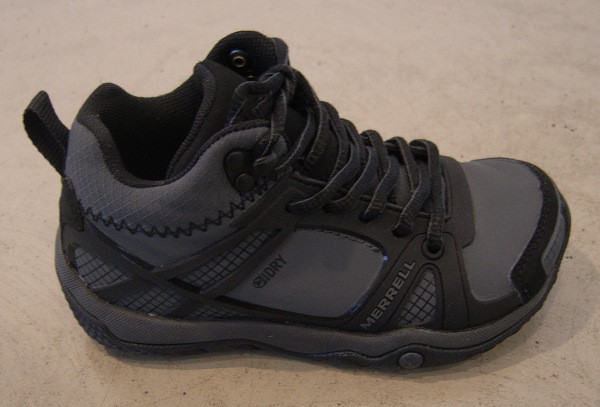 The Mix Master is Merrell's most suitable shoe for off-trail hiking. It has 20 mm stack height and 4 mm of drop. The model that Toe Salad reviewed last winter is not available anymore. Alternatives are the Mix Master Tuff waterproof (23 mm stack height, 4 mm drop, and a different sole) and the low top Mix Master waterproof.
Availability of Merrell footwear depends on the country you live in. Please check your local retailer or webshop.