Water shoes are a must in our house. Our adventures to the river and the beach always include scaling rocks, walking on broken shells, and climbing logs. Inevitably, my barefoot children end up with gashes in their feet if they are not protected. I want quick drying, minimal protection for their precious toes. The VIVOBAREFOOT Ultra seemed like a great option, but upon further wear, we found they weren't quite what we were hoping for.
Comfort and Fit
The Ultras are made of a perforated EVA , which if you don't know, is described by Wikipedia as
material that has good clarity and gloss, low-temperature toughness, stress-crack resistance, hot-melt adhesive water proof properties, and resistance to UV radiation.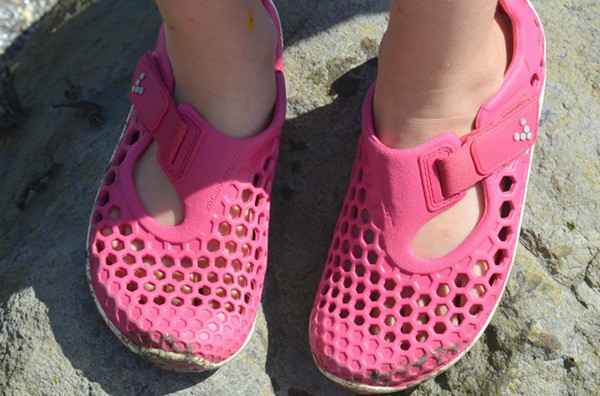 This upper, complimented by VIVOBAREFOOT's puncture resistant sole, is designed to be the perfect water shoe for children and adults. There are a couple of differences that make the children's shoe a little less impressive than the women's. The children's shoe has a Velcro closure, and the women's has a toggle to tighten the shoe. The women's version also has a removable insert (called a sock) that is ultimately another shoe within the EVA case. (The women's Ultra should not to be confused with the Ultra Pure. The Ultra Pure is sold without the removable sock).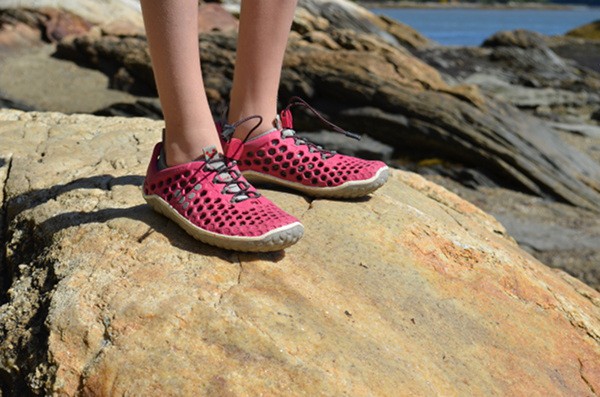 This soft, removable insert prevented the plastic from rubbing my oldest daughter's ankles. This made the women's version much more popular in our house. The women's shoes were almost like two shoes in one; a water sock and a protective shell. I would purchase these if they were just the water sock. These socks, made of a soft mesh, are very flexible and have a full puncture resistant sole to protect the child's foot while they climb on rocks or play in riverbeds. My daughter actually wore the inserts more often than the EVA case.
The EVA case is not as flexible as I had hoped (coming from VIVOBAREFOOT) nor as comfortable. The rubber is hard and just not quite the right environment for a child's foot. The rubber on the child's shoe irritated my daughter just below her ankle, creating blisters each time she wore them. This discomfort deterred her from wearing them (even though they are pink).
VIVOBAREFOOT always runs a little on the short side so we ordered a size up. For my oldest daughter, this was perfect. She usually wears a size 4 in children's, and we ordered her a women's size 5 (EU 35). We did not have the same luck with my youngest daughter. She usually wears a size 12 (EU30). We ordered her a size 12.5 (EU 31), and it was a little big.
The Ultras do have a nice wide toe box to give the little ones plenty of wiggle room.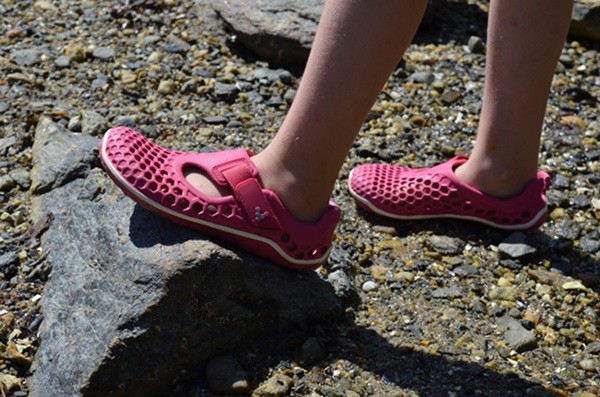 Style
The Ultra was definitely a hit in the style department for my 6 year old. Anything pink is highly appreciated. This was less of an excitement for my 10 year old. Anything pink is like the plague, and her only other option (at the time; VIVOBAREFOOT now offers more colors ) was white (which as we all know turns to brown very quickly when placed on a ten year old child). To me, they looked like an updated Croc. I have never been a fan of this style and design. I do not have an appreciation for shoes that look plastic.
My Daughter's Thoughts
The following is what my ten year old wrote about her Ultras. I did not edit it, except to add some punctuation.
At first, I didn't really like my Ultras. They were rubbery and bumpy on the outside, and I didn't like that. Then I discovered that I could wear just the inside. I like the inside because they are like a water shoe, and they have traction. So I usually just wear the inside and not the outside. The inside fits around my foot and is very comfortable. I really like the insides because they look cool, and I can run around on rocks, and go in the water."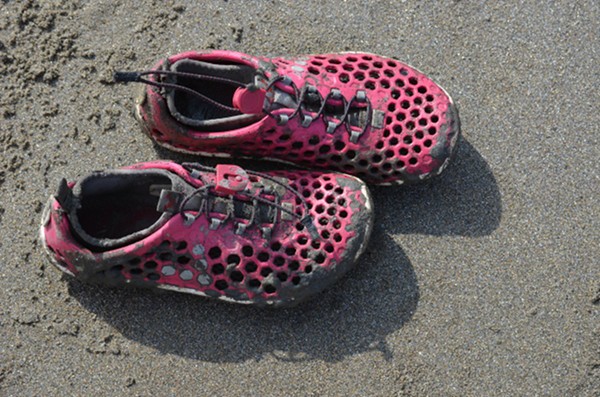 Conclusion
I love the idea behind the VIVOBAREFOOT Ultra. It was nice to have shoes that my girls could wear when climbing rocks on the beach or running around in the river. They dry very quickly and offer protection from any sharp, jagged rocks. They were not quite as comfortable as I had hoped. The EVA rubber fit more like a cast around the foot rather than a compliment to the free movement of the foot. I would gladly purchase the inserts of the women's version (in fact, my daughter has been wearing these are her regular shoes). I would like to see VIVOBAREFOOT make these sock inserts as their "water" shoes for next summer and leave the external shell out altogether.
For more info, check-out our short video...